I recently created this presentation about the formulation of Absorb Plus shakes on behalf of IMIX Nutrition, and it's chock full of good info – so of course, I wanted to share it with the LTYG community as well!
I go into a bit of my backstory, being diagnosed with Crohn's Disease, and what drove me to create Absorb Plus – and I encourage you to watch if you're interested in learning more about:
– An Elemental vs. a Semi-elemental diet
– Elemental vs. Polymeric formulas
– Protein Component Challenges in an Elemental Diet
– Definitions of Elemental Foods (What's Allowed)
– Elemental Diet Difficulties
– Other Diet Options for Bowel Rest
– And what Makes Absorb Plus Different?
And if you'd prefer to listen to the podcast audio-only version of this video, here it is:
Podcast: Play in new window | Download
Subscribe: RSS | LTYG Podcast
Feel free to also download my free eBook, What You Need to Know About Elemental Diets, here.
You can learn even more about Absorb Plus at AbsorbPlus.com.
Shop all Absorb Plus lines and flavors here.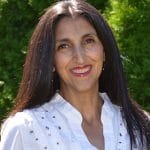 Jini Patel Thompson is an internationally recognized expert on natural healing for digestive diseases. She healed herself from widespread Crohn's Disease and has remained drug and surgery-free for over 20 years. Jini has appeared on numerous podcast, TV, and radio shows throughout the U.S., U.K., Canada, and Australia, giving people hope and vision for how they can heal their Colitis, Crohn's, Diverticulitis and Irritable Bowel Syndrome (IBS), using entirely natural methods. Her books on natural healing for digestive diseases have sold worldwide in over 80 countries.