Singer/songwriter Alanis Morissette shares insights about her Healing Journey in this excellent discussion with Oprah. Here are a few of my favorite, thought-provoking quotes from Alanis during the interview:
"Art is cathartic, not healing."
"Growth is distinct from healing."
"Moving, sweating… for me it's about continuously moving the energy. Because stagnation in my body… a lot of trauma is held in there – so moving it is key."
https://www.youtube.com/watch?v=QsnSabdHWtw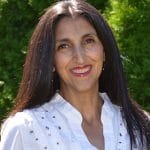 Jini Patel Thompson is an internationally recognized expert on natural healing for digestive diseases. She healed herself from widespread Crohn's Disease and has remained drug and surgery-free for over 20 years. Jini has appeared on numerous podcast, TV, and radio shows throughout the U.S., U.K., Canada, and Australia, giving people hope and vision for how they can heal their Colitis, Crohn's, Diverticulitis and Irritable Bowel Syndrome (IBS), using entirely natural methods. Her books on natural healing for digestive diseases have sold worldwide in over 80 countries.