Let's face it – no one is ever going to agree 24/7. Whether you're discussing a thorny issue, trying to resolve a conflict with a loved one, or you're mediating 2 kids who'd love to punch each other out, it can get messy and emotional.
While it's impossible to always see eye-to-eye, you may want to try either of these helpful techniques next time you get in a tiff with another:
1. Lie down on the ground – You can say anything you want, but you need to lie down on the ground without touching each other AND you have to look up at the ceiling. Trust me, I've tested this one and if you lie down looking at or facing each other, it doesn't work nearly so well.
2. Sit or stand back-to-back – I learned of this great technique from Mauricio Estrella over at Quora, who uses this technique with his girlfriend:
"Most of the time, in the heat of arguing, it's in our human nature to try to always win an argument, being completely rational or irrational. Same things happens to most of us on relationship discussions. In my case: My girlfriend is Chinese, I'm Ecuadorian, so the cultural differences do make an impact on our peace. Quite often.

I came up with the idea of sitting (or standing) leaning my back against my GF's back whenever a discussion heats up and we need to resolve a dispute over something.

By doing this back-against-back thing, you continue the discussion as if you were still arguing face to face. After a couple of minutes, this ALWAYS helps us to end the discussion and have a really happy outcome. We have learned so much about ourselves and each other by doing this.

What happens is that the arguing becomes significantly more objective. You no longer have another person in front of you that you're trying to rationalize, apologize, persuade or convince about something, instead, you're more vulnerable because you're talking to nobody in front of you. Your voice resonates and you can pretty much listen to your own voice and think, "Well, I do have a point!" or maybe, "Damn, I'm full of shit, this is wrong. I am wrong."

It used to take a couple of minutes to end the discussion for good. At the end, when you turn around, you get to face the person that you just agreed with. It's a moment where you go 'ah.. There she is…' Or 'there he is…' And realize how beautiful a peaceful moment feels.

It's a little thing that changed our relationship."
Remember that stress is not good for anyone's health. So aside from increased intimacy and improved relationships, you should at least try one of these techniques for your health's sake!
---
Original post January 2015. Most recently updated June 2020.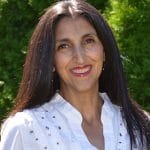 Jini Patel Thompson is an internationally recognized expert on natural healing for digestive diseases. She healed herself from widespread Crohn's Disease and has remained drug and surgery-free for over 20 years. Jini has appeared on numerous podcast, TV, and radio shows throughout the U.S., U.K., Canada, and Australia, giving people hope and vision for how they can heal their Colitis, Crohn's, Diverticulitis and Irritable Bowel Syndrome (IBS), using entirely natural methods. Her books on natural healing for digestive diseases have sold worldwide in over 80 countries.