Attorneys for trainer Bob Baffert and owner Zedan Racing Stables filed a lawsuit June 7 against the Kentucky Horse Racing Commission seeking testing of Medina Spirit 's post-race Kentucky Derby Presented by Woodford Reserve (G1) urine sample.
In the filing, the attorneys say further testing will provide evidence that the positive test for the corticosteroid betamethasone is linked to an ointment as opposed to an injection.
The 3-year-old colt, who crossed the wire first in the Kentucky Derby, is at risk of disqualification from the Derby after both his initial test and follow-up split-sample blood test showed the presence of betamethasone, which is prohibited at any level on race day. Baffert also faces the possibility of a fine and/or suspension related to the drug, which in the two separate tests measured at 21 and 25 picograms per milliliter of blood or plasma. A picogram is one-trillionth of a gram.
Bob Baffert talks with the media at Churchill Downs
In documents jointly filed in Franklin Circuit (Ky.) Court by Craig Robertson, attorney for Bob Baffert, and Clark Brewster, attorney for Zedan Racing Stables, they seek temporary injunction relief, claiming the KHRC has violated their clients' due process rights by refusing to allow a complete chemical analysis of the colt's urine, specifically in search of compounds found in the ointment Otomax. Baffert, via Robertson, claims Otomax was used to treat a skin rash on the Protonico   colt.
The complaint argues that how betamethasone found its way into Medina Spirit is "critical," noting a "huge difference in a betamethasone finding due to an interarticular joint injection versus one from a topical ointment—from both a regulatory and public relations standpoint."
The plaintiffs argue the testing would provide empirical and scientific reasonable certainty that the reported positive in Medina Spirit's post-race sample was innocuously sourced by the topical Otomax.
KHRC spokeswoman Sherelle Roberts said the regulator doesn't comment on ongoing litigation.
Mary Scollay, executive director and COO of the Racing Medication and Testing Consortium, which helps create model rules for the industry on medication issues, said that when a rule requires a horse to be completely free of a substance on race day, a violation occurs if that substance is found in the horse's system. The rules don't address how the substance entered the horse's system.
That said, stewards or racing regulators can consider mitigating circumstances—like how the substance most likely was introduced to the horse—in determining sanctions. Scollay said without direct involvement in the case, she couldn't say if the KHRC is obligated to conduct further testing.
"I think the regulator is obligated to investigate," Scollay said. "But I guess I'm not in a position to say specifically whether that should include testing that is not typically available or performed by racing laboratories."
Packages of Otomax prominently list betamethasone valerate among the ingredients, raising questions why that ointment would be selected for use for a horse approaching a race. The suit says that veterinary records indicate the colt was treated with the ointment leading up to the Kentucky Derby.
The treatments were reported in California, according to Dr. Dionne Benson, chief veterinary officer for 1/ST Racing. As part of 1/ST Racing's Maryland Jockey Club's decision to allow Medina Spirit to run in the Preakness Stakes (G1), it looked into those records and reported that medical records covering the period of April 1-May 10 reflected the dispensing of Otomax.
The KHRC cited state law in denying BloodHorse access to Kentucky veterinary records. At entry time in Kentucky, horsemen are required to turn in veterinary records for the previous two weeks.
The suit continues that plaintiffs notified the KHRC of their request for additional testing May 14, and the KHRC refused before making another request in writing May 19, which again was denied. On or about May 24, the suit continues, the parties reached a compromise that would allow the plaintiffs to test the remnants of the primary samples to an accredited lab, but on or about June 1, the KHRC informed plaintiffs that the "sample had been damaged/contaminated during transport."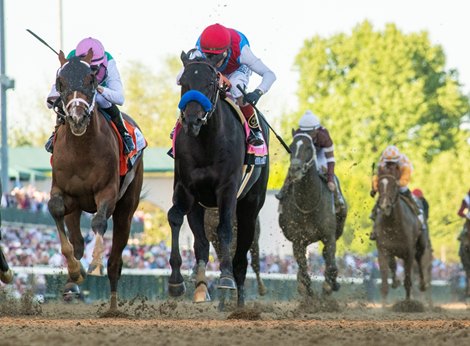 Medina Spirit wins the Kentucky Derby at Churchill Downs
According to the suit, the KHRC has another unopened split sample of Medina Spirit's urine, of which it has refused to allow analysis. Plaintiffs argue that betamethasone valerate and other ingredients of Otomax are "most readily detectable in urine."
Betamethasone, typically given to horses as a joint injection, is permitted for therapeutic use but Kentucky standards call for a withdrawal time of 14 days before racing. Baffert initially denied the colt ever received betamethasone when the initial test came to light May 9. Then on May 11, Robertson issued a statement on behalf of the trainer that said the post-race test findings may have been from exposure to Otomax.
Medina Spirit's post-Derby test marked the fifth time a Baffert-trained horse tested positive for prohibited medications since May 2, 2020, and the second one specifically for betamethasone. In Kentucky, betamethasone is a Penalty Class C substance, a level considered to have "a lesser potential to influence performance" compared with the performance-enhancing effects of drugs in Class A or B.
Michael Lund Petersen's Gamine , the champion female sprinter of last year for Baffert, tested positive for the drug after her third-place finish in the Longines Kentucky Oaks (G1) last September. Baffert, who claimed a veterinarian injected Gamine 18 days before the Oaks and the drug lingered in her system, was fined $1,500 and Gamine disqualified.
Penalty recommendations for a second offense (within a year) of a Class C drug such as betamethasone call for a fine and suspension of the trainer, absent mitigating circumstances. Recommended penalties for the owner, in a first violation (within a year) of a horse who tests positive for a substance in penalty Class C are disqualification of the horse—costly in the Derby where victory is worth $1.86 million. The Derby is often worth millions more to a winning colt in eventual stud value.
Juddmonte's Mandaloun , second across the wire, would move up to first with a Medina Spirit disqualification.
Since the Derby test results were announced, Baffert has been banned from running horses at Churchill Downs Inc. tracks and those of the New York Racing Association. Those actions were taken by the individual track operators, as opposed to the KHRC, which regulates the sport in Kentucky. Track decisions do not carry reciprocity with other tracks.
A date for a stewards' hearing has not been set, Robertson wrote in an email June 8, and therefore no ruling on Medina Spirit has yet been issued by stewards and the KHRC. Should any suspensions be levied by the stewards or regulator, those sanctions would carry reciprocity in all racing jurisdictions—pending any appeal.
Last fall, following tests showing prohibited substances in a few of his horses, Baffert issued a statement indicating he had retained Dr. Michael Hore of Hagyard Equine Medical Institute "to add an additional layer of protection to ensure the well-being of horses in my care and rule compliance."
That advisory role never fully materialized, according to Robertson and Hore. The latter cited travel amid COVID-19 and distance between his base in Kentucky and Baffert in California as hurdles to implementation.