I've never used a lot of styling aids with my hair – especially since I've been firmly in kid-land for the last decade. But now, my kids are getting older and wanting to try out different hair styles. I'm getting out there more and hooking up with old friends and the old hair-in-a-clip or loose ponytail isn't working so well for me on girls night out.
BUT I also haven't wanted to use toxic products with heavy perfumes and chemicals that are absorbed through my scalp. The natural products I've tried just haven't worked so well. The hairspray didn't smell nice and the gel would dry and turn into little white flakes (dandruff anyone?), which are especially visible against my dark hair – the kids and I have tried FOUR brands of natural gel!
The good news is: We have finally found a great natural hair gel and hairspray!
This Aubrey Organics B-5 Design Gel does not flake white and the NuStyle Organic Hairspray has a mild, nice scent! They both work really well on both fine hair (kids) and coarse hair (mine). I also gave a bottle of the hairspray to a friend of mine who sets her long, blonde hair in hot rollers every morning and then applies hairspray before she heads out to work. She reported back that not only was it as good as the normal (chemical) brand she'd been using, it was even better – same hold, but her hair was softer and she preferred the scent.
The picture above shows what my hair looks like when I back-comb the front a bit and then hairspray it – still looks soft and natural, but a bit more polished.
I must admit that for me, who is used to very little scent, the Aubrey products (including shampoo & conditioner) felt a bit too strong initially. Although they are 100% natural essential oils, they are scented to be similar in strength to commercial hair products. So, if you're similar, you may want to start with the "unscented" line of Aubrey products – which to me, still have a fresh, but fairly neutral scent.
One last thing, when it comes to great looking/feeling hair, don't forget that healthy hair starts at the cellular level, so be sure you're nourishing yourself and your hair properly. You will also see best results if you wash your hair in pure water, so consider getting a chlorine filter for your shower.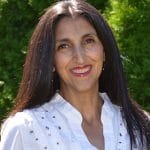 Jini Patel Thompson is an internationally recognized expert on natural healing for digestive diseases. She healed herself from widespread Crohn's Disease and has remained drug and surgery-free for over 20 years. Jini has appeared on numerous podcast, TV, and radio shows throughout the U.S., U.K., Canada, and Australia, giving people hope and vision for how they can heal their Colitis, Crohn's, Diverticulitis and Irritable Bowel Syndrome (IBS), using entirely natural methods. Her books on natural healing for digestive diseases have sold worldwide in over 80 countries.