for its new pendulum collection, CTO LIGHTING has teamed up with AD100 designer dan yeffet, for an anglo-french collaboration that celebrates 'a shared vision of materiality and pure form.'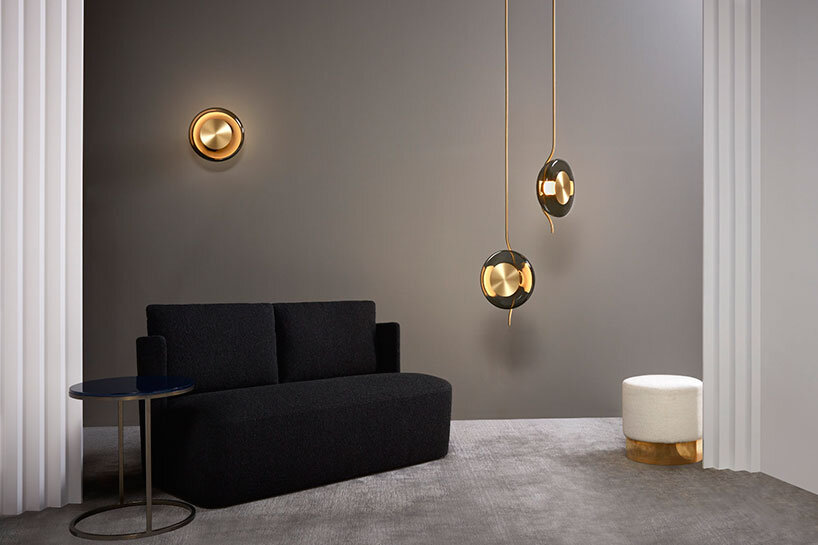 CTO LIGHTING's striking new family of lights, pendulum, combines hand-blown glass, brass and marble. the collection is its first collaboration with the paris-based designer dan yeffet
'it is the closest thing that I have designed to fire,' says dan yeffet of pendulum, his latest lighting design. 'and it's not because of its warmth, or the fact that it gives a source of light, it's because of the movement of the light from each angle that you are looking at it. from every angle, you get a different show.'
the pendulum collection is the result of a collaboration between CTO LIGHTING and the AD100 designer. the family of lights consists of a pendant, wall, ceiling and floor lights, each with a brass core containing LEDs that diffuse light through a circular shade made from tinted mouth-blown glass. like a pendulum, the forms have the language of balance and poise, while the hypnotic, oscillating character of the light it emanates, brings a sense of motion. 'designing lights is a kind of alchemy. you mix materials, you know what you are aiming for, but the result is always a surprise. the moment you put it on it gets its own life. this specific light gave us the smile of a child. it hit a certain emotional spot.'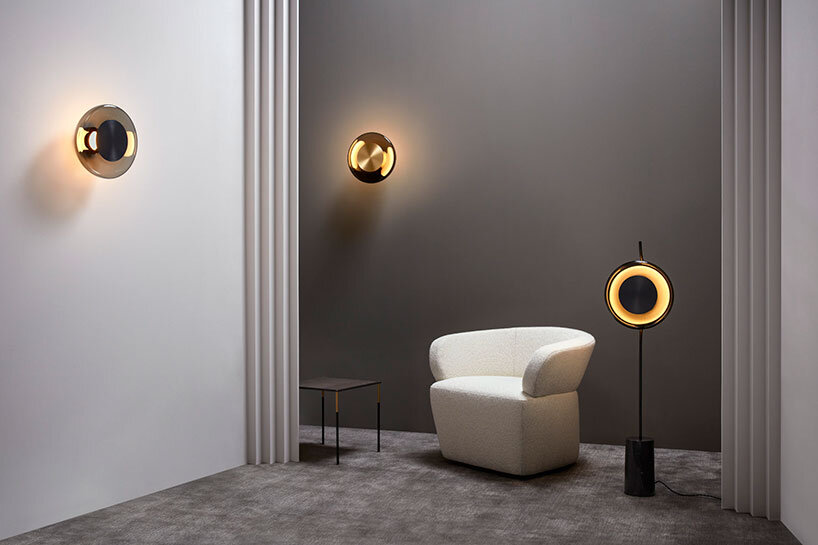 the pendulum family includes a pendant, wall and floor light. it carries yeffet's signature of simplicity, volume and emotion, alongside a refined material palette he shares with CTO LIGHTING
dan yeffet is the latest designer of influence to enter the fold of british lighting company CTO LIGHTING. the husband and wife team behind CTO, clare and chris turner, are themselves behind many of the brand's designs, but over the years they have also worked collaboratively with stalwart of the french design scene, stephane parmentier, belgian materialist and fashion escapee, michael verheyden, and turkish architect-designers autoban.
each meeting has come from serendipitous encounters, often during the design events and exhibitions that in normal times see them globe-hopping. yeffet, a designer firmly established in france and prestigiously holding a spot in the AD100, was someone they had long admired and met during fairs in paris, the city the israeli-born designer calls home.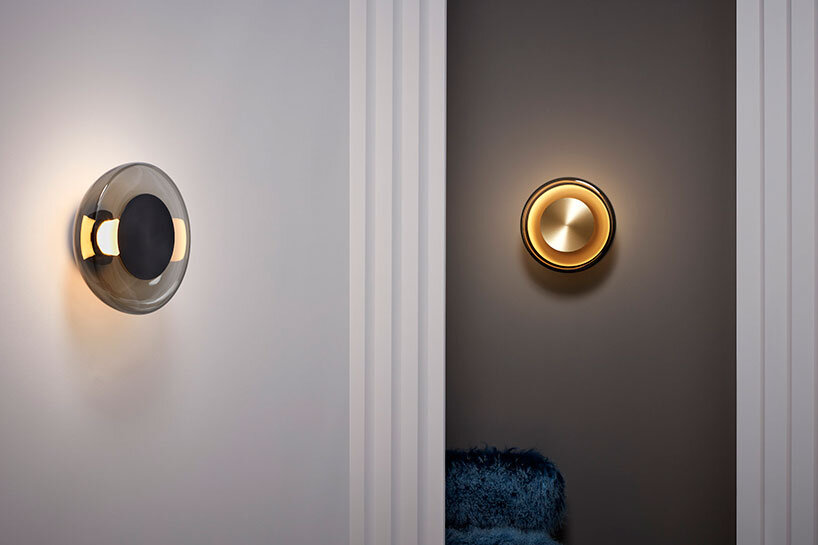 inspired by the balance and hypnotic qualities of a pendulum, the pendant is suspended on a sculpted brass rod. it can be used as a single feature or as a grouping
the union is natural enough when you consider the DNA they share. CTO makes sculptural lighting pieces, that are distinctly contemporary but also display timeless qualities and luxury by virtue of their rich, emotive materials. yeffet has a similar magnetism to weighty materials such as marble, hand-blown glass and brass, which sometimes sees him applying a singular, exploratory focus to a particular medium. often though, as here, he deftly combines them all.
'dan has this beautiful luxury handwriting. we share a vision of materiality and pure form,' says clare. they also share an understanding of the emotive quality of light, and how important it is to the equation. 'I wanted to hit the emotions rather than the rational brain,' says yeffet of his approach for pendulum. 'it needed to be something that you want, not that you need, not that you have to have, or because it works well in a space. it needed to first evoke the emotions.'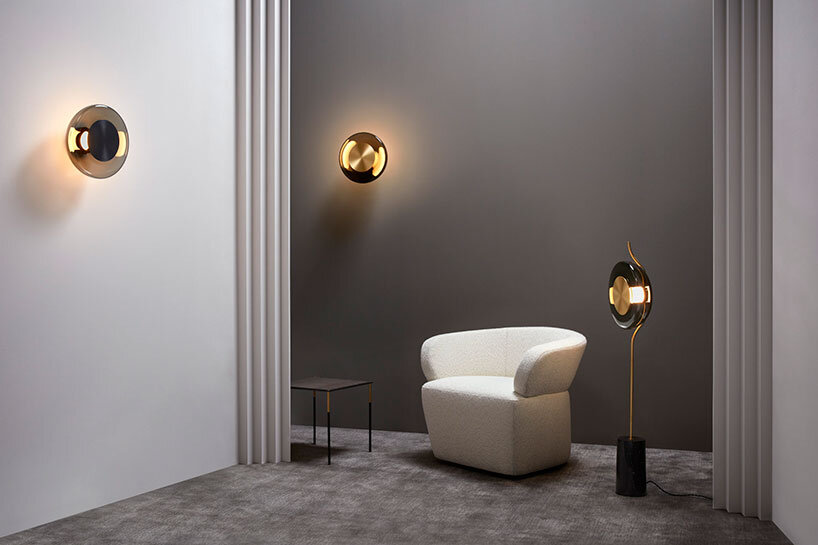 from an LED core, concealed behind a disc of satin brass or bronze finish, an oscillating, other-worldly light diffuses through the rounded, tinted glass of the shades
you can judge the quality of a creative match between maker and designer by how lengthy the briefing exchanges are. CTO gave minimal direction to yeffet and despite distance and pandemic shutdown pendulum emerged smoothly from a very pure design process. the open brief came with one caveat though. clare was intent on producing a mid-height floor light, a typology that has become a signature of yeffet.
'dan has created this new floor light proportion that I always admired. it's a height that is very good in open-plan spaces because it is very sculptural but it's at a great height that you can also read by, and it's also a decorative piece in a room.' the diminutive floor light in the pendulum family is the first of this type for CTO LIGHTING.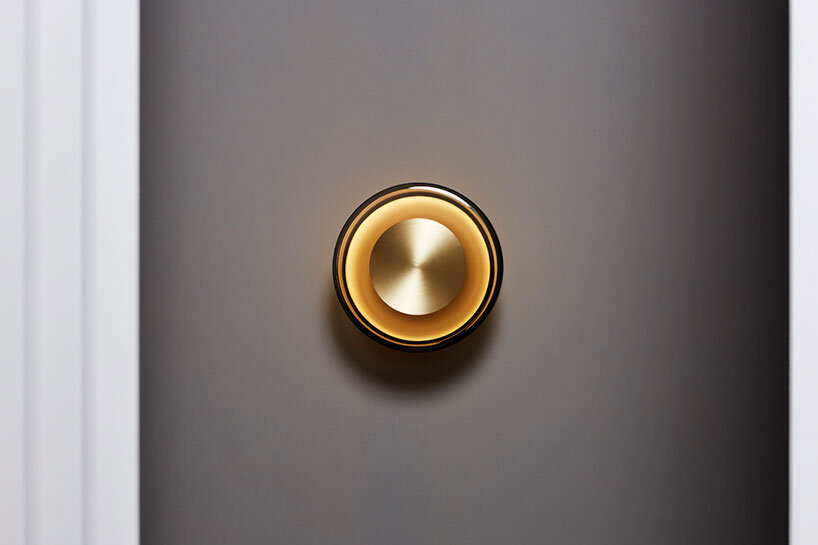 the mid-height floor light is a yeffet speciality. it has great sculptural presence and delivers light at just the right height for reading when placed by a sofa or chair
longevity in the industry is something both parties see as a factor in their shared vision for timeless materials and forms, but it doesn't stop both of them from also being future-facing, embracing artisanal, small-batch production. 'industrial design has no legitimacy anymore,' declares yeffet. 'the rules have changed.' designed in france and made by hand in the UK from enduring materials, pendulum is lighting that's right on point.
guest feature by emma moore / architonic
simon keane-cowell I architonic
jun 02, 2021