Illinois racing interests are looking to state government in a last-ditch effort to pressure Churchill Downs Inc. to preserve racing at Arlington International Racecourse.
The latest bid asks essentially that CDI's pending and future casino license applications be held hostage to a favorable resolution of the Arlington situation.
Former Gov. Jim Edgar, a longtime owner and breeder, is the latest to add his voice to the chorus. In an interview with the Arlington Heights Daily Herald published May 30, Edgar asked Gov. J.B. Pritzker to intervene, using CDI's bid for more Illinois casino business as leverage.
That followed the Illinois Thoroughbred Horsemen's Association's request just days earlier that the Illinois Attorney General's office open an antitrust investigation into the matter.
CDI has put the Arlington property, including its iconic cantilevered-roof grandstand, up for bids with the intention of selling the land for redevelopment. That follows the surprise decision in 2019 not to apply for a newly authorized casino license for the track—a move that dashed the hopes of horsemen for a renewal of racing in the state.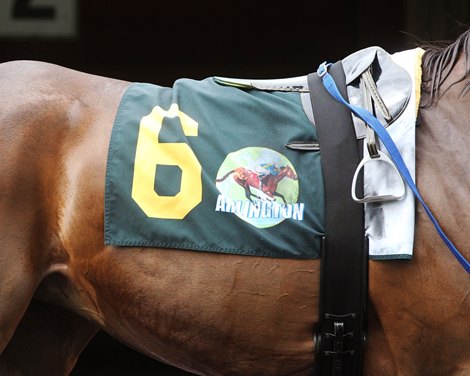 CDI is a majority stakeholder in Rivers Casino, the state's most successful, which is located less than 15 miles from Arlington. The Louisville, Ky., corporation also is an applicant for a new casino license in Waukegan, Ill., and has expressed initial interest in the crown jewel of Illinois gaming—a casino planned for Chicago, with satellite slot machine licenses at the city's airports.
The Chicago casino has been stalled for a number of reasons but is back on track now. The Illinois Gaming Board has been deliberate in considering bids for Waukegan and has not set a target date for choosing a successful bidder. Edgar told the Daily Herald those applications could provide leverage for Pritzker.
"When you're giving out licenses, you've got to think what's in the best interest of the state," the former governor said. "And if an entity has not really done what's in the best interest of the state, I'm not sure why you'd continue to give them more licenses …
"Churchill is still trying to get additional licenses for casinos in the state so I think the state has leverage with them," Edgar said.
Edgar lamented the gaming board's approval of CDI's acquisition of a majority stake in Rivers Casino, saying the state "should've at least gotten some assurances that they weren't going to basically abandon horse racing. That's unfortunate."
The Illinois Gaming Board and Illinois Racing Board are separate entities. Until the passage of a massive gaming expansion law in 2019—the legislation that authorized racinos—the gaming board had no exposure to racing regulation and no reason to consider racing interests.
Edgar, a Republican, served on Pritzker's transition team in 2018. He said the Democrat governor, who appoints members of both boards subject to state Senate approval, is the only logical source of pressure on CDI.
"It's got to come from the governor's office," he told the newspaper's Christopher Placek. "That just hasn't, I don't think, has happened yet that I can see. And the governor knows racing … He understands it. He understands Churchill."
The former governor also pointed out the demise of Arlington would leave Hawthorne Race Course as the only track in the Chicago area with Thoroughbred and Standardbred interests presumably left to fight it out for dates there. The 2019 legislation authorized construction of a new racino, specifically for harness racing, in the south Chicago suburbs but, ironically, Pritzker torpedoed that project by refusing to sell the state land on which it was to be built.
Edgar served as governor from 1991-99. He was involved in a family breeding and racing operation throughout his term of office, racing primarily in Indiana to avoid conflict of interest, and occasionally could be seen at a Chicago Loop OTB watching his horses run during afternoon programs.
Neither the governor's office nor the attorney general's office has commented on the requests they intervene.