After a frenetic opening session, intensity levels settled down a touch on Day 2 of the Tattersalls Craven Sale, with the market headed by 14 six-figure 2-year-olds.
The most expensive offering sold on Wednesday was signed for by Alastair Donald, who went to 240,000 guineas (US$346,542) for a colt from the debut crop of bullet sprinter Caravaggio  . The Yeomanstown Stud-consigned colt (Lot 143) is a half brother to Ladbrokes Herbert Power Stakes (G2) runner-up Wall of Fire , and is out of a daughter of Galileo  and Chippenham Lodge Stud Cherry Hinton Stakes (G2) winner Jewel In The Sand .
"He's been bought for a new Hong Kong client, so he'll head out there at the end of the season," said Donald from his position at the back of the auditorium. "He's a lovely horse with gorgeous movement; he's just a really striking individual and looks the type to do well in Hong Kong.
"He's well-bred and breezed very well for a big horse; he won't be racing until he's 3 so we didn't want something sharp and early."
The Sackville Donald agent added: "The sire looks like he's got a very nice 2-year-old already in Tenebrism,too. That's the first I've bought by Caravaggio, although I liked the ones I saw as yearlings. They all seemed to have particularly good movement."
The colt belatedly returned some pinhooking profit for the Yeomanstown Stud team, who picked the youngster up at 155,000 guineas ($210,126) at the December Foal Sale before he was bought back at 130,000 guineas ($177,212) during Book 1 of the October Yearling Sale.
"Things didn't quite work out when we brought him back for Book 1, but he's a beautiful colt with a great attitude, and he breezed really well so we're pleased," said Yeomanstown's David O'Callaghan.
"I've had three go through the ring, and I've sold all three so I'm happy enough. (The market) feels a little softer tonight than it did yesterday but the clearance rate is still pretty good, so I think most people are pleased."
Day 1's top lot, the 360,000 guineas ($519,535) Practical Joke   filly (Lot 71) bought by Alex Elliott for White Birch Farm, is set to return to the United States for her racing career, and a similar future awaits Day 2's second-top lot after Sheikh Abdullah Almalek Alsabah signed for the Union Rags   colt Tattered Flag (Lot 145) at 185,000 guineas.
The Powerstown Stud-consigned youngster, who was signed for at $115,000 at Keeneland last year, is out of the U.S. grade 1 winner Careless Jewel .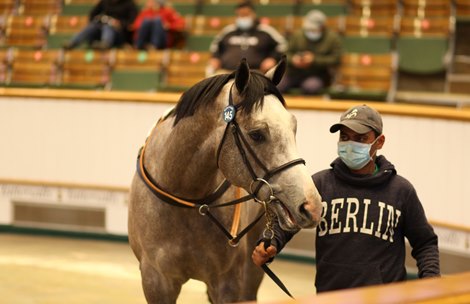 Tattered Flag, a Union Rags colt consigned as Lot 145, in the ring
Williams Doubles Up

Stuart Williams was on the scoresheet on the Rowley Mile when his 2-year-old Desert Dreamer landed the opening fillies' maiden, and the Newmarket-based trainer was also on the mark at Tattersalls when going to 150,000 guineas for Tally-Ho Stud's son of Aclaim  on behalf of Opulence Thoroughbreds.
The colt (Lot 96) is out of the unraced Nayef mare Step Sequence, making him a half brother to the listed-winning sprinter Lady Penelope , who was offered at the Arqana Breeze-Up Sale in 2019 before joining Joseph O'Brien.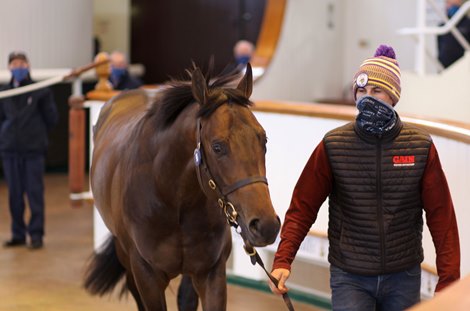 The Aclaim colt consigned as Lot 96 in the ring
"We tried to buy a couple yesterday but weren't able to, but we really liked the way this guy breezed, and he looks like he'll be able to run as a 2-year-old," said Williams. "He's very athletic and a big, strong sort so he's got a chance of being a good horse.
"Unfortunately you have to pay that sort of money for them! If he was by Night of Thunder  we probably wouldn't have been able to buy him, but Aclaim was a very good racehorse himself and was a good 2-year-old, so fingers crossed."
The colt was making his third appearance at public auction, having first been signed for by Tally-Ho Stud at €95,000 ($105,192) at the Goffs November Foal Sale, before being bought back by his vendor at 68,000 guineas ($92,243) at last year's Book 1 of the Tattersalls October Yearling Sale.
Williams had also been in action on Opulence Thoroughbreds' behalf at the March Sale, when going to 60,000 guineas for the useful Huraiz .
Despite signing the six-figure docket, Williams said he was unsure whether the horse would be returning to his Diomed Stables or joining one of the other trainers on Opulence Thoroughbreds' roster.
"They've been buying for other trainers as well as me, I've just been helping them, but it isn't 100% this horse will come to me," he said.
Around 30 lots later Williams added a Dark Angel  colt (Lot 128) to the Opulence Thoroughbreds string when going to 125,000 guineas for the half brother to Feliciana de Vega  consigned by Church Farm & Horse Park Stud.
The 150,000 guineas mark was hit for a second time during Wednesday's session when Stephen Hillen secured the Showcasing  colt out of Swirral Edge (Lot 101) offered by Katie Walsh's Greenhills Farm.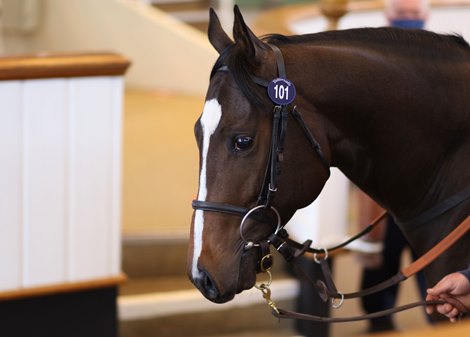 The Showcasing colt consigned as Lot 101 in the ring
O'Callaghan Collects

Having supplied Day 1's 360,000 guineas top lot, the filly bought by Alex Elliott on behalf of White Birch Farm, Practical Joke enjoyed another good result when Michael O'Callaghan went to 140,000 guineas for a colt offered by Tom Whitehead's Powerstown Stud.
"He's a lovely physical who had a great action when he breezed and who came highly recommended by Tom," said O'Callaghan, whose past breeze-up buys include the likes of Steel Bull . "He'll probably get an easy month now and then we'll kick on with him. I'd say he's just going through a bit of a growth spurt at the minute."
The colt (Lot 90), who is out of the Super Saver   mare Sky Saver and from the family of grade 1 scorer Octave , was pinhooked by Whitehead at $75,000 at the Fasig-Tipton Selected Yearlings Showcase.
O'Callaghan said he had seen only a limited number of youngsters by Practical Joke, who is standing the 2021 season at $22,500 at Coolmore's Ashford Stud, but said he had been impressed by the ones he had inspected.
"I've seen only this colt and the filly from Tally-Ho last night, and she looked exceptional, so I've liked the couple I've seen," he said.
That purchase took O'Callaghan's Craven Sale haul to four lots, acquired at a total outlay of 453,000 guineas. He added: "The market seems strong. We gave 190,000 guineas for a Dabirsim  from Tally-Ho Stud last night and 100,000 guineas for a Profitable  from Eddie O'Leary, but it's always strong when you're going after nice horses."
'Thunder' in Demand Again

The progeny of Night of Thunder continued to prove in high demand with buyers as Mark McStay of Avenue Bloodstock went to 125,000 guineas for a colt (Lot 117) offered by Yeomanstown Stud. The colt is out of the listed-placed Exceed And Excel  mare Vitoria and was pinhooked by Yeomanstown at €120,000 ($132,940) at the Goffs November Foal Sale.
"He's a lovely horse and was my pick of the sale over the two days," said McStay. "I'm a massive fan of the sire. I bought Storm Legend by him at last year's breeze-up sales and he won first time out—and was John Oxx's last winner, too.
"This horse breezed very well and came from a fantastic nursery in Yeomanstown Stud. They do a super job and he came very well recommended by David O'Callaghan. I actually remember the dam, Vitoria. Mark Wallace trained her many years ago and she was pretty quick.
"That gave me a little bit of extra encouragement to buy him. He isn't a horse who'll pitch up at Royal Ascot; he's one who'll take a bit more time, but he's an exciting horse and I'm thrilled to get him. He's been bought for an existing client and he goes into training with Hugo Palmer."
On the state of trade over the two days, McStay added: "I've been lucky and purchased two horses now, this horse and a nice Caravaggio for Joseph Parr who we bought yesterday.
"Like every sale I've been to in the last number of years, it's selective. It's highly competitive for the top horses but the middle and lower tiers are very tough on vendors. These breeze-up boys aren't only brave, they're also some of the best horsemen in the world and when they get a good one they deserve to get well paid."
Final Figures

Last year's Craven Sale took place around two months later than originally scheduled, meaning it was staged not only amid significant financial uncertainty brought on by the unfolding COVID-19 pandemic but, crucially, after Royal Ascot.
Back in its rightful pre-Ascot place and with a more stable economic outlook, the sale registered a positive set of figures.
Aggregate sales reached 10,408,500 guineas ($15,024,089), up 57% year-on-year and also up marginally on the pre-COVID Craven Sale held in 2019. The average was down 9% year-on-year to 86,020 guineas ($124,166), albeit from an offering that was up 63%. The median closed out at 68,000 guineas ($98,187), up 11% year-on-year.
Arguably the most encouraging metric, at least in terms of the immediate future, was the clearance rate, with 121 of 137 offered lots selling at a clip of 88%, the highest clearance rate at a Craven Sale this century.
At the close of the sale, Tattersalls chairman Edmond Mahony commented: "We introduced the £250,000 Craven Royal Ascot/Group 1 Bonus this year, in addition to the lucrative £15,000 Craven Breeze Up Bonus, and it is clear that owners have embraced these unprecedented bonuses.
"We have seen solid and diverse demand at all levels of the market from start to finish, which has produced the best Craven Breeze-Up clearance rate since 2000 and key indicators which have held up well, especially when taken in the context of the COVID-related challenges and restrictions which we are all still grappling with and which continue to hinder international travel.
"Nevertheless, to hear consistently positive feedback from owners, trainers, agents, and consignors about the bonuses has been gratifying, and reinforces our commitment to exploring as many innovative ways as possible to reward owners who buy at Tattersalls with extra prize money.
"There is no doubt that we will see plenty of this crop of Craven Breeze-Up graduates performing at a high level and it would be even more pleasing than usual if the Royal Ascot and group 1 bonuses were won in the coming months."
He added: "Despite the prolonged difficulties with international travel, overseas buyers have again demonstrated their appetite for high class Tattersalls breeze up 2-year-olds.
"Buyers from America, Bahrain, Dubai, France, Italy, Qatar, Saudi Arabia, and Singapore have all been active, many of them using the live internet bidding platform, and as well as paying tribute to the consignors who have as ever presented an outstanding collection of 2-year-olds, we must again commend everyone for their patience with the regulations and determination to overcome the obstacles we continue to face.
"We are still having to conduct sales under strict guidelines, but as well as looking forward to the forthcoming Guineas Breeze-Up and Horses in Training Sale, we are also looking forward to returning to more normality in the not too distant future."