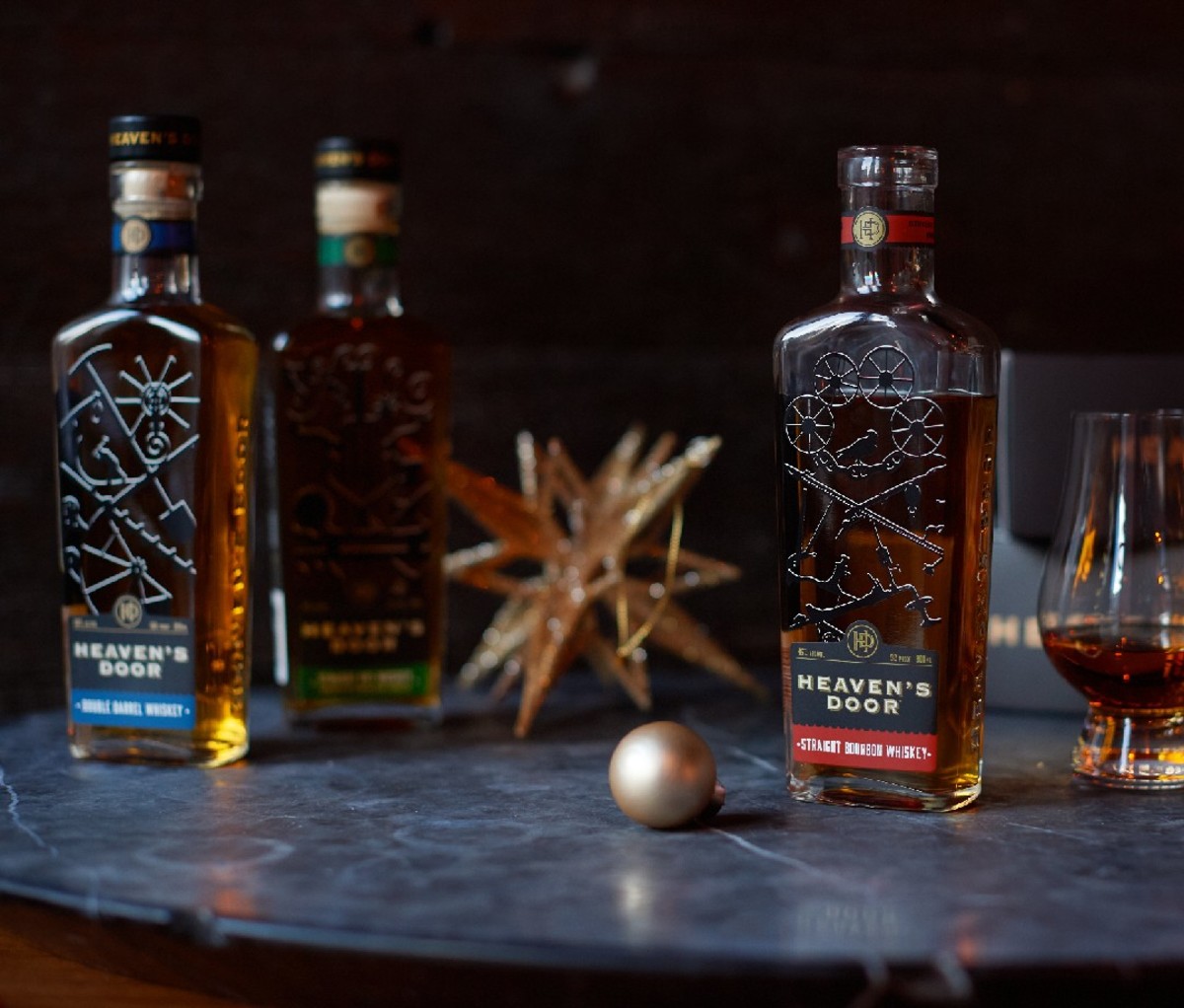 Here are the three expressions included:
Heaven's Door Straight Bourbon Whiskey
The brand's flagship expression, this bourbon is 92 proof and aged in charred American oak barrels for at least six years. This results in a very mellow, complex bourbon with notes of singed wood, dried cherries, vanilla beans, clover honey, and buttery caramel. The finish is warming, dry, and ends with a nice mix of spice and corn sweetness.
Heaven's Door Double Barrel Whiskey
This 100-proof gem is a bold blend of three different whiskeys (two bourbon mash whiskeys and a straight rye) that are aged for a minimum of six years in charred American oak casks. This results in a bold, rich, memorable whiskey with notes of candied orange peels, sticky toffee, dried fruits, and subtle baking spices. It all ends with a warming, dry finish of butterscotch and a hint of pepper.
Heaven's Door Straight Rye Whiskey
This 92-proof rye will give your holidays a much-needed kick. It's aged for at least seven years in American oak casks before being finished in toasted oak cigar barrels from Vosges, France. The extra finishing adds complexity to this unique expression loaded with flavors like toasted marshmallow, buttery caramel, wood char, and cracked black pepper. It culminates with a belly-warming combination of caramel and a kick of spicy rye.
It's great as a gift for that adventurous whiskey fan in your life—or yourself. Either way, it's like getting three different top whiskeys for the price of one.
Heaven's Door Trilogy Collection Made Better With Interactive Whiskey Mentoring Session
The Trilogy Collection isn't the only news coming from Heaven's Door. Led by Bourbon Pursuit's Kenny Coleman and Heaven's Door Master Blender Ryan Perry, the brand is also launching an interactive whiskey mentoring event featuring the collection for anyone looking to learn more about the specifics of American whiskey while detailing the different styles, techniques, and histories of each.