like many artists confronted by the global lockdown, chiharu shiota found her thoughts turning inwards — to domestic spaces, seclusion, and the family cocoon. from now through july 24, 2021, galerie templon in brussels sheds light on shiota's creative and making process during this period with the exhibition 'living inside', a group of new works that explore the notion of home, and the fragmentation of daily reality. both intimate and delicate, the works express the sudden halt of the japanese artist's constant travels, staying put for the first time in over 15 years. 'I usually travel to all the exhibition locations but during the lockdown, everything became smaller,' shiota tells designboom in an interview, 'the world became smaller. everyone was at home and looked at the same bed, table, chair…'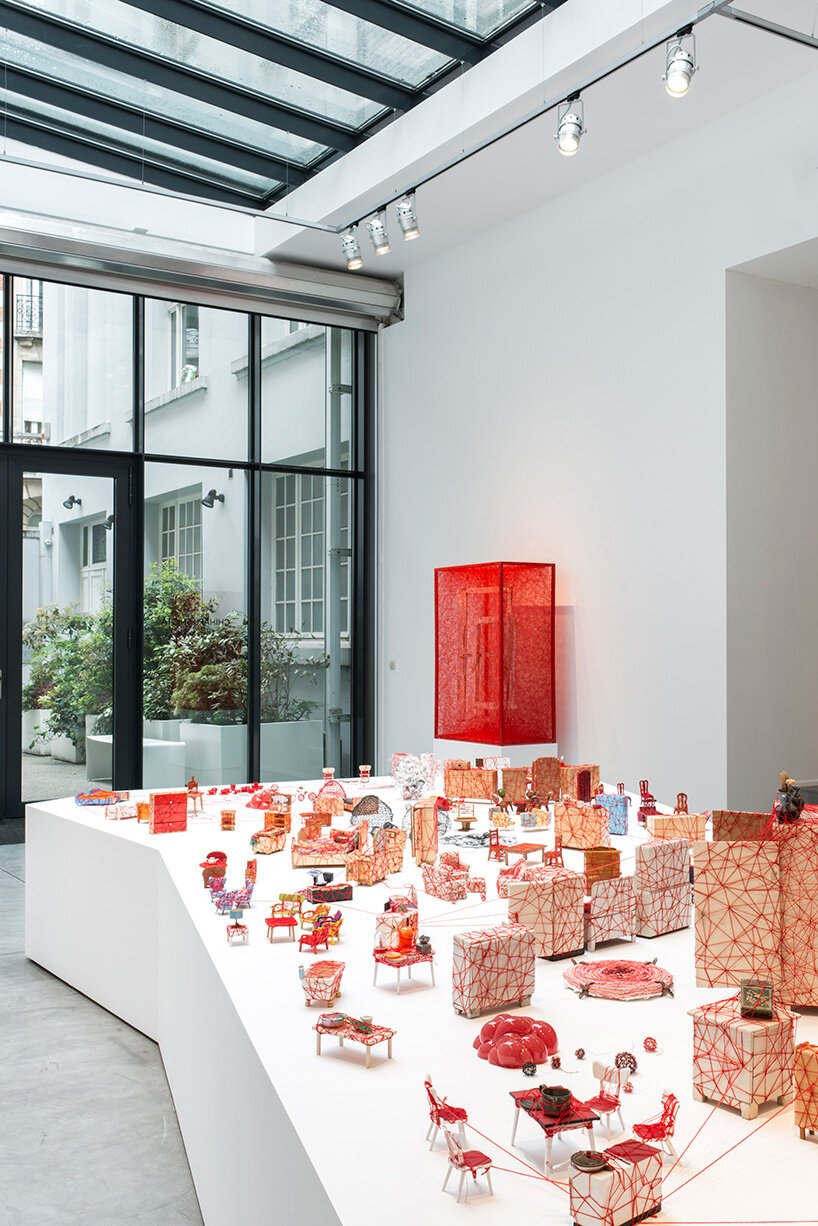 all exhibition views by isabelle arthuis, courtesy of galerie templon
in isolation in berlin, where she has been living for many years, shiota interpreted this temporary pause as an echo to many of her familiar themes — immobility, silence, seclusion and the uncertainty of destiny. for 'living inside' at galerie templon, the artist reveals a novel approach to sculpture, using doll's houses, miniature furniture and window frames. these microcosms play on the notion of scale, recollection and our hidden bonds with everyday objects. also in response to the lockdown, shiota has created a new series of drawings from the solitude of her deserted studio. 'I could only see the people on the street from my windows and I watched them outside,' she tells us about this time spent at home. the drawings stage relationships between enigmatic figures, seemingly trapped in accumulations of waves or spirals, where ghostlike characters are interlinked by red or black threads — a metaphor for the ties between spirits.
designboom spoke with chiharu shiota about the experience that led to this new series of work, and the nature of creation in quarantine.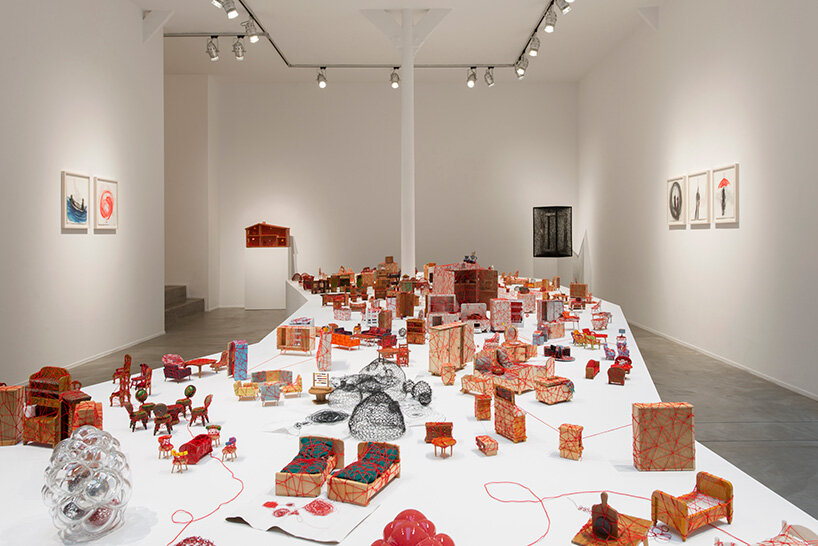 designboom (DB): how has your personal experience of the global lockdown led to the development of these intimate and delicate artworks? what feelings has this immobility unearthed within you?
chiharu shiota (CS): during this global lockdown, I stayed at home in berlin. I usually travel to all the exhibition locations but during the lockdown, everything became smaller. the world became smaller. everyone was at home and looked at the same bed, table, chair. so our world became smaller, but the amount of information we received became bigger. we spent much more time on the internet, receiving information from the whole world. I had many more online meetings from around the world. I could not meet these people in person, so there was great physical distance but still closely connected. this small world, and my feelings at home became the inspiration for the exhibition 'living inside'.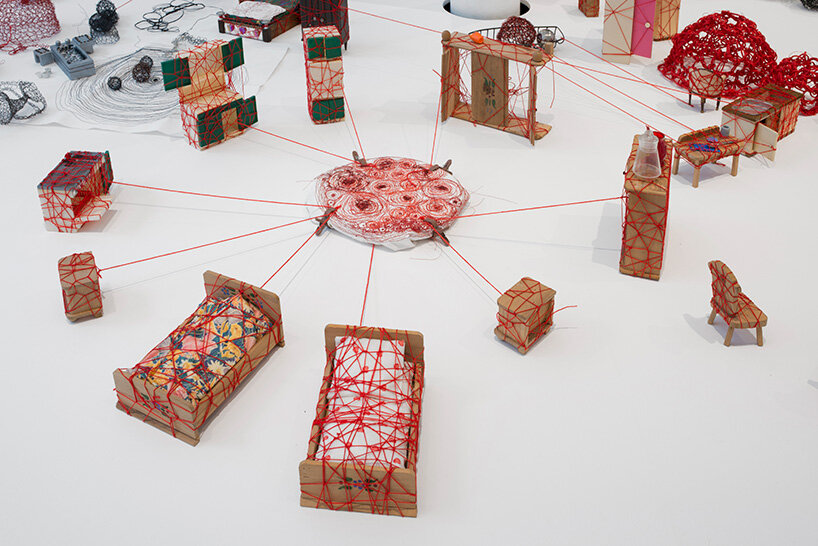 DB: what subjects or emotional states are expressed in the miniature worlds you have devised during this period?
CS: I like this old, antique stuff, and I visit the flea markets when I can because lots of memory is accumulated in these old objects, and especially in this small doll furniture that children are playing with. they are creating a story, a universe. I was collecting this furniture since I have had my exhibition at the mori art museum in 2019. now, through the pandemic, I feel more connected to these installations. I wanted to create more of these installations, connecting and tying the furniture together and connecting each other. I am creating a story.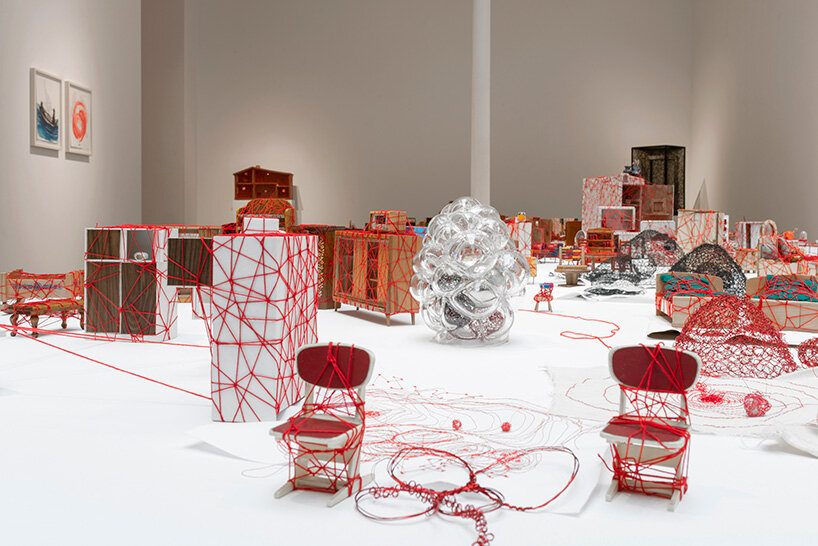 DB: how does your creative approach to a project change depending on its scale? do you enjoy working on smaller scale works?
CS: I like big installations, but I always wanted to collect a lot of objects — I need this accumulation. I feel like when I have a great number of objects, I feel my void become smaller or fuller. I always need a number of materials.