The depth of the buying bench for the Magic Millions National Yearling Sale has taken an unexpected hit, but the auction house is confident the market strength that has been prevailing all year will continue at the Gold Coast June 1.
The three-day sale, which comes on the back of record weanling and broodmare auctions in the past fortnight, has a 430-lot Book 1 catalog of horses going under the hammer Tuesday and Wednesday before a third session of 166 Book 2 yearlings are sold on Thursday.
"There's a great buzz on the grounds. I think our catalog stacks up really well, both on paper and physically, and it is always a sale where, if you're willing to shop for a bit of value, you'll find it," Magic Millions managing director Barry Bowditch said. 
"We're hopeful there's plenty of good racehorses to set the track alight in the years to come."
New Zealand buyers Phill Cataldo, Paul Beamish, Paul Willetts, and Roger Cooksley have been on the grounds inspecting yearlings and they have been joined by the likes of Australian agents Suman Hedge, who has delayed his return to Victoria due to the COVID-19 outbreak, Sheamus Mills, Justin Bahen, Paul Moroney, and trainer John McArdle.
Te Akau Racing's David Ellis and Jamie Richards have also remained in Australia after witnessing champion mare Melody Belle  sell for AU$2.6 million (US$2,015,674) last week and they, too, were busy inspecting yearlings.
Sydney trainers Annabel Neasham, Gerald Ryan, Lee and Cherie Curtis, Victoria's Mick Price, Kiwi trainer Roger James, Western Australia's Ben Pearce, and Tasmania's Adam Trinder are also at the sales.
But at least nine Victorian buyers who arrived on the Gold Coast last week are unable to attend the Magic Millions sale due to Queensland government restrictions imposed in response to Victoria's seven-day COVID-19 lockdown.
"Under the circumstances, we've missed quite a few inspectors who couldn't get here from Victoria, but in saying that, we think we've got a good cross-section of buyers," Bowditch said. 
"There's quite a few Kiwis here, all the other states are well-represented, and with Victoria there are still some here (who had arrived for the weanling and broodmare sales), but the ones who can't get here, we are trying to do our best to help facilitate them purchasing yearlings."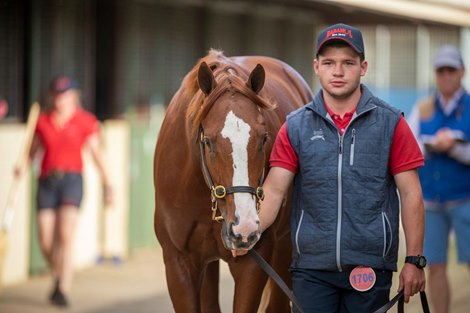 A 430-lot Book 1 catalog of horses goes under the hammer the first two days of the sale
On day one, Torryburn Stud has an I Am Invincible  half brother to this season's Widden Stakes (G3) runner-up Centimental (Lot 1547) set to go through the ring, Milburn Creek has a Snitzel  brother to the stakes-placed Spend, being out of stakes-winning mare Walk With Attitude (Lot 1619), and Eureka Stud will offer a Capitalist three-quarter brother to group 3 winner Vibrant Rouge (Lot 1447).
On Wednesday, yearlings by Toronado , Hellbent, Zoustar, Almanzor , Exceed And Excel , and Not A Single Doubt  could also feature prominently among the top lots.
While owners and trainers seeking racehorses are expected to be the major players, traders are also set to make their mark, says Bowditch.
"Obviously, this is a sale where the breeze-up buyers have done really well in the past. They have bought horses at a value price who have gone on and been really good breeze-up sale horses for them," he said. 
"They like to go back to the well and this is a sale they've shopped well at in the past."
The sale starts at 10 a.m. local time Tuesday.
Final Redoute's Choice Sale Yearling on Offer

David Chester, an iconic Magic Millions figure, has many achievements to his name during his more than five decades in the industry and Tuesday he will add another piece of history when he opens the National Yearling Sale.
Chester will sell Lot 1401, the first horse through the ring, who just happens to be the last yearling by champion stallion Redoute's Choice  to be sold at auction.
Offered by Arrowfield Stud, he is the second living foal out of winning Japanese mare La Fouine Tail.
Chester also sold the first Redoute's Choice yearling, a Newhaven Park-consigned colt, as Lot 11 at the 2003 Magic Millions Gold Coast Yearling Sale.
Out of Star Way mare Nicety, the colt was bought by trainer Alan Scorse for AU$50,000. Named Private Certifier, he went on to win seven of his 64 starts with a further 14 placings.
"I don't know whether you'd call it an honor—it just shows my age, selling the first and the last one," he said. 
"Who would have thought Redoute's Choice would have turned out the way he did. He's just been amazing, a three-time Australian champion sire, so many group 1 winners, I think it's 39 group 1 winners, and to think you'd sell the first and last, I think it would create a bit of history.
"David Coles and John Inglis might have done it with some of the great stallions like Star Kingdom and Without Fear and those sort of horses. It's quite unique."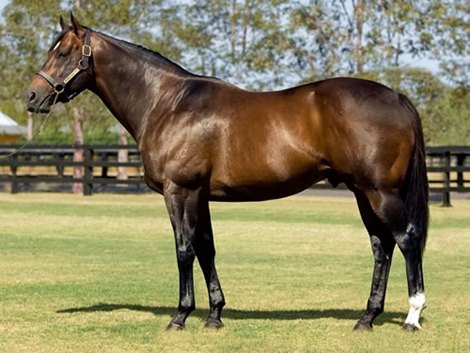 Redoute's Choice
Chester had inspected the Arrowfield Stud colt and he's impressed by what he's seen.
"I really like him. He's first up and it's always difficult selling the first in a sale," he said.
"It takes a while for buyers to find their feet and set their market, but to have a horse like that as Lot number 1, it sets us up for the day."
Newhaven Park's John Kelly also recalled the first Redoute's Choice yearling put to market.
"I remember the horse, he won six or seven races, and over the years we've sold quite a few Redoute Choices and he's been a very good stallion to us and now we've got quite a few Redoute's Choice broodmares," Kelly said.
"I can't add anything to what everyone else has said, he's been a breed-shaper, he's been a great stallion for a lot of people, and he's been a great stallion for Australia's industry."
In 2003, Redoute's Choice's fourth season at stud, he had just 75 live foals, his lowest number until 2016 during 19 years standing at Arrowfield. To date, the champion stallion of 2006, 2010, and 2014 has total progeny earnings of AU$178 million and an elite 11.8% stakes winners to runners ratio.
Kelly recalls backing his judgment and supporting him that year and he was subsequently rewarded in spades through the sales ring. Nicety was one of those Newhaven mares, visiting Redoute's Choice four years in succession and producing three foals. 
The last of those was Daaloob who was bought by Shadwell Stud's Angus Gold for AU$600,000 at the 2006 Inglis Australian Easter Yearling Sale, just as owners and trainers were starting to realize what an impact Redoute's Choice was having. 
"We were very keen on Redoute's Choice from the beginning. We went to him every year and we kept going to him," he said. 
"People probably forget, but Redoute's Choice after his first crop had raced, he was considered to be going only ordinary. 
"He had about 75 yearlings in a crop and we had about eight of them when he came good. It was very advantageous for us. We had a good year."
Chester will "open the batting," as he does at every Magic Millions sale, but don't expect anything outlandish from the experienced auctioneer when Lot 1401 walks in.
He said: "I just want to get him sold and make sure the vendor gets a good price for him and get onto the second lot up."