Highflyer Bloodstock's Anthony Bromley struck late in the opening session of the Arqana Summer Sale to land Dollar Nolimit (Lot 234) for longtime allies Simon Munir and Isaac Souede.
The son of Authorized   was brought to market by Jean-Marie Callier and is a half brother to Roi De Treve, who was the best 3-year-old chaser of his generation for Munir  and trainer Guillaume Macaire a decade ago. 
Bromley was pushed to €100,000 ($118,971) for Dollar Nolimit, who is out of a Cadoudal  full sister to Le Beau Bai and who is destined to go into training with Stuart Crawford. 
"Roi De Treve was a horse I bought a long time ago for Simon Munir who won the Prix Congress," said Bromley, the purchaser of five lots on the day. "He was bought as a yearling and he cost less than €20,000 so this brother is a bit more expensive but we're in love with the stallion Authorized."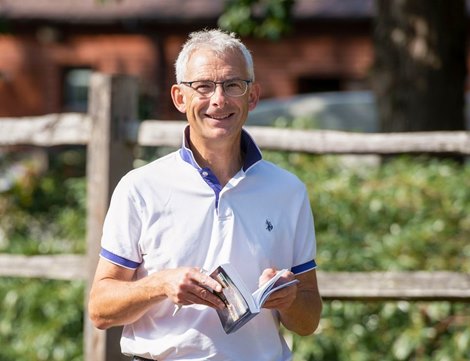 Anthony Bromley secured a son of Authorized for longtime allies Simon Munir and Isaac Souede June 30 at Arqana
The owners have one of the best 4-year-old hurdlers in France in the shape of another son of Authorized, the homebred Raffles Face.
Bromley added: "We have been trying to get some Authorized horses at the various sales, and I'm very pleased to get this one. He's very athletic, all quality. He's not a huge horse but he's an athlete.
"He will go back to England to be broken in and the idea will be for him to be trained in Northern Ireland by Stuart Crawford." 
Zarak a Source of Top Jumping Prospect

The first of two days of selling featured 2-year-olds destined for both Flat and jumping futures and at €110,000 ($130,869) the session was led by a son of Zarak .
The twist is that he led the stores section and his new connections will be aiming him at Auteuil and not Longchamp.  
That is because the maternal family is that of champion 3-year-old hurdler Bonita Du Berlais and, while the already-named Bo Zenith (Lot 214) is from the stallion's first crop, breeders Haras des Pierres Follets are among those to bet that the Aga Khan Studs' resident will be a source of jumping success as well as his prime vocation.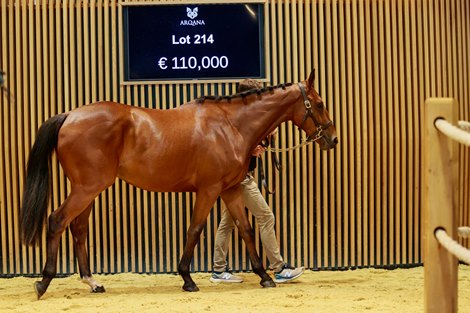 Bo Zenith in the ring at the Arqana Summer Sale
Paul Basquin of Haras du Saubouas was the man to win out and expressed satisfaction that he had been able to acquire both of his main targets, in part thanks to securing Lot 207 for a little under his expectation at €40,000 ($47,589).
"I concentrated on two horses and I thought the Saint Des Saints from Etreham would be more expensive," said Basquin. "So I upped the budget for the Zarak. He's not a proven stallion but he's by Dubawi and it's a very good jumping pedigree (on the dam's side). He's a nice, racy horse so fingers crossed. 
"The Saint Des Saints is from a very speedy family and I'm very happy to get both. They will come back to Saubouas for breaking and pre-training and we'll see which trainer we choose."
No Risk At All With Auteuil Royalty

Joyau Du Chenet (Lot 192) features a page brimming with horses from the treasure trove that is the Haras du Chenet's breeding and the son of No Risk At All  certainly sparked plenty of interest from bidders. 
At €100,000 ($118,971) it was Bertrand Le Metayer who outlasted his rivals for the gelding, consigned by Haras de Loges. 
Dam Vivane Royale won the Prix Bournosienne while granddam, Ma Royale, was second in the Grand Steeple-Chase de Paris, both mares under the tutelage of trainer Marcel Rolland carrying the colors of prominent American owner Magalen Bryant, who passed away at the age of 92 earlier this week. 
"It's an awesome family which goes back a long, long way and they've all been tremendous Auteuil horses," said Le Metayer. "I was afraid I wouldn't be able to afford him and that was exactly our limit.
"At the moment I've only got 40% sold so as you can imagine, I need to work now. Buying him was the easy bit. He's a very straightforward horse, a great mover, and from a great breeder."
Doctor Dino in Demand

Haras du Mesnil's Doctor Dino  continues to back up the high opinion of buyers with his racecourse results and two of his 2-year-olds hit the upper reaches of the board, both 100% products of the Devin family's breeding heritage.
At €80,000 ($95,177) David Cottin secured Lord Dino (Lot 118), who is from the family of Gold Cup runner-up A Plus Tard and a horse with plenty of recent sales activity to report.
4-year-old full brother Epic Tale won over hurdles at Vichy last year and finished second in the Listed Prix Gerald de Rochefort at Auteuil on June 29 ahead of a date in this very ring on June 30.
And another brother, the 3-year-old Laudamas, was bought here by Abbeylands Farm in the delayed stores session last November for €62,000, before being sold on to Michael Shefflin and Paul Holden for €130,000 at last week's Derby sale.
Lord Dino is out of the Ange Gabriel  mare Lou Ange and the second Doctor Dino to feature is also the product of a damsire who stood at Mesnil. 
Tyrant (Lot 176) is the first product out of the Turgeon  mare Tarco, a winner over hurdles at Compiegne and hailing from a family that goes back to Turgeonev, a winner of both the Castleford Chase and the Victor Chandler in its handicap guise almost 20 years ago for Tim Easterby. 
After giving €78,000 ($92,798), Nicolas de Watrigant said: "This 2-year-old is a very good-looking horse and we chose him in conjunction with Francois Nicolle based on his physical model. He walks well and has a good temperament, while it is a good Devin family. He has a bit of Turgeon about him, and I've bought him for Alain Jathiere. 
Mocklershill Scores With Creative Cause Colt

A grade 1 winner on dirt as a 2-year-old, Creative Cause   has only had a handful of runners in Europe but Airdrie Stud's son of Giant's Causeway topped the charts in the 2-year-old flat-bred section that opened proceedings and acts as an annex to the Breeze-Up season. 
De Watrigant and owner Pierre Pilarski told the Racing Post on June 29 that they were searching for one or two pearls in the catalog and went to €100,000 ($118,971) to secure the Mocklershill-consigned colt (Lot 8) who was picked up at the 2020 Keeneland September Yearling Sale for just $12,000.
He is the first product from the winning Proud Citizen mare Fight With Pride, herself out of a full sister to Del Mar Oaks heroine Summer Soiree . 
Standing with Pilarski and trainer Simone Brogi, De Watrigant said: "He's a beautiful horse and we thought he was the pick of the sale. He was here a bit by mistake as he was supposed to be in the May (Breeze-Up sale) for Arqana.
"He had a little setback and so lucky for us he came here and we put together a group of investors including Middleham Park Racing, a client of Simone Brogi's and Pierre Pilarski. He will run in Monsieur Pilarski's colors and will be trained by Simone. Hopefully, they'll have some luck, having nearly won the Prix Hocquart with Gregolimo ."
German Buyer Trusts in Night Of Thunder

The final lot through the ring in the breeze-up section—each horse cantered on the Deauville Polytrack on June 29—was a Night Of Thunder colt (Lot 81i) consigned by Knockanglass Stables and was snapped up by Jean-Pierre Deroubaix of Agence FBA for €70,000 ($83,280).
Out of the unraced Distorted Humor   mare Clowning, the colt's second dam is grade 1 winner Flashing , whose Medaglia D'Oro   son Floodlight  chased home Almanzor  in the Prix de Guiche before beating Lord Glitters  in the listed Grand Prix du Lion D'Angers. 
Deroubaix struck the winning bid seated next to German owner Jurgen Sartori, who has already enjoyed plenty of luck with Night Of Thunder thanks to the exploits of the Andreas Suborics-trained No Limit Credit . 
"On the pedigree side, you have a sire who is pretty exceptional and who is the best son of Dubawi at stud," said Deroubaix. "The second dam was excellent and there is a good family there going back. This horse had a slight problem behind but he vetted perfectly last year and pre-sale. It might have put a few people off but that meant he was a reasonable price. He will go into training in Germany.
"Monsieur Sartori has enjoyed recent success with No Limit Credit, who was second in the German One Thousand Guineas last year and has been placed at group level three times this season."
First Day Figures 

The lack of stores to sell in 2020 makes comparisons fairly unhelpful but on broader historic trends, day one lived up to expectations, with 169 of 231 Lots offered finding a new home for a clearance rate of 73%, a figure which had looked unlikely at one stage midway through the afternoon.
Turnover was €3,517,500 ($4,187,300), which with the horses in training and breeding stock to come on July 1 gives Arqana a good chance of matching the 2019 two-day total of €7,578,502 ($8,523,710).
The average price of the lots sold was €20,814 ($24,777) while the median was €14,000 ($16,656).