I've recently learned about a new, experimental Crohn's treatment I want to tell you about.
It involves stimulating the innate immune system to wake up, and clean up ALL pathogens in the body (kill all the bad bugs). The mechanism used to achieve this is by injecting components of dead E. coli bacteria into the skin (dendritic cells). The preliminary trial showed a promising remission rate, so they have moved into a full clinical trial.
Dr. Gunn is looking for 24 more trial participants to test this treatment, and all travel and accommodation costs (from anywhere worldwide) will be paid for – maybe that's you?
I've done a teleseminar with the doctor in Vancouver (Dr. Hal Gunn) who's holding this clinical trial and I have asked him every question I could think of. So if you're at all intrigued, download or listen to this 17-minute interview where I ask Dr. Gunn to explain the pros and cons for us:
DOWNLOAD QU CROHN'S TRIAL INTERVIEW
Podcast: Play in new window | Download
Subscribe: RSS
Here are some of the questions I ask in this interview:
Tell us the story of how you 'discovered' this new, experimental treatment for Crohn's?
This clinical trial involves injecting components of dead bacteria into your skin – how is this different from a vaccine, which used to be a dead or weakened virus, although I read they're now also using synthetic antigens?
Please tell us about the initial trial you ran with only 10 patients?
Is this treatment similar to the pig worm treatment; where people swallow Helminth worms?
Are you hoping for this treatment (if it proves reliable and successful) to be used, like a drug, as a stand-alone treatment? Or are you thinking of it being one piece of a more holistic approach?
Can you tell us more about the innate immune system vs. adaptive immune response?
I asked Dr. Gunn 2 more questions after the call – here they are, along with his responses:
JINI: What is the longest time you have tracked anyone who has used this treatment?
DR. HAL GUNN: The first compassionate use patient began treatment with SSIs in Sept 2008.
JINI: According to the data that you have (and your imagination) what is the worst-case scenario you can think of, in terms of possible long-term negative consequences, or complications of injecting components of dead E.coli into your skin?
DR. HAL GUNN: Based on the composition of SSIs (i.e., killed bacteria), we don't expect any long-term negative consequences or complications from treatment. In our compassionate use program, we treated 270 patients with cancer, inflammatory bowel disease and autoimmune disease with no long-term negative consequences or complications from treatment reported. However, like any drug or treatment, we will need to treat thousands of patients before we can determine, with certainty, that SSIs have a very good safety profile.
Then – as those of you who know me are aware that I am very cautious – I asked a friend of mine who is a Medical Geneticist if he could think of anything else that could possibly go wrong for someone who received this treatment. He replied that the only thing he could think of that might potentially be a problem is if somehow the bacteria is not actually dead when injected.
However, being that Dr. Gunn has been using this treatment on cancer patients since 2008, and this scenario has never occurred, I would suspect they have a good quality control process in place! Dr. Gunn addressed this concern:
"Qu's manufacturing processes are controlled and validated to ensure complete inactivation of E. coli in the production process, including retesting of the final SSI product consistent with high quality control standards."
Dr. Gunn is looking for 24 more trial participants to test this treatment and all travel and accommodation costs (worldwide) will be paid for – grab an application form, or ask any other questions you might have: www.qucrohnstrial.com
ALSO, Dr. Gunn recently recently did an Ask Me Anything on Reddit and there are some great questions & answers there too.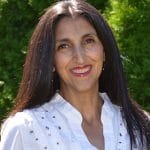 Jini Patel Thompson is an internationally recognized expert on natural healing for digestive diseases. She healed herself from widespread Crohn's Disease and has remained drug and surgery-free for over 20 years. Jini has appeared on numerous podcast, TV, and radio shows throughout the U.S., U.K., Canada, and Australia, giving people hope and vision for how they can heal their Colitis, Crohn's, Diverticulitis and Irritable Bowel Syndrome (IBS), using entirely natural methods. Her books on natural healing for digestive diseases have sold worldwide in over 80 countries.