Almost no other trainer can successfully take on Bob Baffert. But Phil D'Amato is doing just that this year at Santa Anita Park. Bolstered by a huge day April 3, D'Amato pulled even with Baffert in the Santa Anita trainer standings—each with 29 wins—and the two have continued neck and neck (per current standings through April 10 of trainers at Santa Anita meet, D'Amato has 30 and Baffert, 29).
The trainers are tackling the Santa Anita leaderboard from completely different directions. Baffert has his 3-year-olds prepping for the Triple Crown events: He has scored four of the five graded stakes on the dirt in the sophomore male division at the current meeting. D'Amato has excelled with grass runners: He has taken six graded stakes on the turf at the Santa Anita meeting—three with Charmaine's Mia , two with Going Global , and one with Gregorian Chant .
"Everything's firing on all cylinders," D'Amato said. "We've got some really good horses in the barn, and it's just exciting times for the D'Amato barn."
While the Runhappy Santa Anita Derby (G1) highlighted the April 3 card, with Rock Your World  winning for trainer John Sadler, the undercard offered five other black-type events—the Santa Anita Oaks (G2), two graded turf stakes, and two California-bred stakes.
Soothsay , trained by Richard Mandella, captured the Oaks over Baffert-trained Beautiful Gift . D'Amato didn't have an Oaks starter, but he won both of the graded turf stakes and a starter allowance race.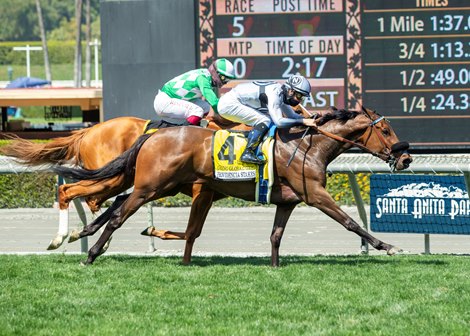 Going Global captures the Providencia Stakes at Santa Anita Park
Going Global and Charmaine's Mia went off as odds-on favorites in their respective races, the 1 1/8-mile Providencia Stakes (G3T) for 3-year-old fillies and the one-mile Royal Heroine Stakes (G2T) for fillies and mares. Flavien Prat, who is well ahead in the Santa Anita jockey standings, rode both distaffers.
Following her half-length victory in the Sweet Life Stakes (G3T) Feb. 14, Going Global added the listed China Doll Stakes March 6. She ran fourth early in the Providencia and got up to defeat stakes winner Closing Remarks  by a neck in 1:48.50. An Irish-bred daughter of Mehmas —Wrood, by Invasor , Going Global is perfect in three U.S. starts after winning one of four in Ireland. CYBT, Michael Dubb, Saul Gevertz, Michael Nentwig, and Ray Pagano own the filly.
Charmaine's Mia, who races for Mark Martinez' Agave Racing Stable and Robin Hoffos' Rockin Robin Racing Stables, is also three-for-three since coming to the D'Amato barn. A 5-year-old daughter of The Factor  —Charming Vixen, by Bernstein , Charmaine's Mia won the Jan. 9 Las Cienegas Stakes (G3T) at six furlongs and the Feb. 20 Buena Vista Stakes (G2T) at a mile prior to the Royal Heroine.
Leading throughout the Royal Heroine, Charmaine's Mia scored by a half length. She stopped the timer in 1:33.76 while defeating Dogtag  and Warren's Showtime , both multiple stakes winners. D'Amato sees potential for continued growth in both fillies.
"They definitely came into the barn in very different scenarios," said D'Amato. "Going Global was a private purchase from Ireland, and Charmaine's Mia was a private purchase from Canada. Both are really nice fillies that just keep developing. Hopefully, we can make them grade 1 winners in the next couple of months."
D'Amato said his owners have found some value in pursuing turf horses.
"With our budget and with what my owners are comfortable paying, turf works out best," he said. "I give them all the credit because you still have to find a good, solid prospect, and they found them."
Martinez appreciates D'Amato's ability as well as the trainer's talent for assessing horses and placing them in the right races.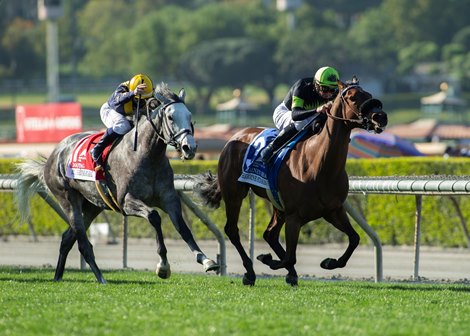 Charmaine's Mia wins the Royal Heroine Stakes (right) at Santa Anita Park
"Charmaine's Mia is yet another example of just how skilled Phil is," Martinez said. "It's not easy to put your finger on a single item that makes him so effective. It's more of his holistic approach that makes him great. Phil's program is so well orchestrated and focuses on the horse's health, conditioning, and mental state."
Martinez noticed that Charmaine's Mia had run well at Woodbine and Gulfstream Park, "but was just coming up a little short." He thought she would do well in D'Amato's barn.
"Phil not only makes his horses better, but he makes the game better," the owner added.
King Abner won the April 3 one-mile starter allowance race for D'Amato. It was even more of a family affair because D'Amato's stepdaughter, Jessica Pyfer, rode King Abner. Pyfer had two winners on the April 3 card, and through April 10, had earned 19 wins at the Santa Anita meeting—seventh in the standings. She has only been riding in races since last year.
"It's great to see her develop," D'Amato said. "She started galloping horses for me, and she always had that itch to be a jockey. We always pushed her to go to school. She finished up her school, but she ended up right back here."
Pyfer came to the racetrack from the show horse world. At age 10 she won the USEF Pony Finals in Kentucky, becoming the youngest rider to do so. Sherri, Jessica's mother and D'Amato's wife, galloped horses for trainers Mark Glatt and the late Mike Mitchell. Sherri and Phil met when Phil worked as an assistant for Mitchell.
About the only surprise during the April 3 card was that D'Amato didn't also win one or both of the Cal-bred stakes. The trainer does very well in the state-bred program, and the California Thoroughbred Breeders Association honored him as its trainer of the year in 2018.
California owner/breeder Nick Alexander is one of D'Amato's principal owners, and so D'Amato trains many winners by Alexander's California-based stallion Grazen . One of those included stakes-winning Barbara Beatrice , a mare D'Amato bred, co-owned, and trained. An earner of $357,256, Barbara Beatrice is due to foal this year to Smiling Tiger  . D'Amato owns 100% of her dam, Showtime Apollo, and that mare is in foal to Grazen.
A leading trainer, a successful owner and breeder, and the stepfather of a rising jockey star, D'Amato, like his stable, these days is also firing on all cylinders.