an exhibition presenting the work of american artist adam pendleton and ghanaian-british artist and architect sir david adjaye has opened at pace gallery's hong kong location. the exhibition features a new body of paintings by pendleton entitled 'untitled (WE ARE NOT)', presented in visual and spatial dialogue with a set of sculptural works by adjaye. viewed in concert, the works articulate a shared visual lexicon that explores questions of language, identity, and monumentality.
with the exhibition on view until june 30, 2021, designboom speaks with both pendleton and adjaye, as well as oliver shultz, curatorial director at pace gallery, to learn more about the presentation.

installation views by kitmin lee, courtesy of pace gallery
the two artists first met in 2016 while pendleton was installing a solo exhibition at the museum of contemporary art denver, a building designed by adjaye. in the years that followed, their continued dialogue revealed a mutual interest in the politics of space and representation, as well as the relationship between art and architecture. 'I'm drawn to david's work as a visual idea,' pendleton tells designboom. 'his work relates sculptural experimentation to the pragmatic realities architecture so often has to address.' david adjaye, who was recently awarded the 2021 royal gold medal for architecture, adds: 'I think what's beautiful about the commonality in our work is the question of form and how it supports space, perception, and, in a sense, a dialogue between the two'.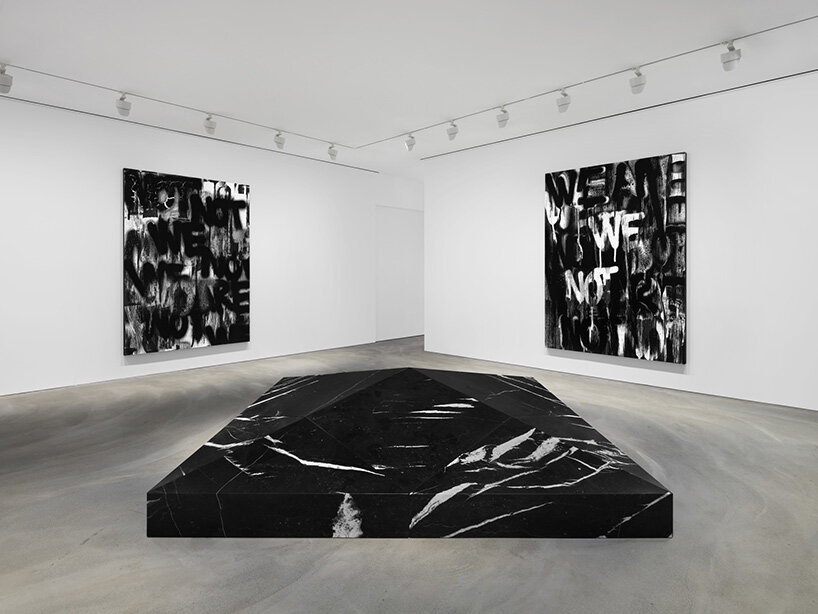 originating from pendleton's seminal 'black dada' text of 2008, the phrase 'WE ARE NOT' is broken down and merged to form all-over compositions. pendleton's reiteration and reconfiguration of his own past language extends the dynamics of his ongoing 'black dada' project — a conceptual framework through which the artist explores ideas about the future through the evocation of the past, with an emphasis on the relationship between blackness and the avant-garde. presented on the walls of pace's hong kong gallery, the 'untitled (WE ARE NOT)' paintings similarly address questions of historical and collective definition, alluding obliquely to the rhetoric of contemporary identity politics.
occupying the floor of the gallery, adjaye's modular geometric sculptures take the form of pyramids, yet are composed of individual elements with the capacity to be reconfigured in a variety of orientations. in this way, they echo the combinatorial possibilities of language explored in pendleton's paintings. working in marble — which is also among the most frequently used materials in the history of architecture — has enabled adjaye to distill broader ideas about materiality and form into objects that trouble the boundaries between art and architecture, while evoking the history of minimal sculpture.
read more about the work in our interviews with the artists and pace's curatorial director below.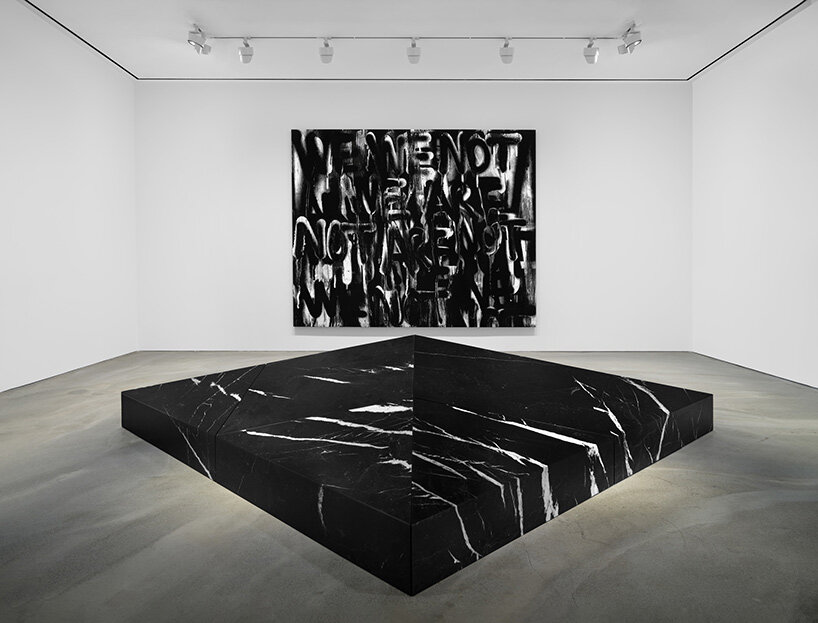 designboom (DB): compared with your architectural projects, what is your approach to creating art and sculpture?
david adjaye (DA): I'm very interested in this idea of blurring what you think an artwork is and allowing it to perform in different ways. as a question on process, the possibility of asking what the potential of form is and could be is something that heavily plays out within my practice as both artist and architect.
I work within a framework of relationality as a lens through which to see the temporal intricacies between form and material. this movement opens up an exploration into the interplay of memory and history which documents a past-time, the disaggregated potential of the monoform which documents a present-time, and the desire of the collective or individual to document a future-time.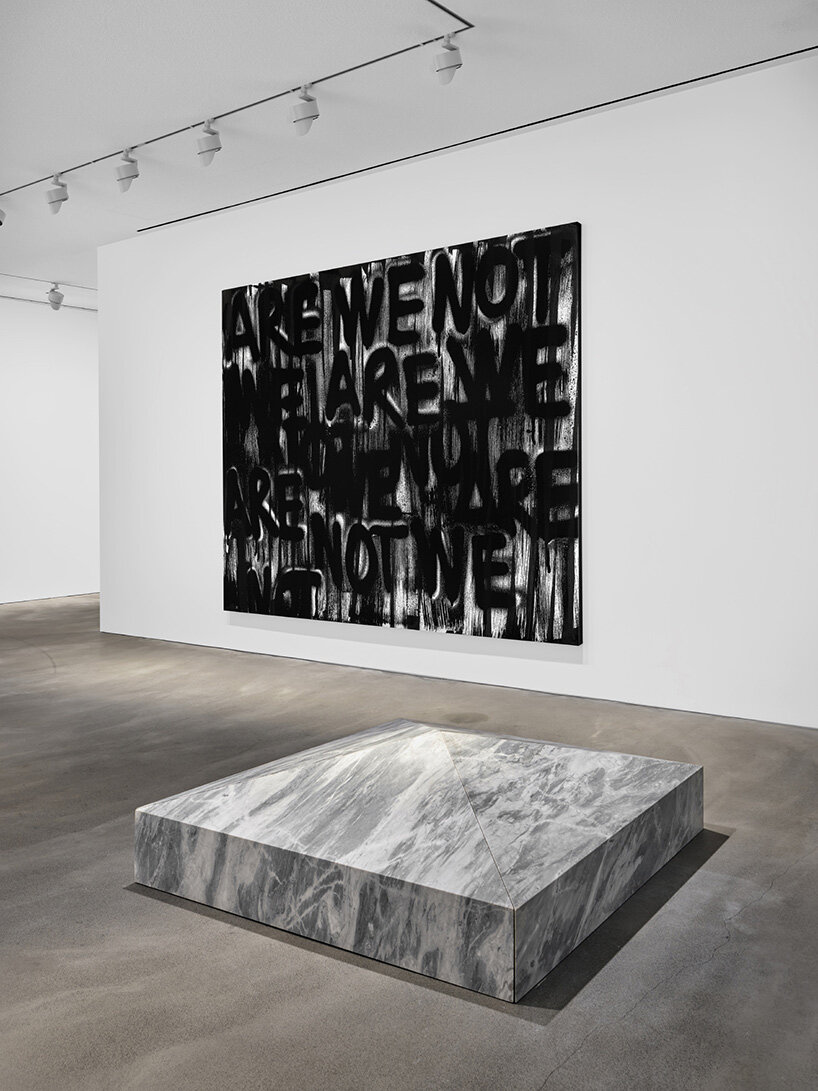 DB: what similarities and common themes do you see in your work and the work of adam pendleton?
DA: I think what's beautiful about the commonality in our work is the question of form and how it supports space, perception, and, in a sense, a dialogue between the two. I found that one of the elements that evolved within the works was this idea of language as form. this is seen in the geological process of marble formation which creates a type of stone scripting and in adam's paintings — which are like graffiti — relaying language in a state of its own seeking. both are forms of becoming in which language and form and language as form contain a multiplicity of differences, directions, meanings, and interpretations while still maintaining a universality birthed at the requirement of abstraction.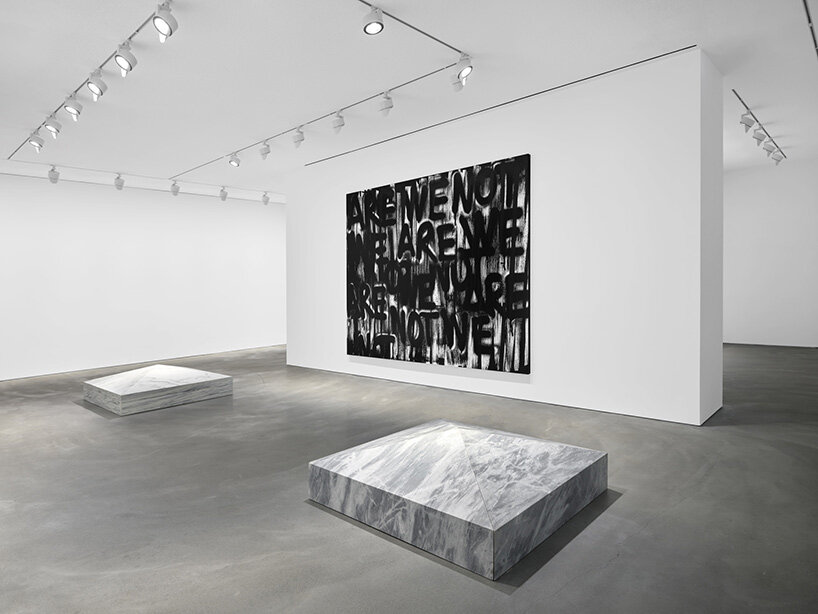 designboom (DB): how did this new body of paintings come about? what influenced you creatively? 
adam pendleton (AP): I've been working on the WE ARE NOT paintings since 2018. one day I was revisiting a text I wrote in 2008 called 'black dada' and came across the sentence: we are not naïve, we are successive, we are not exclusive . . . 
I often use short, unresolved statements in my work as visual material. language is often how the work announces itself, even just on a figurative level. the field of the painting is where the language becomes physical, plastic, handled, worked and reworked, wild. I want to challenge legibility and form, the potential of the mark, and the necessity and possibilities of abstraction. 'we are not' re-folds into many phrases: NOT WE ARE, ARE ARE WE NOT . . . many forms and representations that are incomplete and perpetually becoming.