Betamethasone, the medication that triggered a failed post-race drug test for Medina Spirit  after he finished first in the May 1 Kentucky Derby Presented by Woodford Reserve (G1), is a corticosteroid that is among the accepted medications used in horse racing although such substances are more highly regulated than ever.
In late summer last year, Kentucky updated its rules on corticosteroids like betamethasone. The new standards call for a withdrawal time of 14 days before a race—up from the previous seven days. While some substances allow for a low-level amount that doesn't affect performance or the horse's safety—a threshold—betamethasone no longer has such a level in place. Any level of detection of betamethasone is a violation.
The 21-picogram per milliliter of plasma or serum finding for betamethasone in Medina Spirit was above the previous threshold in place of 10 picograms.
Kentucky also requires a horse's medical records at the time of entry, listing all treatments for the past 14 days.
Bob Baffert, trainer of Medina Spirit, said May 9 that his horse had not been administered betamethasone.
"All I can tell you is that betamethasone—even though it is an allowed drug, a therapeutic medication, we did not give it," Baffert said.
CROSBY/ANGST: Medina Spirit Tests Positive for Betamethasone
First-offense penalty recommendations for a betamethasone positive for a trainer is a fine of at least $1,000, (a Class C category) absent mitigating circumstances. A second offense (within a year) for a drug in the Class C category, or category of more concern, calls for a $1,500 fine and 15-day suspension. 
Baffert's multiple grade 1 winner Gamine  tested positive for betamethasone in Kentucky last year, following her third-place finish in the Longines Kentucky Oaks (G1). At the time, an attorney for Baffert said the filly received betamethasone 18 days before the Oaks. She was disqualified and placed last, and Baffert was levied a $1,500 fine.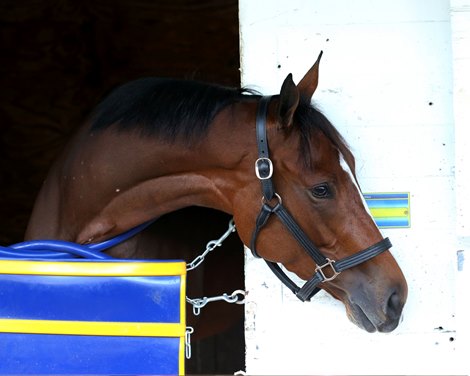 Gamine tested positive for betamethasone following her third-place finish in the 2020 Kentucky Oaks at Churchill Downs
For the owner, a first betamethasone offense calls for disqualification and loss of purse and requirements that the horse pass a commission-approved examination before being allowed to compete again. A second offense for the same horse calls for disqualification, loss of purse, and placing the horse on the veterinarian's list for 45 days. Medina Spirit is campaigned by Zedan Racing Stables.
The industry's Racing Medication and Testing Consortium, which includes representation from a number of the sport's groups, defines betamethasone as, "a potent, long-acting, synthetic glucocorticoid widely used in equine veterinary medicine as a steroidal anti-inflammatory."
According to the RMTC, betamethasone is a glucocorticoid receptor agonist which binds to various glucocorticoid receptors setting off a sequence of events affecting gene transcription and the synthesis of proteins.
More on Betamethasone from RMTC
Betamethasone is commercially available in a variety of formulations including BetaVetTM, BetaVet Soluspan Suspension(r), and Betasone Aqueous SuspensionTM. It can be used intra-articularly, intramuscularly, by inhalation, and topically. The 14-day guideline in Kentucky is based on an intra-articular administration.
Horse racing allows some therapeutic medications. The RMTC has developed administration guidelines to ensure that horses are running fairly and safely by race day. Those guidelines are then recommended to the umbrella regulatory group, the Association of Racing Commissioners International. The ARCI, in turn, then creates model rules that it encourages states to adopt, as currently horse racing's medication and drug testing is regulated from state to state.
Each state ultimately then adopts those rules or its own version of those rules. Kentucky, in line with 2019 recommendations from the RMTC, put more restrictive guidelines in place for corticosteroids last summer.
The industry has been moving toward more restrictive medication policies. When the RMTC pushed for added restrictions on corticosteroids, RMTC Scientific Advistory Committee member Rick Arthur noted, "The adoption of the restricted administration time essentially aligns us with international standards and eliminates the co-administration of NSAIDs (non-steroidal anti-inflammatory drugs) prior to a race."
Horsemen's groups have questioned the science behind developing the withdrawal times and thresholds—including the process in developing the betamethasone standard. The RMTC has vigorously defended the process.
In 2014 Princess of Sylmar  tested positive for an overage of betamethasone after finishing second in the Delaware Handicap (G1). Attorney Karen Murphy, representing Princess of Sylmar's trainer Todd Pletcher, successfully raised questions about the process behind developing the thresholds for betamethasone as the Delaware Thoroughbred Racing Commission did not move forward with the case based on the advice of a deputy attorney general.
Racing is a changing industry in the area of medication and drug testing. Federal legislation has been passed that will remove oversight of medication and testing issues from the states to an authority under the Federal Trade Commission. Plans call for that authority—its board members were named last week—to oversee the sport in these areas by the summer of 2022. 
The National HBPA has filed litigation seeking to prevent the Horseracing Integrity Act of 2020, which put the authority plan in place, from being implemented.