No matter the outcome of a photo finish between Drain the Clock  and Jackie's Warrior  in the June 5 Woody Stephens Stakes Presented by Nassau County Industrial Development Agency (G1) at Belmont Park, the race was an achievement in the stud career of Maclean's Music  .
The 13-year-old stallion's progeny ran 1-2 in the seven-furlong, $400,000 stake for 3-year-olds, with Drain the Clock wearing down Jackie's Warrior by a neck after they raced side by side at virtually every point of call. Well, except the break, when a quick-starting Drain the Clock got the jump on Jackie's Warrior, who was bounced around and last in the opening strides.
Their differing beginnings may have been the difference. Drain the Clock, with jockey Jose Ortiz subbing for his injured brother, Irad Ortiz Jr., broke like a shot, and with that edge, was able to angle off the rail in search of a tactical advantage. And so when Joel Rosario on Jackie's Warrior hustled his mount forward along the inside after a troubled break, Drain the Clock remained in the typically stronger position during a speed duel, on the outside.
The two 3-year-olds put on a show, throwing down splits of :22.09 and :44.19, with Jackie's Warrior holding a short lead. But after Jackie's Warrior opened up a length advantage in midstretch with 1:08.88, fatigue from his early efforts to catch up took a toll, and Drain the Clock proved the stronger of the two to inch past in the closing yards.
"If Rosario wanted the lead, I'd rather have him rush inside of me," Ortiz said of Woody Stephens tactics made after consulting with the colt's owners. "It was my game plan to break better, outrun him out of the gate in the first couple jumps, and go as far out as I could, as long as I was clear. I wasn't planning to mess with anybody; you can see as soon as Rosario came back in, I came back in. I didn't want him outside of me putting pressure on me the whole way." 
The winner raced seven furlongs on a drying-out track labeled good in 1:22.27. He paid $17 as the fourth choice in the field of six.
"I'm happy filling in for Irad and not messing it up," Ortiz said. "He told me the horse was very classy."
Jackie's Warrior, a four-time graded stakes winner, twice at the top level, lost for the first time in six one-turn starts, while Drain the Clock remained unbeaten in such races. 
"He just kind of stumbled a little bit coming out of the gate and missed the break," Rosario said of Jackie's Warrior. "Then he went and did his best, but I think the break out of the gate was the key. He still ran his race." 
Stakes winner Nova Rags  finished third, 7 1/4 lengths behind the runner-up, followed by Dream Shake , Tulane Tryst , and Caddo River  in the order of finish. 
Drain the Clock is now 6-for-6 in one-turn contests, including victories in the Bay Shore Stakes (G3) and Claiborne Farm Swale Stakes (G3). He is 6-for-8 overall with earnings of $539,550.
In one of his two defeats, he ran second to Greatest Honour  in the 1 1/16-mile Fasig-Tipton Fountain of Youth Stakes (G2) Feb. 27 at Gulfstream Park. After that race, in which he set the pace before tiring to lose by a length and a half, trainer Saffie Joseph Jr. and the Drain the Clock's owners—Slam Dunk Racing, Madaket Stables, Wonder Stables, and Michael Nentwig—chose to focus him in one-turn races.
"This is the benefit of making a tough decision because he got 20 points, and he could have picked up more," Joseph said of the points system used to qualify for the 1 1/4-mile Kentucky Derby Presented by Woodford Reserve (G1). "Would he have won? Probably not. That's stretching him.
"After that, it was just cut back. We figured let's have a good horse at one turn." 
Saffie Joseph (right) greets Jose Ortiz after Drain the Clock's Woody Stephens Stakes score
Bred in Kentucky by Nick Cosato, founder of Slam Dunk Racing, Drain the Clock is the first stakes winner for the Arch  mare Manki , who also produced Amazing Audrey  (Bodemeister  ), who made $225,408 outside of stakes. The dam has produced three winners from those to race, has an unnamed yearling Mineshaft   colt, and foaled a Vino Rosso   filly this year.
Maclean's Music, standing at Hill 'n' Dale Farms for $25,000, sired 2017 Preakness Stakes (G1) winner Cloud Computing  , and numerous high-level sprinters, including Estilo Talentoso , winner of the seven-furlong Bed o' Roses Stakes (G3) at Belmont Park June 4.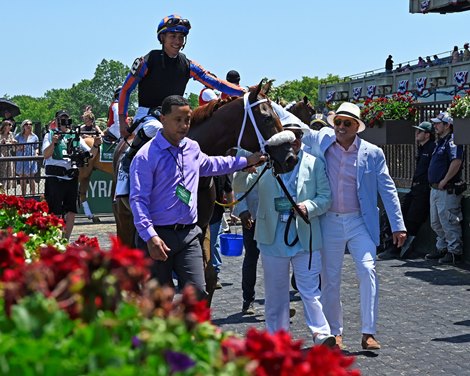 Drain the Clock heads to the winner's circle at Belmont Park