with a ray of italian style and craft traditions, ethimo's outdoor furniture creates idyllic, warm and relaxed settings in nature. this – the idea of living outside – has become even more reinvigorated during the COVID-19 pandemic; we all crave moments in nature, the feeling of the raw elements, and the ability to be 'present' in life. the brand's new designs look to also better connect people while outdoors. beneath canopies of comfort and laying upon meadows of soft cushioning, creations from marco lavit, ludovica + roberto palomba and patrick norguet strike a personal, harmonious relationship between the many users and the environment – all with expressive, elegant forms.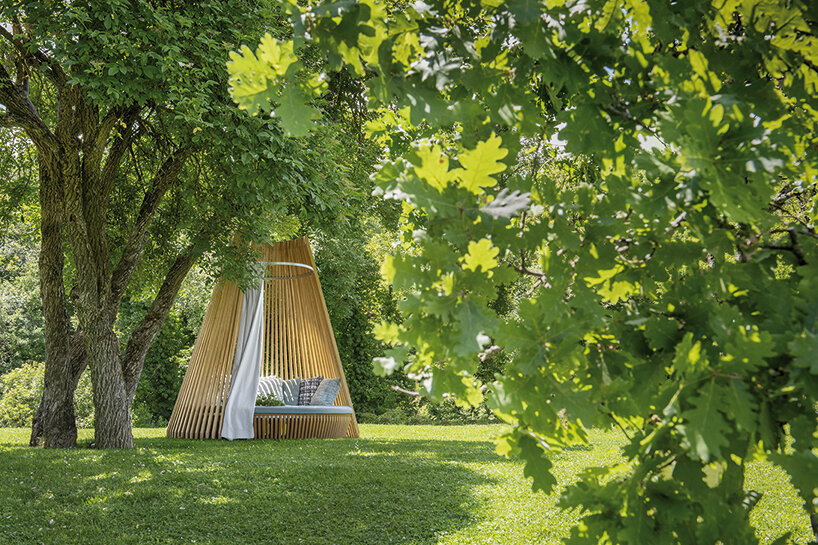 ethimo's outdoor furniture seeks to connect people and nature
all images courtesy of ethimo
the ethimo hut by marco lavit explores a new dimension of comfort, warmth and protection outside. it does so with a strong visual impact and elevated proportions, measuring 320cm tall and 300cm in diameter. a series of long 'stalks', made from the natural beauty of accoya wood, climb skywards to form a wigwam-like structure. this shelters a generous circular seat inside, made even more welcoming with additional soft cushions.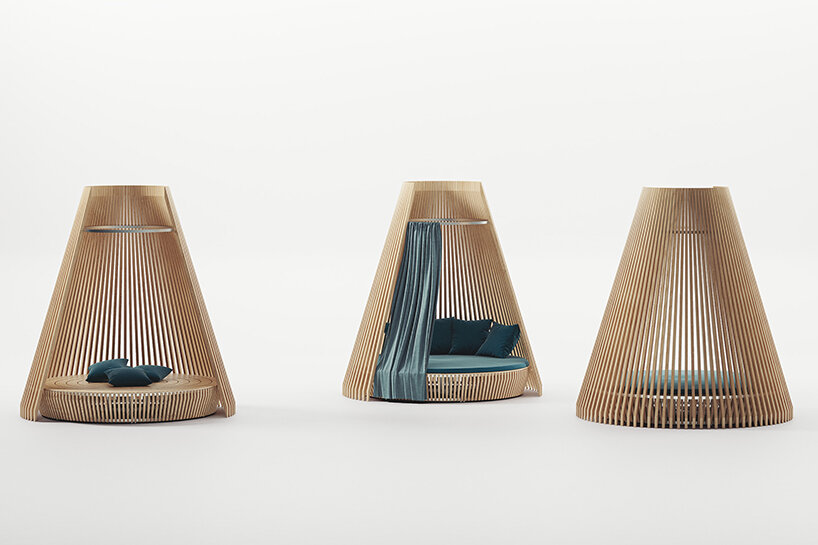 the wigwam-shape of the hut by marco lavit distinguishes a personal, cosy shelter for occupants
the hut offers a cosy, private and reassuring space to share with close friends and family. to start, the design can moved and adapt to fit your needs without being fixed to the ground. an elegant curtain can be draped across the entrance to not only filter air but also protect inhabitants from direct sunlight. the result is a protected personal space that is ideal for relaxing in the open air.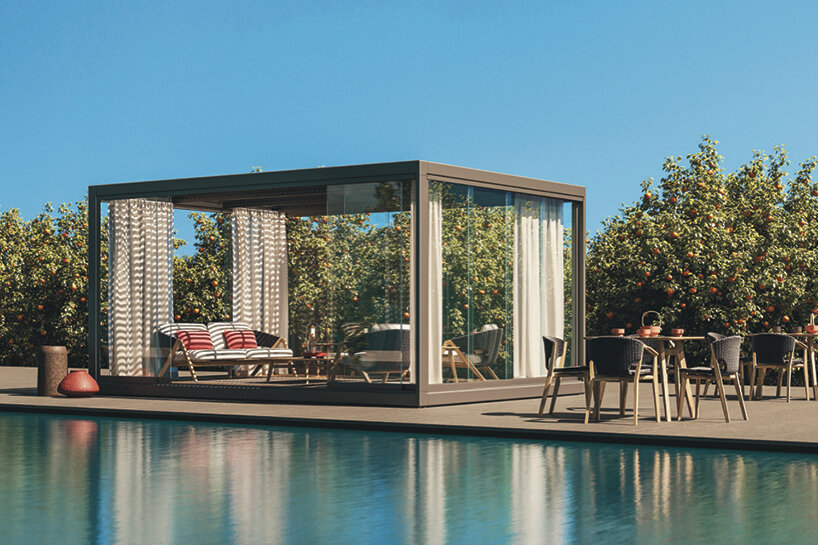 the ludovica + roberto palomba-designed eivissa creates a space in between the in and outdoors
the ethimo eivissa – the catalan name of ibizia – redefines outdoor space too. designed by ludovica + roberto palomba, the rectangular gazebo finds a balance between trend and practicality; it is a room for modern relaxation. the space bridges the interior and exterior of a home, allowing inhabitants to seamlessly flow between the two. sensations normally attributed to an interior – comfort, warmth and shelter – are recreated while with an immediate connection with the open outdoors.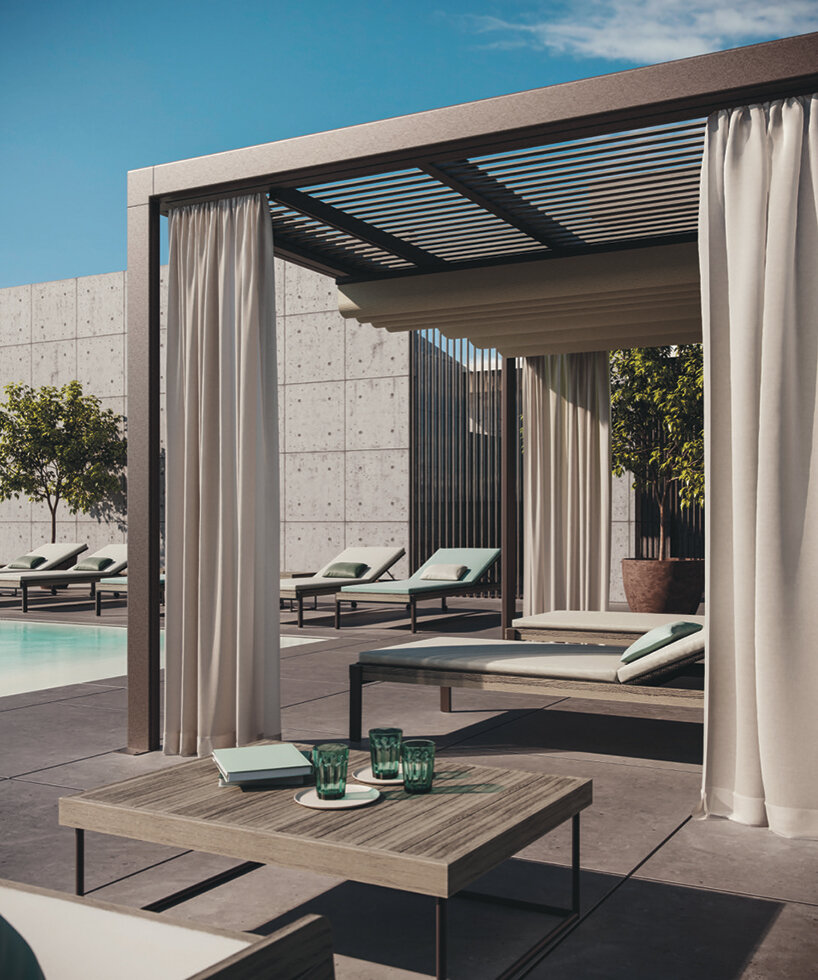 woven rope, airy sliding glass walls or soft fabric curtains form the walls of the pavilion
the large, elegant pavilion is shaped with softness thanks to the unusual design of its posts and rafters. no sharp corners are used, and powder-coated aluminum even makes the structure tactile to touch. modular accessories and elements ensure the space meets all user needs and even décor desires. three different sizes, nine color options, three different roofs (one without, one with polycarbonate, and one with adjustable aluminum louvers), and either solid teak or ceramic stone flooring means the architecture can be customized. its perimeter panels can be fashioned from woven rope, airy sliding glass walls or soft fabric curtains.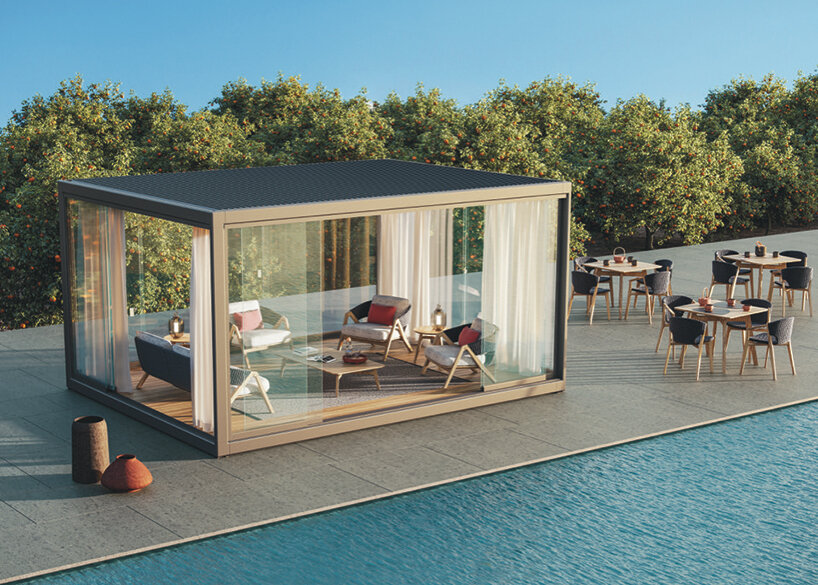 modular accessories, decorative elements and architectural options can be customized to fit the user's needs
creating an alfresco sitting room, two additional pieces – a comfortable sofa and cosy armchair – completes the ethimo knit collection designed by patrick norguet. first launched in 2015, the family of lounge and dining furniture has grown into an orchestra of experimental volumes, finishes and unusual fabrics. this includes its unmistakable woven seat, arm and backrests.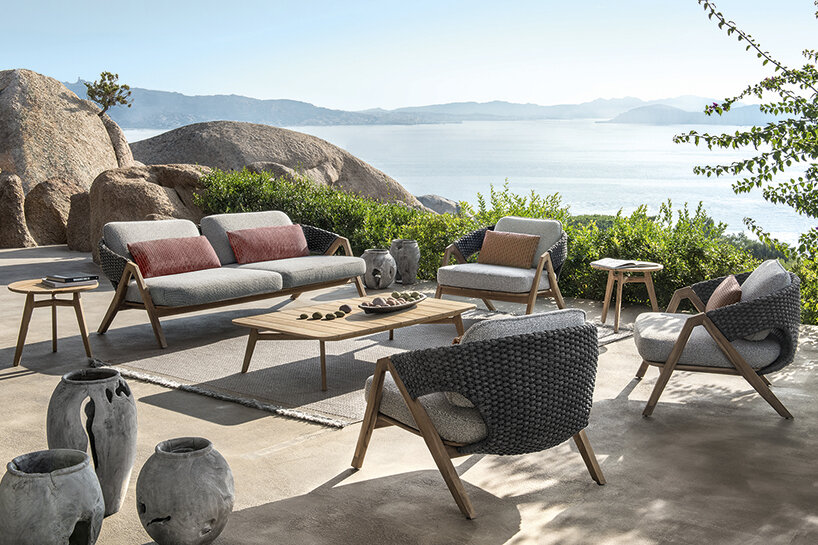 a lounging sofa and armchair complete the knit collection designed by patrick norguet
in respect to the original collection, the new designs pair ample proportions with sophisticated forms and experimental lines. natural or pickled teak is used for the structure, before rope weaves the seat or enveloping arm and backrests. fine new fabrics, called 'chess' and 'red diamonds', upholster the cushioning of the seat to highlight their soft volumes. the resulting family can turn outdoor settings, both residential and contract, into welcoming living rooms.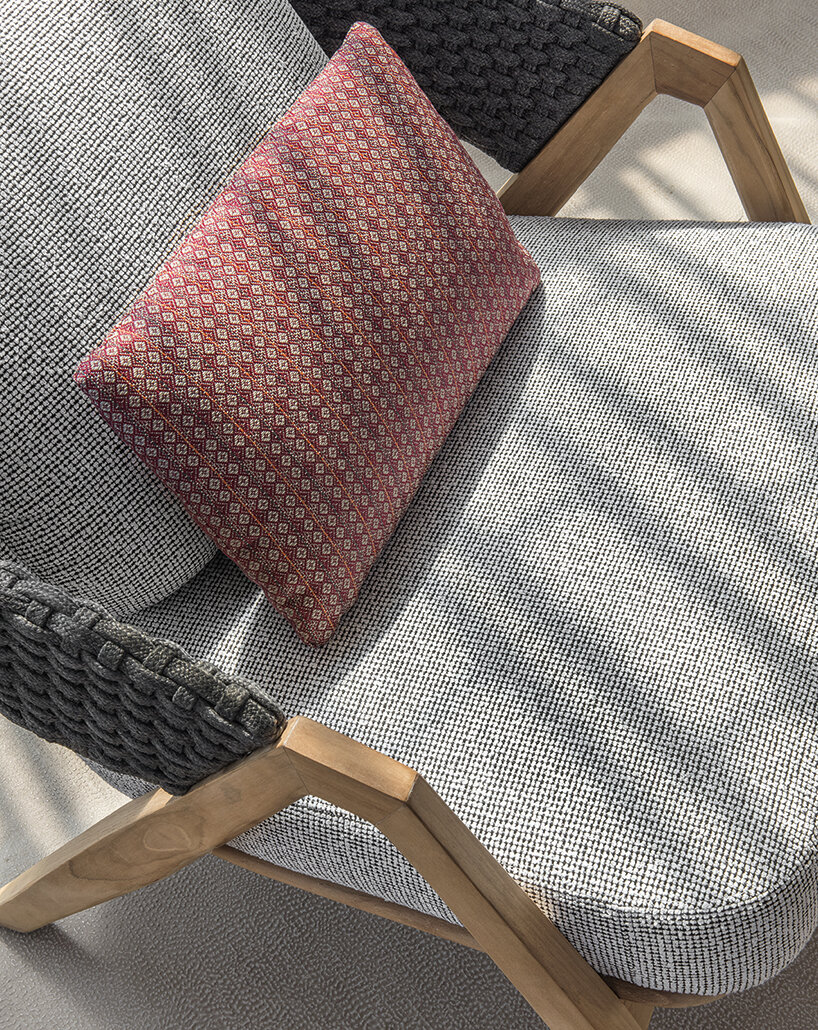 fine new fabrics upholster the cushioning of the seats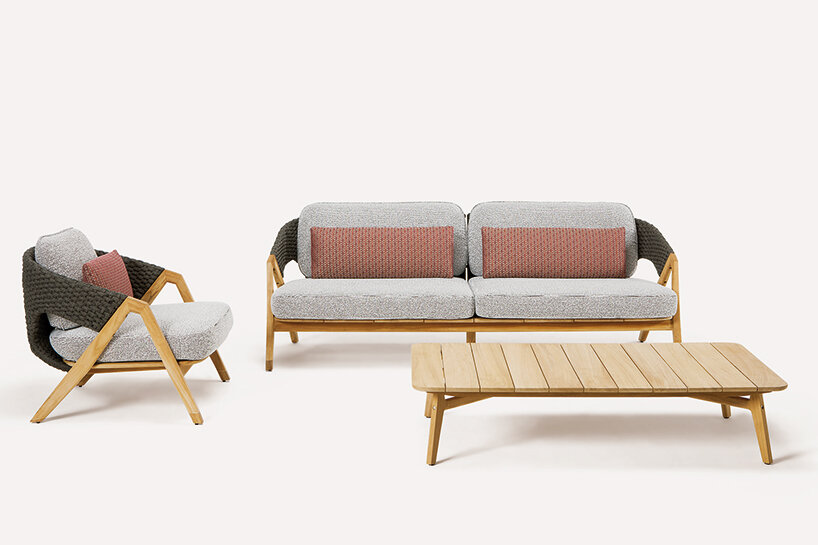 the designs pair its unmistakable woven rope arm and backrests together with a natural or pickled teak structure