The red-hot 2-year-olds in training sale season rolls on with the Fasig-Tipton Midlantic 2-Year-Olds in Training Sale May 17-18 at the Maryland State Fairgrounds in Timonium, Md. Rescheduled and held in June last year due to the onset of the COVID-19 pandemic, the popular sale returns to its traditional place on the calendar to follow the Preakness Stakes (G1) at nearby Pimlico Race Course in Baltimore.
A total of 587 juveniles were cataloged for this year's sale, including 17 supplemental entries. As of Sunday on the eve of the sale's first session, 129 horses had been withdrawn.
With buyers demonstrating an insatiable appetite for top-class 2-year-olds during this year's juvenile sale season, the Midlantic Sale, featuring a deep catalog of pedigree-rich and talent-laden youngsters, seems poised to continue the momentum. Understandably, sale officials and consignors are optimistic heading into the two-day auction. 
"We are seeing a lot of activity here on the grounds," said Paget Bennett, Fasig-Tipton's Midlantic sales director. "We've been busy since Friday, so obviously buyers are interested in shopping and they got an early start. That translates to a lot of interest rolling in.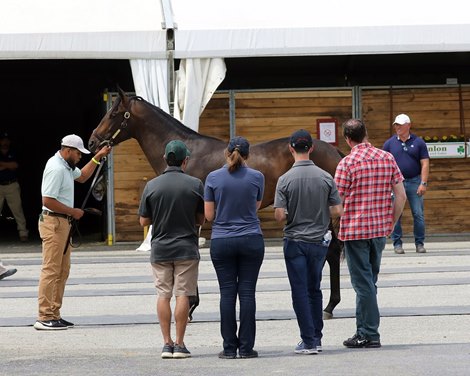 Potential buyers examine a prospect at the Fasig-Tipton Midtlantic Sale
"We have a strong group of nice horses," Bennett continued. "Consignors are excited about the quality of what they brought, and we hope all the stars align on Monday and Tuesday."
The racetrack success of MIdlantic sale graduates has bolstered confidence in the venue from both buyers and sellers. Recent graded stakes-winning graduates include the likes of Gamine , Bodexpress  , Got Stormy , and Mucho Gusto , among many others.
Gamine, the champion female sprinter of 2020, was consigned to the 2019 Midlantic Sale by Bobby Dodd where she was a $1.8 million purchase by Donato Lanni on behalf of Michael Lund Petersen. She has won seven of her eight career starts, including four grade 1s, and has just about earned back her purchase price, having banked $1,286,500. Trained by Bob Baffert, Gamine most recently captured the Derby City Distaff Stakes presented by Kendall-Jackson Winery (G1) at Churchill Downs on Kentucky Derby day.
"The success of our recent graduates is huge," Bennett said. "In the past, Timonium might not have been on anyone's radar. That has changed over the years, and we are thankful for that."
At the May 11-13 under tack previews, 11 horses breezed a furlong in a co-bullet :10, while two juveniles turned in quarter-mile breezes in the co-bullet time of :21 2/5. 
Those working the fastest furlong were: Hips 109, an Empire Maker  filly consigned by McKathan Bros. Sales; 164, a Malibu Moon   colt from consignor Eddie Woods; 211, a Quality Road   colt consigned by Eddie Woods; 260, a Munnings   colt for Wavertree Stables; 264, a Tom's Ready  colt consigned by De Meric Sales; 337, an American Pharoah   colt from consignor Kings Equine; 340, a Race Day  filly consigned by Grassroots Training and Sales; 394, a Macleans's Music colt from Shamrock Stable; 477, a colt by Midnight Storm   consigned by James Layden; 515, a Palace  filly from the consignment of Top Line Sales; and 524, a Nyquist   colt for Wavertree Stables.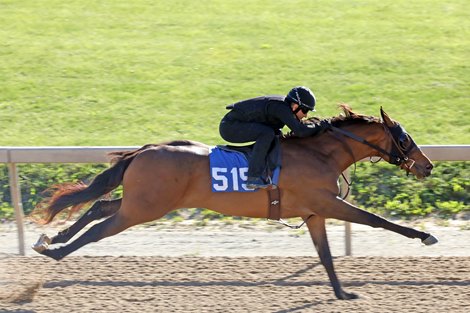 The Palace filly consigned as Hip 515 breezes an eighth-mile in :10 during the under tack show at the Fasig-Tipton Midlantic Sale
Breezing a co-bullet quarter-mile were: Hips 166, a More Than Ready   colt for Kirkwood Stables, and 295, a Union Rags   filly consigned by Tom McCrocklin.
"The breeze shows went well," Bennett said. "We had three beautiful days. Temperatures were a little chilly, but everything went smoothly. The cooler temperatures were probably better than the heat for the athletes performing.
"The track crew here does a great job with the racetrack," Bennett added. "They get rave reviews from consignors who love to train their horses here on the dirt. Also, a lot of buyers prefer to see them breeze on dirt since that is most likely the surface they will be running on (in their racing careers)."
Top Line Sales sent out one of the co-bullet workers at an eighth-mile, Hip 515, a filly by Palace out of the Bluegrass Cat mare Honky Tonk Angel. The bay filly is a half sister to a pair of winners—Tapiz Dream  and Dust to Diamonds . Bred in Kentucky by Shalom Farm and Ramon Martinez, the filly was previously purchased by Grade One Investments for $8,000 from Vinery Sales at the 2020 Fasig-Tipton Kentucky Winter Mixed Sale.
An online catalog for viewing set up by the sales ring at the Fasig-Tipton Midlantic Sale
Top Line Sales' Torie Gladwell is also high on Hip 424, a colt by first-crop sire American Freedom   who breezed a swift eighth-mile in :10 1/5 at the under tack preview. The dark bay or brown colt is produced from the unraced Saint Liam mare Deputy Saint, a half sister to two-time Horse of the Year Curlin  . Bred in Kentucky by Lindsay Kloster and Barbara Glass, the colt was an $85,000 purchase by 5G Ranch out of the Paramount Sales consignment at last year's Keeneland September Sale.
"The Palace filly is really solid," Gladwell said, "and the American Freedom colt has Curlin under his second dam. He is a big, stretchy colt and I think he is going to be popular; buyers are going to land on him."
Gladwell is encouraged by the strength of the market and is anticipating more of the same this week.
"The market has been incredibly strong this year," Gladwell said. "The stock market rebounded at the first of the year, and that helped the horse industry have some confidence moving forward. At the April Sale (Ocala Breeders' Sales Spring 2-Year-Olds in Training Sale), it seemed like everyone needed or wanted a horse. With field sizes down at a lot of racetracks, there is a need for good, quality horses right now. I feel like this sale could be a lot like (OBS) April."
Gladwell has been impressed with the quality of horses on the grounds, as well as traffic in the barns.
"There are some really good, high-quality horses on the grounds," Gladwell said. "There are plenty of people shopping and there's a really good vibe. I think it is going to be a good, strong sale."
Consignor Randy Miles, who has an eight-horse consignment headed by Hip 509, an American Pharoah   colt, and Hip 347, a colt from the first crop of Mastery  , is also expecting to see the market momentum continue.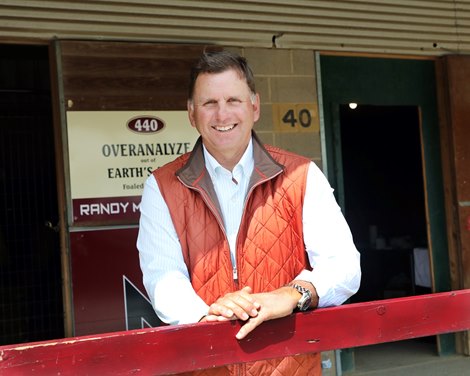 Randy Miles
"I think we are going to see a spillover from the (OBS) April sale," Miles said. "I think it's going to be very strong. 
"The purse structure at the tracks has gotten stronger, and some owners are looking into the future, even into next year," he added. "With purses on the rise, and the fact that the stock market has held, people are still making money and they need inventory."
The 2020 Midlantic Sale, held June 29-30, saw 303 head sold, generating gross receipts of $23,572,500. The average price was $77,797, and the median price was $40,000. A total of 72 horses were listed as not sold. A $1.1 million Uncle Mo   colt from the consignment of Pike Racing topped proceedings last year, selling to Michael Lund Petersen.
"Last year we had a lot of consignors that were worried about traveling due to COVID-19, so a lot of people stayed home," Bennett said. "Things have changed, and it seems like a comfort level is back and our regulars have returned to the grounds with strong consignments. We are thrilled to have everyone back and we also have some new consignors as well. It's always good to have your regulars here, but it is also nice to see some new faces."
Sessions for the Midlantic Sale begin each day at 11 a.m. ET.