When you have a chronic illness, or your health has been seriously compromised, you can become very afraid of other organisms invading your body. Especially organisms classed as parasites, viruses or infectious bacteria. However, the problem with not feeling safe, is that it really stresses your immune system!
So although we have tried-and-tested protocols here at LTYG for dealing with parasites, viruses, bacteria, lice, etc. I also want you to keep in mind that at the end of the day, what creates susceptibility is not the 'germ' but rather, the bio-terrain.
If your mind/body/spirit is not a conducive environment for the proliferation of these micro-organisms, then they can co-exist quite happily with you; never causing an "infection" and without you even knowing they are there. Remember that your body has more bacteria than cells – so who are YOU really, anyway?
This film footage of the mysteries of us and the animal world – revealed through microscopic and time-lapse photography – gives us a new perspective on the things-that-make-you-go-eeeuuww!
And hopefully, you feel a bit more of the inevitableness and also the symbiotic relationship we can all have with each other – which will help your immune system to not be so reactive… and if not, then head over to follow along with my Tapping video to help you deal with 'not feeling safe' in this world!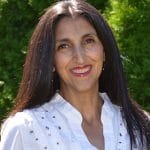 Jini Patel Thompson is an internationally recognized expert on natural healing for digestive diseases. She healed herself from widespread Crohn's Disease and has remained drug and surgery-free for over 20 years. Jini has appeared on numerous podcast, TV, and radio shows throughout the U.S., U.K., Canada, and Australia, giving people hope and vision for how they can heal their Colitis, Crohn's, Diverticulitis and Irritable Bowel Syndrome (IBS), using entirely natural methods. Her books on natural healing for digestive diseases have sold worldwide in over 80 countries.