Two-time graded-stakes winner Slim Shadey  has died at 13.The gelding had been a pensioner at Old Friends, the Thoroughbred Retirement farm based in Georgetown, Ky., since 2019.
Old Friends attending veterinary, Dr. Bryan Waldridge, released the following statement April 11: "Slim Shadey showed signs of colic and was referred for further diagnostics and treatment. Exploratory surgery revealed a twisted large intestine that was corrected. Unfortunately, he fractured a hind leg recovering from anesthesia. Bone fractures during recovery from anesthesia are uncommon, but an inherent risk of equine anesthesia."
Slim Shadey was bred in Great Britain by Phil Cunningham out of the Chief's Crown mare Vino Veritas and spent two seasons racing throughout England and Ireland. He made his U.S. debut for Cunningham and trainer Simon Callaghan in 2012 at Santa Anita Park, kicking off what was to become his banner season.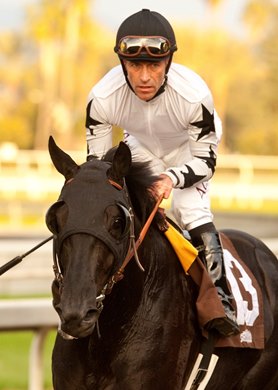 Jockey Gary Stevens and Slim Shadey return after winning the 2013 San Marcos Stakes at Santa Anita Park
In February of 2012 Slim Shadey captured his first graded-stakes, the San Marcos Stakes (G2T) at Santa Anita (a race he would capture again in 2013). In September of that same year, the son of Val Royal  took the top spot in the John Henry Turf Championship Stakes (G2T), which served as a stepping stone to a run in the Breeders' Cup Turf (G1T) where he finished 8th.
By 2014, 'Slim' began a series of claims to trainers David Jacobson and John Servis (for owner Michael Dubb), before ending with owner Michael Hui and trainer Mike Maker in June of 2018 at Belmont Park.
Retired in 2019, Slim Shadey ended his career with a 14-16-4 record from 83 starts and earnings of $1,278,855.
"Slim Shadey was on Old Friends' radar for nearly two years," said Old Friends president Michael Blowen. "Between Michael Dubb and Michael Hui, I knew he was in great hands. When Hui called to say he was ready I was overjoyed. Today I was equally devastated. You try to do what's best and, even then, it doesn't always work out."