south korean designer greem jeong takes her single-line doodles and translates them into three-dimensional furniture. for her 'mono' series of benches, chairs, tables and lamps, each piece has been made from silicone foam tubes, one of the most basic construction materials, more common to a worksite than a home or gallery-space. the tubes are smooth to touch and flexible to work with, yet durable, waterproof and resistant to external shocks. greem is also experimenting with covering them in different materials, including fur, velvet and steel. ideally, the mono series can scale indefinitely, from the smallest accessory to a giant sculpture.
issued by bottega veneta
for issue 02 — bottega veneta's digital journal — greem jeong reinterpreted her mono series into knotted, spiraling colorful sculptures.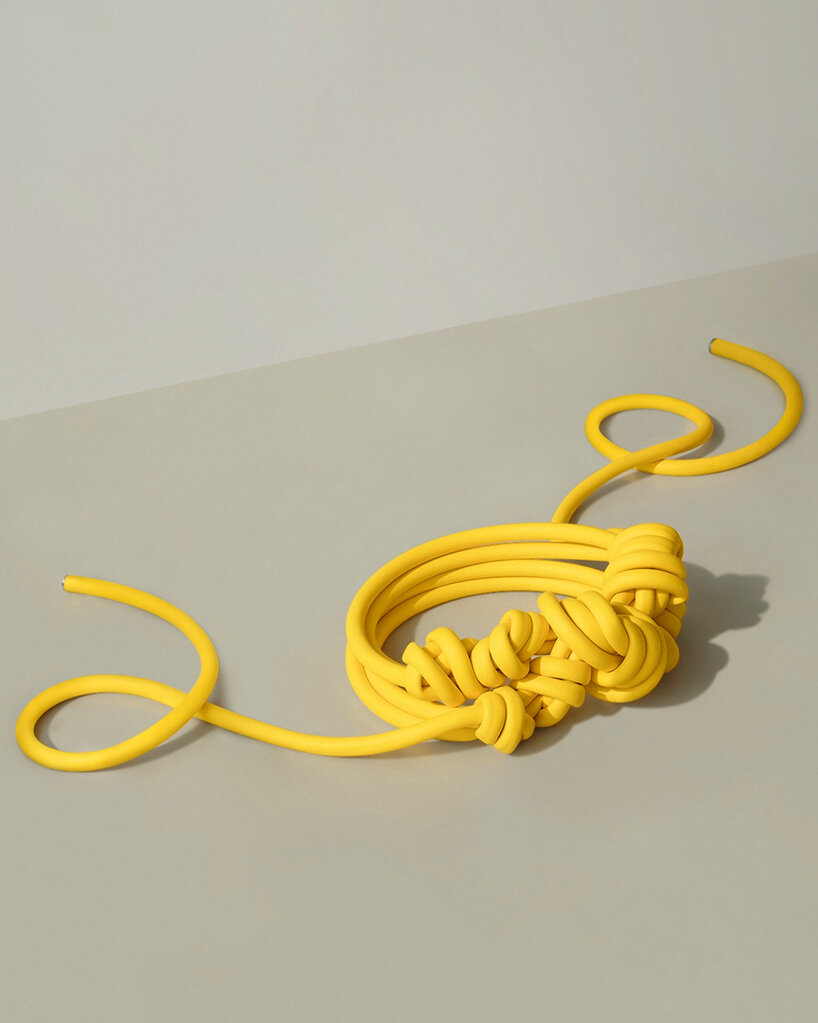 image courtesy of bottega veneta
creative director daniel lee explains the universe of bottega veneta through a series of multimedia content. the approach to oblique communication maintains contacts (although with an attitude of resilience) with the virtual. after bottega veneta deleted its official instagram account and the presentation of its digital quarterly journal issue 01 (see designboom's previous coverage here), the brand has now unveiled issue 02 during milan men's fashion week. lee presents a new group of talents from the world of art, music, and entertainment, and features the italian ballet dancer roberto bolle, model naomi campbell, and musician travis scott (among others).
designboom spoke with greem jeong about her work.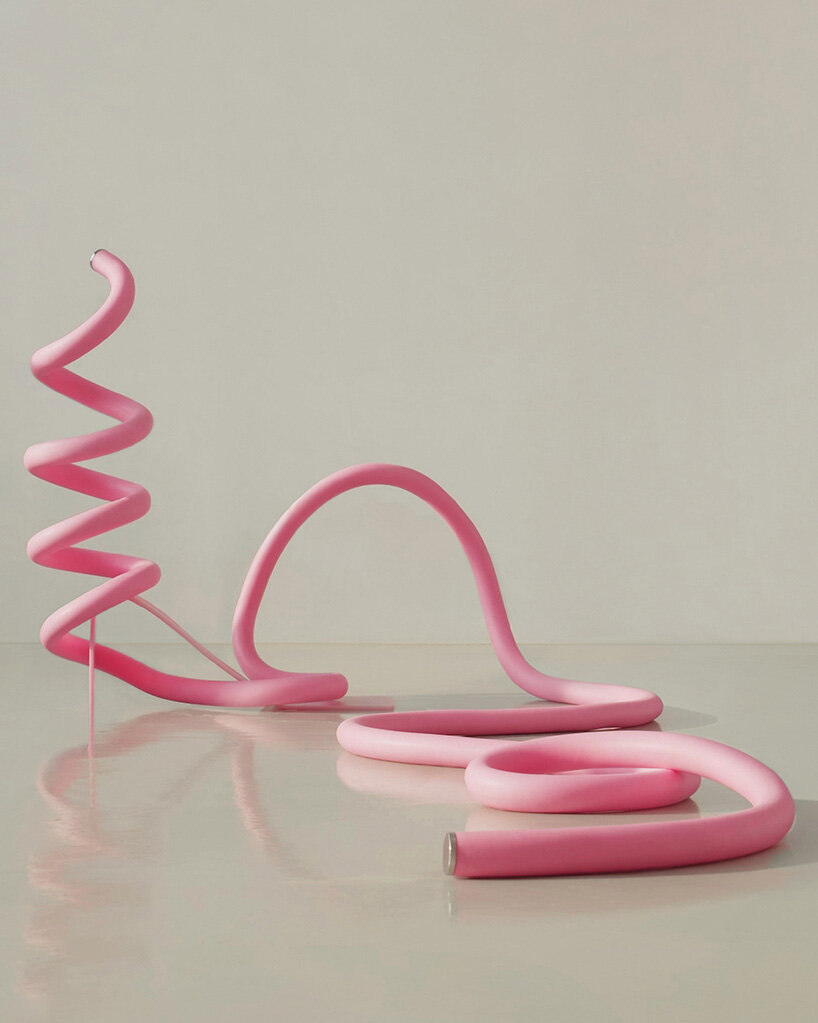 image courtesy of bottega veneta
DESIGNBOOM (DB): HOW DID YOU DISCOVER SILICONE FOAM TUBES, WHICH WERE 'HIDDEN' CONSTRUCTION MATERIAL (USED FOR INSULATION – TO PROTECT WIRES AND PIPES, PARTS OF A BUILDING OR MACHINE)?
GREEM JEONG (GJ): I searched and tested a lot to discover uncommon material. I thought maybe the secondary material could be transformed into the main thing.
DB: THE MONO SERIES FIRST STARTED WITH CHAIRS, BY REMOVING THE SEATS, BACKS, AND LEGS THAT ARE THE FUNDAMENTAL COMPONENTS OF CHAIRS. WHY?
GJ: I wanted to create something that stimulates curiosity. there are so many things that are easily used and discarded and I wanted to break this stereotype by questioning it. through a sort of communication between things and humans, in which the object gives an answer without words.
DB: WHAT DO YOU ENJOY MOST ABOUT CREATING YOUR DOODLE-LIKE LINES?
GJ: the process of trying to find an organic and natural shape of a line that makes it look like a living creature. I'm excited when things are coming out the way I imagined them.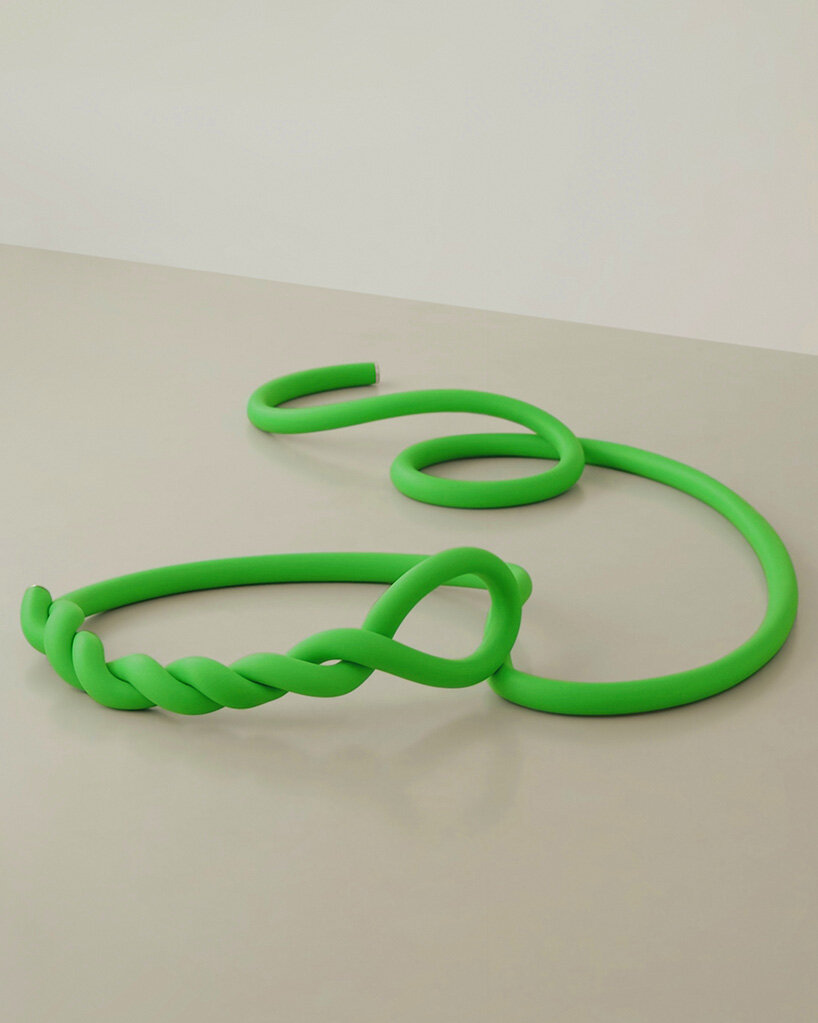 image courtesy of bottega veneta
DB: HOW DO YOU CHOOSE YOUR COLOR PALETTE?
GJ: the most important thing is harmony, so the surrounding environment is an important factor when I choose the color. especially the space in which it will be placed. I draw inspiration from my feelings when I enter this space. for me, space is part of the work.
DB: HOW WOULD YOU DESCRIBE YOUR PRACTICE IN THREE WORDS?
GJ: unlimited, expansion, vitality.
DB: WHAT DID YOU DO FOR BOTTEGA VENETA'S MAGAZINE?
GJ: when bottega veneta's milan HQ proposed me a collaboration for issue 02 I was immediately excited about the project. I wanted to reinterpret some of their relatively small items (such as accessories and shoes) into large pieces. the mono furniture series reborn as sculptures – extending their line towards space. each piece's total length (from the main body to the tail) is about 3-4 meters.