If Mexican trainer Fausto Gutierrez were to sing the alphabet song, he might linger on the letters J, K, and L. 
Gutierrez, who has been training for San Jorge Stable since 1986 (St. George Stable in English), is the Todd Pletcher of Mexico, having won consecutive trainer titles at Las Americas Racetrack in Mexico City 10 times. In 2019, Gutierrez and the owner of San Jorge Stable, German Larrea, expanded their stable to the United States. 
Gutierrez entered competitive horses bred or raised in Mexico such as Jala Jala  (Point Determined ), who earned a grade 3 placing; Kukulkan  (Point Determined), who also earned a grade 3 placing; and now Letruska  (Super Saver  ), who recently secured a grade 1 win.
These horses mark a new chapter of international success for Mexico, Gutierrez, and San Jorge Stable, currently exemplified by the successes of 5-year old Kentucky-bred mare Letruska, who in April defeated two-time champion Monomoy Girl  in the Apple Blossom Handicap (G1) to give Gutierrez his first grade 1 win (based on Part I of the International Cataloguing Standards Book). Letruska is being pointed to the June 5 Ogden Phipps Stakes (G1) at Belmont Park.
Letruska before winning the Apple Blossom Handicap at Oaklawn Park
At San Jorge in Mexico, Gutierrez trained about 200 horses. When very young, horses are identified as candidates to compete internationally and are given names that reflect pride in Mexican culture instead of their pedigree. They also use a lettering system that most assuredly helps the memories of all involved.
"We assign a name that is culturally important for Mexico, but we also choose a letter for each year, so that when you remember horses, you know what era the horse is from and whom its contemporaries were," explains Gutierrez. So Kukulkan is in the year of "K," so is Kutzamala , meaning that the horses are the same age. All the horses born in 2015 have names that begin with "K." Jala Jala's year, 2014, was assigned the letter "J." Jala Jala is named for a popular expression often heard at racetracks in Latin America. As fans urge their horse on, they often cry, "Jala, jala!" meaning 'go, go,' or 'come on, faster!'"
In 2015, Gutierrez-trained Huitlacoche  swept the Mexican Triple Crown. In 2017 Gutierrez enjoyed international success when he sent out Jala Jala to victory over males in the 2017 Caribbean Classic—the first time the event was conducted in the continental United States—at Gulfstream Park. She then won four of five races in Mexico, before returning to compete on the 2018 Caribbean Classic card, winning the Confraternity (for horses 3 and older bred in a Caribbean racing jurisdiction). Jala Jala then finished second in the 2019 Royal Delta Stakes (G3) at Gulfstream.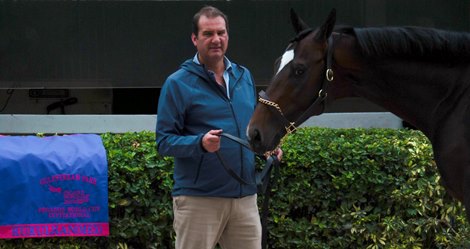 Fausto Gutierrez with Kukulkan
With Kukulkan in 2018, Gutierrez swept the Mexican Triple Crown a second time—only the eighth horse to win all three races. In addition Kukulkan won 14 consecutive races and then won the 2018 edition of the Caribbean Classic, giving Gutierrez a second straight victory in that race for 3-year-olds bred in a Caribbean racing jurisdiction. Bred in Mexico by San Jorge Stable, Kukulkan is the son of Point Determined. Point Determined is a son of 2001 Horse of the Year Point Given . Kukulkan's dam is The Real Mayo, by Bernardini  . 
Kukulkan takes his name from an Aztec serpent deity, which reflects not only his connections to Mexico but also his competitive spirit. 
"We noticed Kukulkan's potential at a young age," Gutierrez said. "He was well-built and powerful. He is a very smart horse and he knows when he is competing." 
He has interesting markings, such as the distinct diamond pattern on his forehead that strikingly resembles the shape of the South American continent and further identifies him with Latin America. Staying to race in the United States, Kukulkan competed in the Pegasus World Cup Invitational Stakes (G1), earned an allowance-level win at Churchill Downs, a grade 3 placing in the West Virginia Governor's Stakes, and like Jala Jala, won the 2019 Confraternity.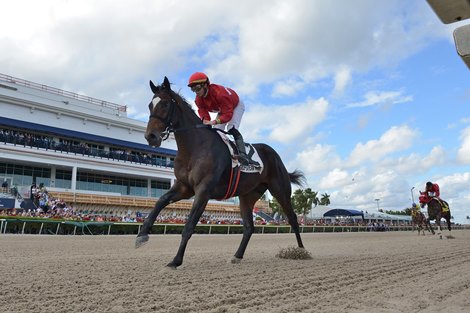 Kukulkan wins the 2019 Copa Confraternidad at Gulfstream Park
Although Kukulkan did not win the Pegasus Cup, within an hour of the race an announcement went up on the Las Americas Racetrack Facebook page with a picture of the horse that said "Thank you Kukulkan! You are the pride of horse racing in Mexico!" 
Recently, Gutierrez has seen the potential of Mexican-trained horses translate into victories at the highest level in the U.S. with Letruska, who won the Apple Blossom after securing three grade 3 victories. 
Part of the 2016 crop—all of their names begin with "L," Letruska is named for the nesting painted wooden dolls, called "matruzca" in Spanish, but the "Ma" was exchanged for an "Le." Painted by Mexican artisans, the dolls have become associated with Mexico as much as they are with Russia. Matruzca nest inside each other, with the most inner doll being very small and the outer doll quite large.
Like the dolls, Letruska had a small stature as an unknown contender in U.S. racing when she came to compete in late 2019 off three straight stakes wins in Mexico. As she began to accumulate victories in the U.S., her reputation as a speedy and formidable competitor increased. 
On behalf of St. George Stable, Gutierrez purchased Letruska's dam, the mare Magic Appeal (in foal to Super Saver), by Successful Appeal, from the Woodford Thoroughbreds consignment for $100,000 at the 2015 Keeneland November Breeding Stock Sale in Kentucky, where Letruska was foaled. Raised at San Jorge and raced at Las Americas Racetrack, Letruska won her first six starts in Mexico then secured victory over males in the Copa Invitational del Caribe Stakes on the Caribbean Classic.
"From her very first race in Mexico, Letruska showed her speed, she was a natural runner," said Gutierrez. "She runs well with every jockey on different tracks. Emisael Jaramillo rode her to several wins at Gulfstream Park. When we were preparing to run in the Azeri Stakes (G2) at Oaklawn Park in March, I asked Jaramillo what I should tell Joel Rosario about the mare, as Rosario had the mount in the Azeri. Jaramillo told me to tell Rosario that Letruska was the easiest horse to ride in the world. 'Just let her run and help her rate a bit,' Jaramillo told me," said Gutierrez with a chuckle. 
Letruska has indeed won races with many jockeys: Jose Campos, Jesus Castanon, Jaramillo, Rosario, and Irad Ortiz Jr., who has the return call in the Ogden Phipps. She has claimed stakes victories at Saratoga Race Course, Sam Houston Race Park, Oaklawn, Las Americas, and Gulfstream. 
Gutierrez planned Letruska's debut for the 2019 Caribbean Derby races, using the same strategy as with Jala Jala and Kukulkan. 
"The Caribbean Derby races are my gateway to bringing Mexican horses to run in the U.S. My horses and I had achieved great things in Mexico and several of them won the biggest races in the Caribbean Derby," Gutierrez said. "But in the U.S., nobody knows our past success and we have to start over." 
The Caribbean Derby races introduce Gutierrez' talented horses to some improved competition and can be a steppingstone to graded races in the U.S. Founded in 1966, the Caribbean Derby day races are a source of great talent, pride, and tradition in Latin America. The best horses from Colombia, the Dominican Republic, Trinidad and Tobago, Jamaica, Mexico, Panama, Puerto Rico, Ecuador, and Venezuela compete, and these jurisdictions took turns hosting the event. 
However, in 2017 when the races were moved to Gulfstream, the change of venue placed an added spotlight on the event.
As Gutierrez explained, "It gives us a chance to showcase our champions on a bigger stage. People in the United States see that there is excellent racing in Latin America and it familiarizes the public with our best horses. In addition, it prevents home court advantage. Whether it is the conditions of the track or the public's support or the revenue earned, the host country is always a factor."
As the Apple Blossom drew near, the public awaited the beloved champion Monomoy Girl, and excitement mounted as Swiss Skydiver  was pointed to the same race. Some trainers opted to position their fillies in different races in light of the formidable competition, but Gutierrez had been planning for the Apple Blossom for a year and never considered withdrawing Letruska. 
"I knew we would meet Monomoy Girl in the race and we were ready for it. I did not count on Swiss Skydiver joining us, but that was fine," said Gutierrez, a self-professed Monomoy Girl fan. He studied each jockey selection and horse in the Apple Blossom. "I noticed that the Cox-trained horses like to run outside, and I calculated that the speed in the race was within Letruska's range and control. I had everything to gain and nothing to lose. The pressure was on the other two horses and their trainers.
"We only lost to Shedaresthedevil  in the Azeri Stakes by a small margin. I knew I had a good horse and I always believed in her."
Jose Diaz, Letruska's groom, had his hands full as the race drew near; the mare gets wired when it is time to run.
Both Ortiz and Gutierrez credit Letruska with insisting on the win. Ortiz said that when Monomoy Girl passed Letruska, she did it easily, taking a three-quarters of a length lead briefly in front of the pride of Mexico. 
"But I had prepared for this race a lot, and I knew that Monomoy Girl likes to take the lead and wait for the other horse," Ortiz said. "So I tried to save just a bit of horse for the final run down the backstretch. It was a grade 1 race and I knew that the owners would be pleased if Letruska came in second to Monomoy Girl. I got ready to fight Swiss Skydiver for second place. But when I hit her on the left she gave me a huge surge and I thought, 'Wow, there's a chance to win this!' And we raced hard and won.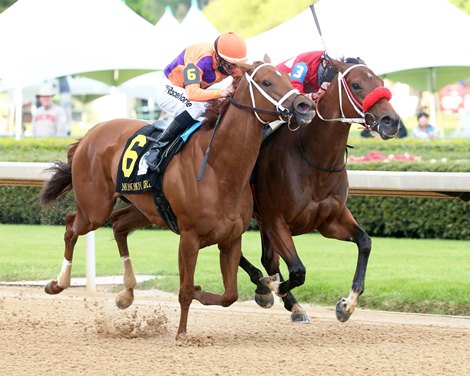 Letruska (inside) defeats Monomoy Girl in the Apple Blossom Stakes at Oaklawn Park
"Fausto was so pleased," Ortiz added. "He is a champion in Mexico but it is hard to come from a foreign country. You have to work so hard to make inroads in the U.S. where nobody knows you. It is so big that he won a grade 1, and even bigger against Monomoy Girl."
"When I saw the two horses fighting down the backstretch, I said to myself, 'What a race,'" Gutierrez said. "But second to Monomoy Girl is OK. And then in my mind I suddenly remembered Mexico and my time at Las Americas Racetrack and all the experiences I'd had there, I just thought about Mexico. And I'm sure that those positive thoughts and all that energy from my memories of Mexico that I channeled to Letruska made all the difference and helped her dig deep and battle back. Letruska felt what I felt in my heart and she just has an enormous heart.
"Behind this win photo are so many important people from Latin America who played a key role in our success," Gutierrez said. "I don't think there is a horse running in the U.S. that doesn't have a close connection with Latino horse people. Many of these horses are worth a lot of money, and you do not entrust their care to just anyone. The owners are placing their trust in the hands of talented Latino horse experts. Mexico has exported many talented grooms, exercise riders, assistant trainers, and jockeys. Now we bring horses from Mexico to compete in the U.S. Monomoy Girl ran a very good race, but Letruska ran a great race."
Mexican-trained horses continue to perform well on U.S. tracks and Gutierrez continues to train for San Jorge Sable. However, he also is expanding his services to new clients. "I'm looking forward to working with new owners, and if they select me to train their horses, I would consider it an honor and a privilege."
Gutierrez has entered Letruska in the Ogden Phipps as the next steppingstone toward the year's ultimate goal, the Longines Breeders' Cup Distaff (G1). Continued success could see Letruska join the pantheon of great Latin American horses who have come before her to enjoy success in U.S. racing. The Venezuelan-trained colt Canonero II won the Kentucky Derby and the Preakness in 1971 and set a track record in winning the Stymie Handicap in 1972. The Argentine-bred Uruguayan Horse of the Year Invasor  would earn U.S. Horse of the Year honors in 2006. Others include Racing Hall of Famers Cougar II and Argentine-breds Bayakoa and Paseana.
As Letruska keeps accumulating wins, Gutierrez' alphabet song might come to represent the races and racetracks where Letruska emerges victorious. A for Apple Blossom, and perhaps B for Belmont Park.