The host of Healthy You! Radio – Dr. Keesha Ewers is a functional and ayurvedic medicine doctor, a psychotherapist, reiki master and certified sexologist. This means that her interview with Jini is pretty rousing and goes into some uncharted territory!
You can listen or download the interview below:
Podcast: Play in new window | Download
Subscribe: RSS | LTYG Podcast
Keesha and Jini discuss the emotional roots of dis-ease, along with practical physical things you can do to heal your gut. They also get into a discussion about constipation.
enjoy!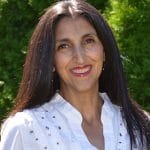 Jini Patel Thompson is an internationally recognized expert on natural healing for digestive diseases. She healed herself from widespread Crohn's Disease and has remained drug and surgery-free for over 20 years. Jini has appeared on numerous podcast, TV, and radio shows throughout the U.S., U.K., Canada, and Australia, giving people hope and vision for how they can heal their Colitis, Crohn's, Diverticulitis and Irritable Bowel Syndrome (IBS), using entirely natural methods. Her books on natural healing for digestive diseases have sold worldwide in over 80 countries.