If you do prolonged, intense abdominal workouts, jumping rope and other things that involve your pelvic floor, you may want to read this woman's email to me:
"I used your rectal prolapse guide as soon as I got it. It gave me so much hope. I also have vaginal prolapse, the rectal prolapse came after. I am someone who did a lot of plyo workouts with a lot of abdominal work. I spent at least 20 minutes each day on abs. Including hanging leg raises, pull ups, push ups, with a lot of jump roping. I've done this for years. I'm 59 and had two children naturally with no problems. I'm a group fitness instructor and have never heard this could even happen. My doctor is telling me it's my age that caused this, but somehow I believe it was my exercise especially all the pressure I was putting on my pelvic floor by doing pull ups, crunches and jumping. I truly believe I can heal this to some extent thru lifestyle changes. I would love any information you might have. The things you shared in your download were awesome and extremely helpful!!!"
Her situation is very interesting and no, I don't think it's just due to age, or masses more women over 60 would have the same problem!
I think the exercises in this video – which strengthen the pelvic floor – with my mum may be helpful. She used them to heal her uterine prolapse and they worked so well she had an easy vaginal birth, even after doctors told her it would be dangerous. Try these and see how your body feels about them:
If you watch the video on YouTube, you can see by all the Comments how much it has helped so many people.
I would also look at getting a yoga swing and hanging upside down for periods each day – just get gravity right off those structures. Besides, it feels great for your whole body and is fantastic for the spine 🙂 Maybe there are some exercises that you can do to strengthen corresponding structures WHILE hanging upside down – I would check with a physiotherapist or osteopathic doctor – find someone who specializes in pelvic floor.
Lastly, I highly recommend this free Feldenkrais series – maybe do it either in the morning, or right before bed. You will be amazed at how this incredibly subtle movement therapy re-wires your body and relieves all kinds of pain and injury. I love doing these audios in the morning – especially if I wake up with any stiffness or soreness.
If you try these recommendations, let us know how it all goes… I'd love to hear what makes a difference as there are many people suffering from these challenges.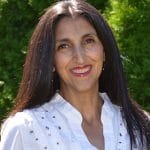 Jini Patel Thompson is an internationally recognized expert on natural healing for digestive diseases. She healed herself from widespread Crohn's Disease and has remained drug and surgery-free for over 20 years. Jini has appeared on numerous podcast, TV, and radio shows throughout the U.S., U.K., Canada, and Australia, giving people hope and vision for how they can heal their Colitis, Crohn's, Diverticulitis and Irritable Bowel Syndrome (IBS), using entirely natural methods. Her books on natural healing for digestive diseases have sold worldwide in over 80 countries.