drawn to the themes of time, temporal existence, and elemental forces, hiroshi sugimoto's practice is rooted in a technical mastery of the classical photographic tradition, and driven by investigation in recording traces of invisible forces. born in 1948 in japan, sugimoto has worked primarily in photography since the 1970s, and has added performing arts production, installation and architecture to his multidisciplinary practice. his major series include dioramas, theaters, seascapes, chamber of horrors, and drive-in theaters, among others. in 2008, the artist founded new material research laboratory (NMRL) alongside architect tomoyuki sakakida. the firm has since undertaken many projects, centered around the idea that traditional materials and ways of making are actually the most innovative ones. 'we believe that traditional japanese techniques, building methods and materials should not be treated as a relic of the past but as a resource to hand down to future generations,' said tomoyuki sakakida, during the renovation of the MOA museum of art.
sugimoto has also designed a variety of indoor and outdoor spaces that mediate between art and architecture, including the enoura observatory for the odawara art foundation in japan — established in 2009 to foster the advancement of japanese culture while adopting an international perspective. sugimoto is currently working on the monumental revitalization of the sculpture garden at the hirshorn museum to create a dynamic space for new performance art and sculpture.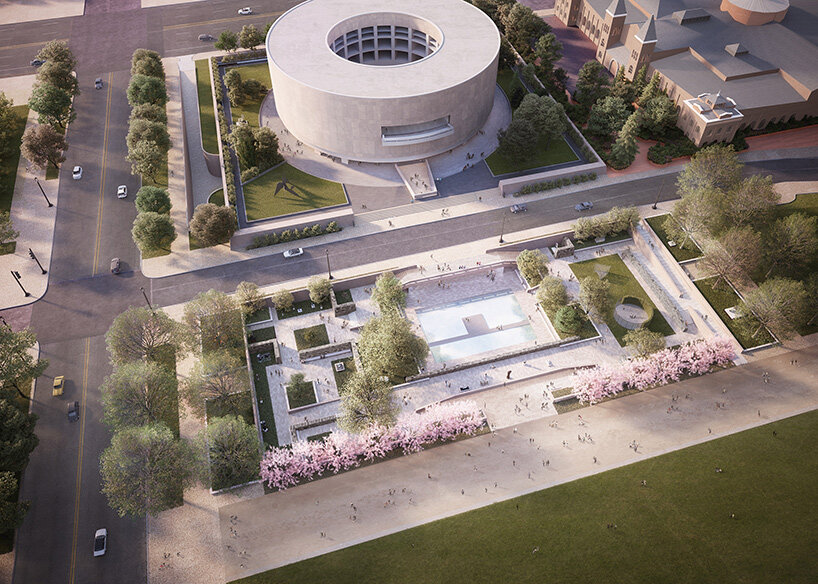 view of the site from 7th street above the national mall | image © hirshhorn museum and sculpture garden
read more on designboom here
as part of its may 2021 issue, WSJ. magazine spoke with sugimoto about his early interest in art, his design for the hirshhorn museum sculpture garden — the controversy it's sparked — and the modern economy.
in the interview, hiroshi sugimoto offers insight into what led him to photography and architecture. 'when I started out with photography, I was a very, very handy child,' he tells WSJ. magazine. 'my father bought a beautiful camera, but he couldn't figure out how to use it so he threw it out. I took it. I instantly discovered how to use it. I'm a self-taught photographer, very late stage, already high school age. when I came to new york city in 1974 I decided to be an artist, not just as a photographer. but I saw how painting was already so out of fashion, so photography — as a contemporary art, as a conceptual art — that's what I imagined I wanted to do at that time.'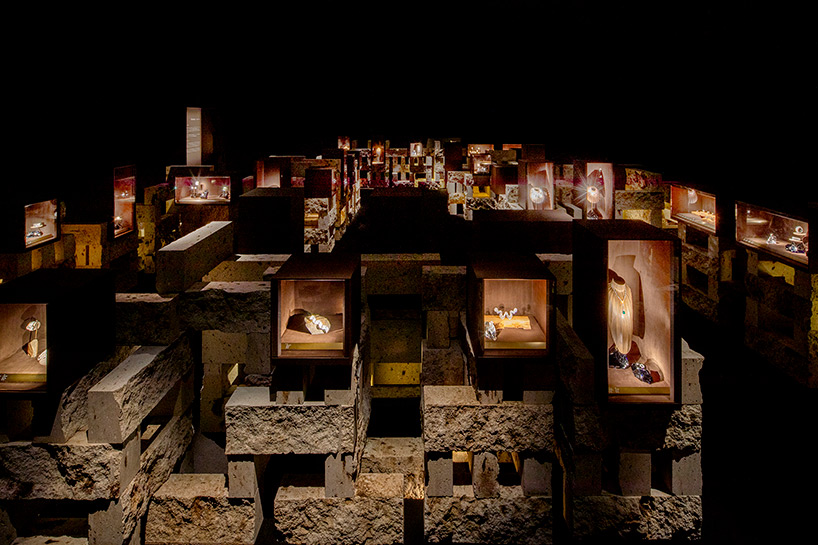 cartier's 'crystallization of time' exhibition designed by new material research laboratory (NMRL)
image © N.M.R.L./ hiroshi sugimoto + tomoyuki sakakida, photo by yuji ono
read more on designboom here
his involvement in architecture, on the other hand, developed as more of a coincidence. 'I started to [exhibit] my shows around the world, with famous museums, mostly designed by starchitects. I found out how unusable [they are]. the design is very bad. they're not thinking about the artists. I wanted to design my ideal space for the artist, not for the architect's ego. so I started to design my own space — my studio — and now I've established my art foundation called odawara. people started asking me to design museum spaces and gallery spaces. I never intended to be an architect, but I found out that I'm an architect.'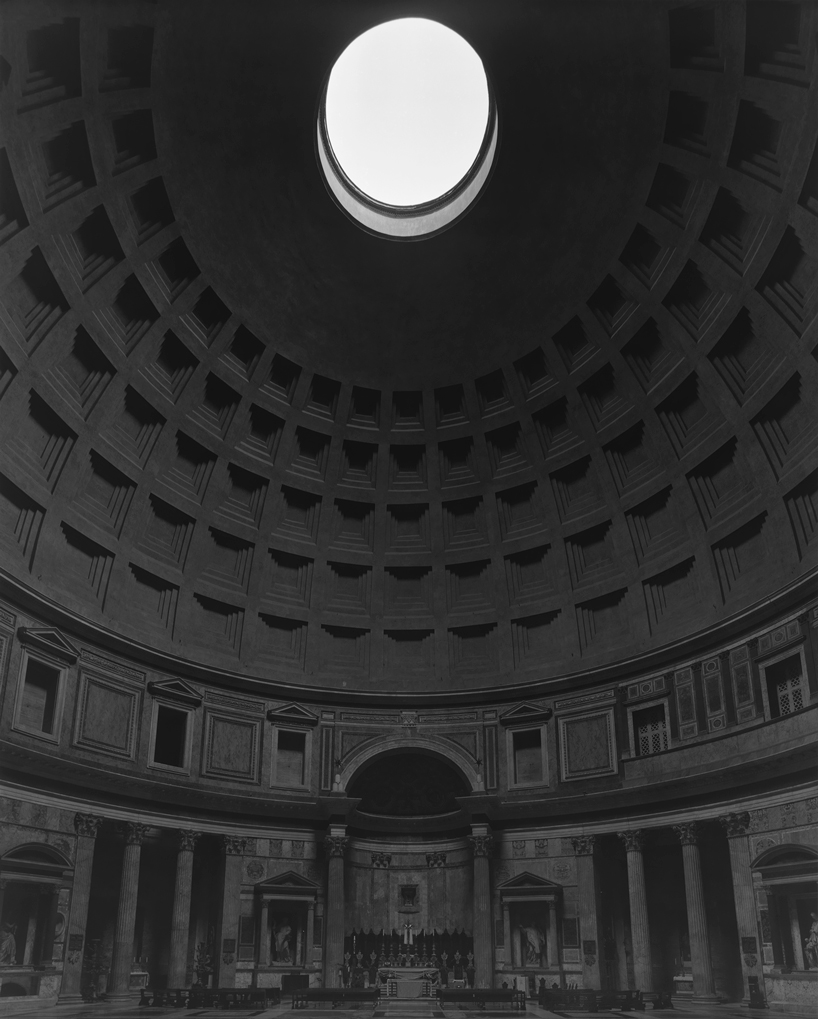 hiroshi sugimoto (b. 1948), pantheon, rome, 2015. gelatin silver print | image © hiroshi sugimoto
read more on designboom here
sugimoto also spoke in depth about his design for the hirshhorn museum sculpture garden — with renovation currently underway. 45 years after its opening, the hirshhorn garden required critical infrastructure repairs, enhanced universal accessibility, and new galleries. since 1981, when the last re-design was undertaken, incremental changes have been made to plantings, paving, and the design program, including the closure of the east fountain. to realize the sculpture garden's full potential, the institution tasked sugimoto with revitalizing the entire space.
the design seeks to re-establish the cohesiveness of the sculpture garden, the plaza, and the museum as a single, interconnected campus. this involves the creation of a new 'front door' on the national mall that welcomes visitors by widening sightlines into the sculpture garden and improving accessibility, shade, and seating. the project will also increase the hirshhorn's display of its modern sculpture collection by almost 50%, while improving existing infrastructure and protecting the site's natural vegetation. another important part of the scheme will see repairs made to the envelope of the building, which was designed by gordon bunshaft.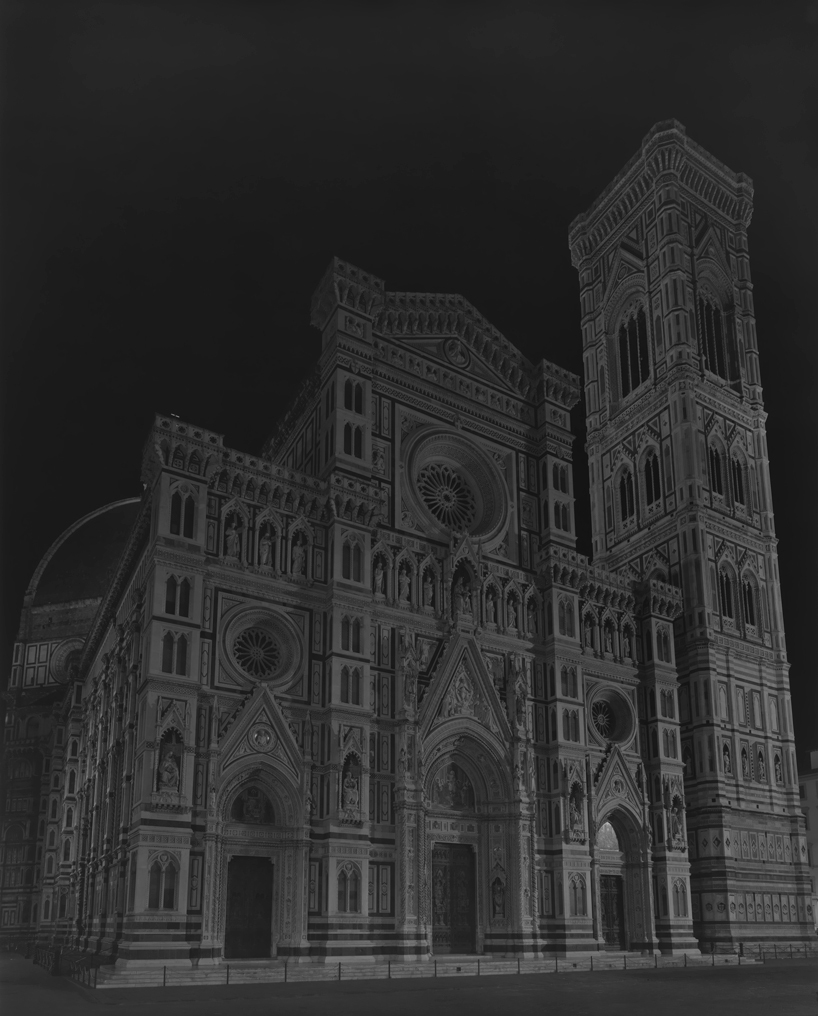 hiroshi sugimoto (b. 1948), duomo, florence, 2016. gelatin silver print | image © hiroshi sugimoto
read more on designboom here
'I want to make a premodern setting for the space, which means using the japanese historical stone technique that is totally handmade,' he says about the design. 'it makes the modern art stand out against the premodern background. I cannot send the stones from japan. so I am using american stone and then a 16th-, 17th-century japanese technique. I'm trying to train american stone craftsmen to be as japanese as possible. working with the government, I have had to negotiate with many different types of people. some people don't want to change anything.'
sugimoto's last point references some of the criticism his proposal has received — 'there are always conservative people around,' he says. 'to make my art I make all my decisions by myself. I want to make my architecture as artistic as possible, but some conservative people don't want that.'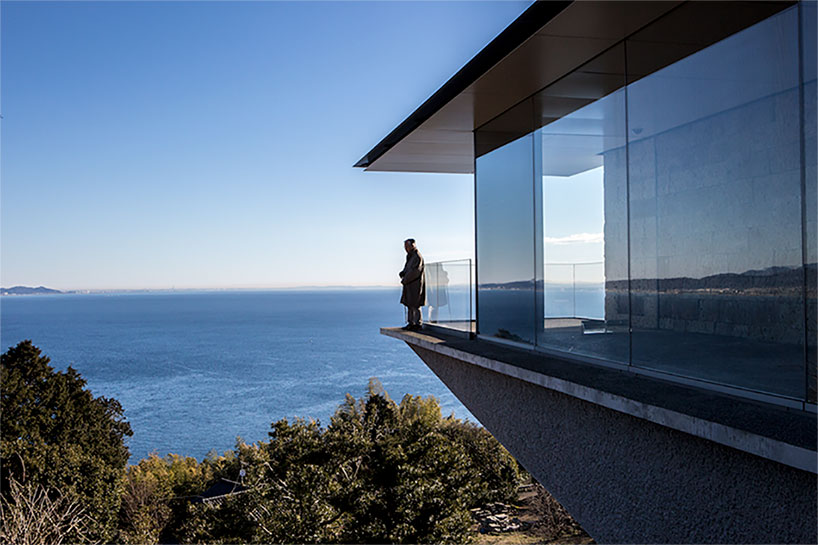 hiroshi sugimoto's enoura observatory in japan | image © odawara art foundation
read more on designboom here
this question led sugimoto to consider his relationship with modern architecture, versus a traditional way of working. 'I don't know whether architects now should be treated more like artists. so function and art are against each other,' he shares. 'this is very interesting. which way do you want to go? only function? today's buildings all basically function as far as how to make them as cheap as possible, as high as possible, with the fewest costs. in the early state of modernism, in the 1920s, '30s, there was a dream about a [more artistic] modern architecture, but now [buildings] only need to function. we've lost the signature style of our time. frank gehry's style is our style now. I don't think it's art, honestly.'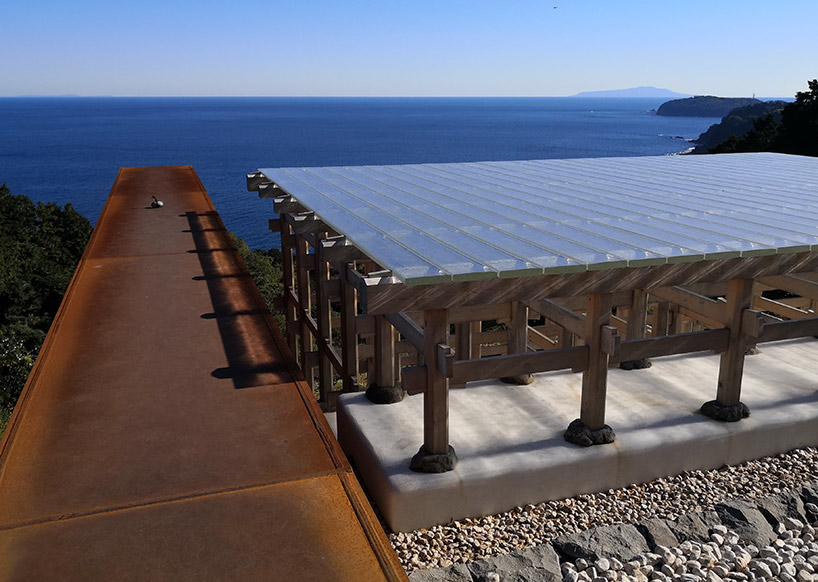 hiroshi sugimoto's enoura observatory in japan | image © designboom
read more on designboom here
'that's what the [modern] economy is, our style of production, capitalism,' sugimoto says on why he thinks society has lost artistic architecture. 'it's asking to make [buildings] as big as possible, as cheaply as possible, as comfortable as possible…. we should stop growing. we should be shrinking. to grow 5 percent every year, we have to destroy nature. it's impossible to keep growing. we have to think about other social methods, not the capitalistic ideas. now in the COVID state, I think this is a message from nature: you shouldn't grow anymore.'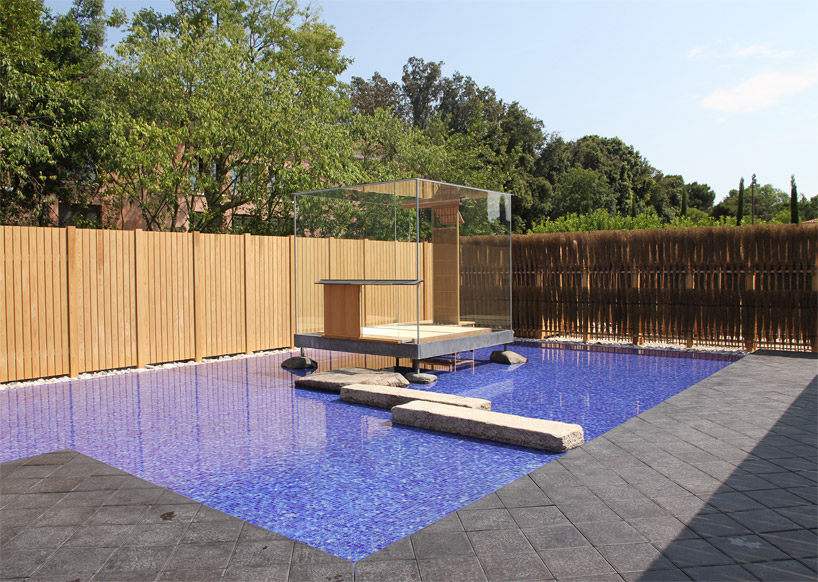 glass tea house mondrian pavilion by hiroshi sugimoto in venice | image © designboom
read more on designboom here
the interview article is featured in WSJ. magazine's may 2021 issue out on newsstands saturday, may 1 — read the original interview in full here.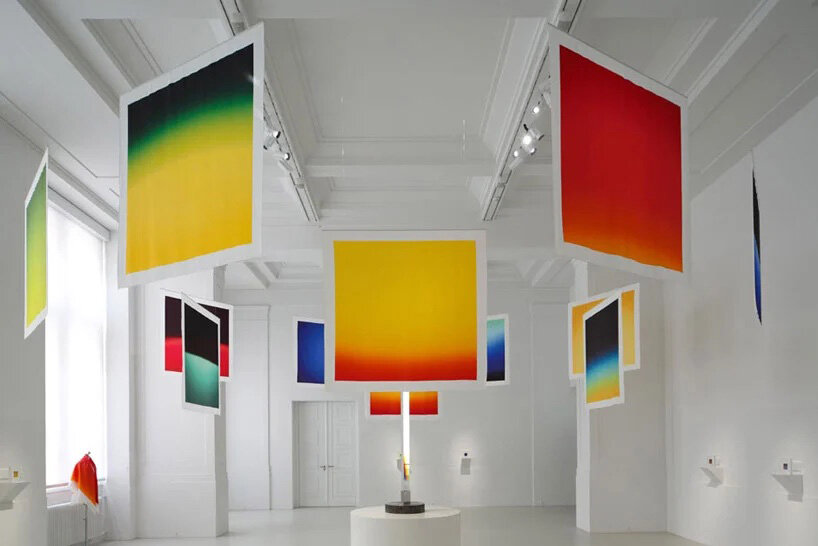 hiroshi sugimoto created a limited edition of 140 scarves for Hermès as part of the 'couleurs de l'ombre' exhibition
image © tadzio, courtesy of Hermès | read more on designboom here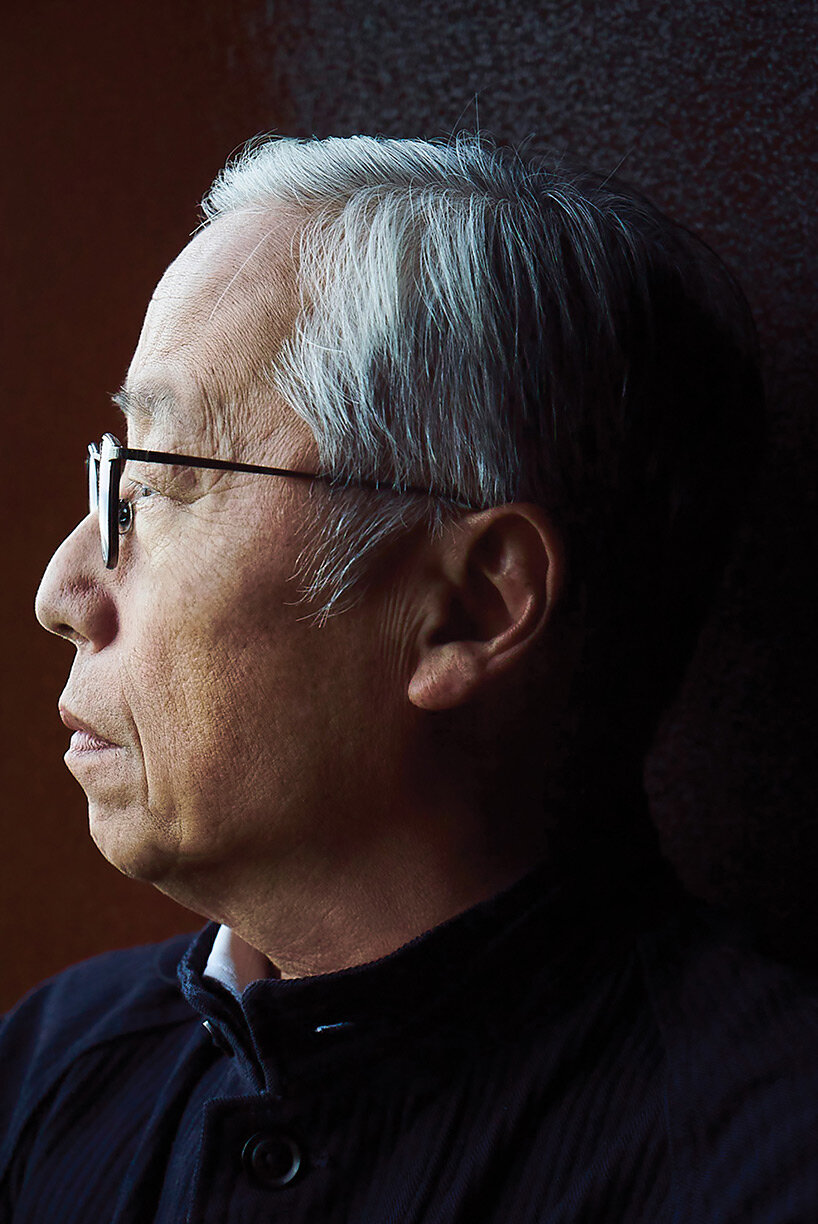 image courtesy of hiroshi sugimoto