We just received this fantastic review in our Shoppe:
"Taking the Natren Healthy Start System Tripack probiotics couple with the Joy of the Mountain Wild Oil of Oregano, my bleeding stopped in less than a week. My severe pain was gone on my left side within two weeks. Within five weeks, I was completely regular with no diarrhea. I have been suffering since 2004 for nothing. I will not take anymore drugs to treat my colitis. The medical establishment with their prescription drugs was a complete failure and sadly it took too many years of suffering to find this out. If you are on the fence about trying this program you should absolutely reconsider."
This person is obviously using the simple protocol outlined in my book, Natural Treatments for Gut Infection (also available as an eBook) and while some people have complicated conditions requiring the broad spectrum of treatments in Listen To Your Gut, for others, it can be this simple!
Here's my video presentation of the 8 Key Steps to Healing IBD & IBS: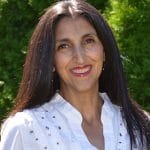 Jini Patel Thompson is an internationally recognized expert on natural healing for digestive diseases. She healed herself from widespread Crohn's Disease and has remained drug and surgery-free for over 20 years. Jini has appeared on numerous podcast, TV, and radio shows throughout the U.S., U.K., Canada, and Australia, giving people hope and vision for how they can heal their Colitis, Crohn's, Diverticulitis and Irritable Bowel Syndrome (IBS), using entirely natural methods. Her books on natural healing for digestive diseases have sold worldwide in over 80 countries.