designed by johannesburg-based practice counterspace, directed by sumayya vally, the 20th serpentine pavilion is now in situ in london's kensington gardens. the design of the temporary structure is based on past and present places of meeting, organizing and belonging across several london neighborhoods significant to diasporic and cross-cultural communities, including brixton, hoxton, tower hamlets, edgware road, barking and dagenham and peckham, among others. 'the pavilion transfers some of these places, and I was interested in architectures that are generous, and that suggest coming together,' vally tells designboom. 'sometimes it might be a set of porch steps, and other times it might be an archway for two people to sit and have a one-to-one conversation. sometimes it's about a larger scale gathering.'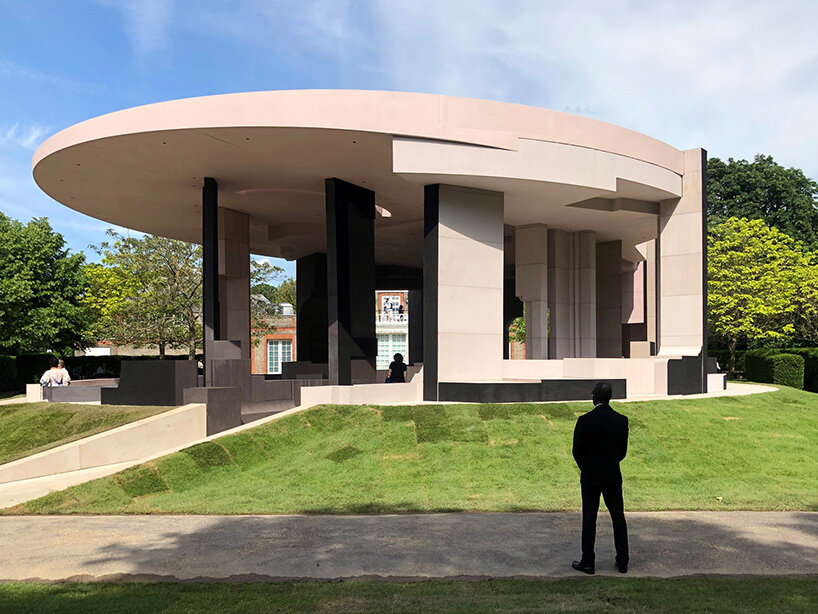 image © designboom
this year's serpentine pavilion extends outside of kensington gardens and into some of the communities that influenced its design. four 'fragments' of the pavilion have been placed in partner organizations: new beacon books, one of the UK's first black publishers and booksellers in finsbury park; the tabernacle, a multi-purpose venue and community center in notting hill; the albany, an arts center in deptford; and becontree forever, an arts and culture hub, which was established this year to commemorate the centenary of the UK's largest council housing estate. a gesture of decentralizing architecture to include a multitude of voices, these fragments support the everyday operations of these organizations, while enabling and honoring gatherings of local communities that they have supported for years.
designboom attended the pavilion's press preview where we spoke with sumayya vally — the youngest architect to be commissioned for the serpentine's internationally renowned architecture program. read our interview below ahead of the pavilion's opening on june 11, 2021.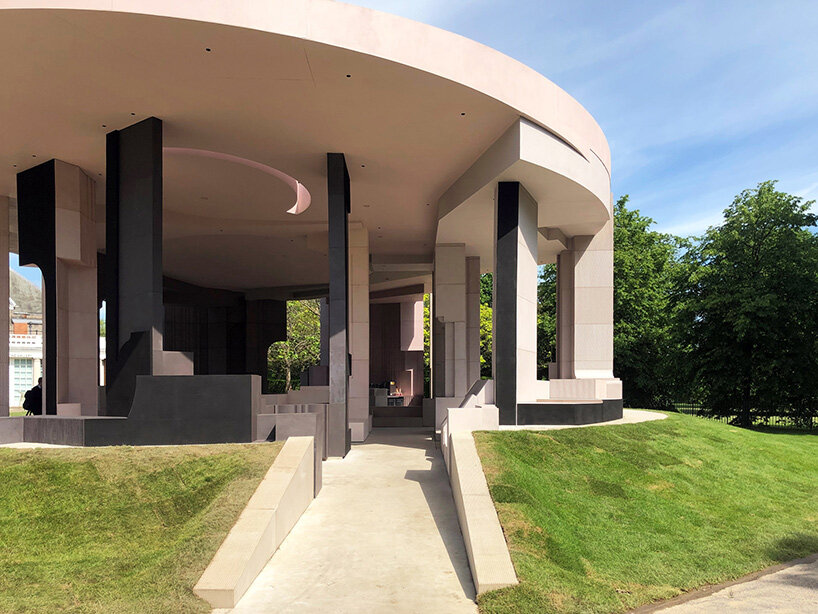 image © designboom
designboom (DB): can you please start by telling us about the design process that led to the realization of the pavilion?
sumayya vally (SV): I was really inspired by places in london with histories and presences significant to migrations. of course, that's all of london, but in particular I started to look at spaces that have actively held communities, allowed people to be able to express themselves, and have allowed identity and belonging in london to evolve. I started to look at all sorts of spaces where people come together to meet and organize and construct belonging — everything from places of worship, including some of the first mosques in london, to everyday spaces — marketplaces, restaurants, and even grocery stores that hold ingredients significant to traditional recipes. I was interested in how these spaces become, and are, places for people to meet. for example, some become spaces where people look after each other's children, where neighbors are able to exchange conversation and get to know each other — really starting to develop a sense of belonging with each other.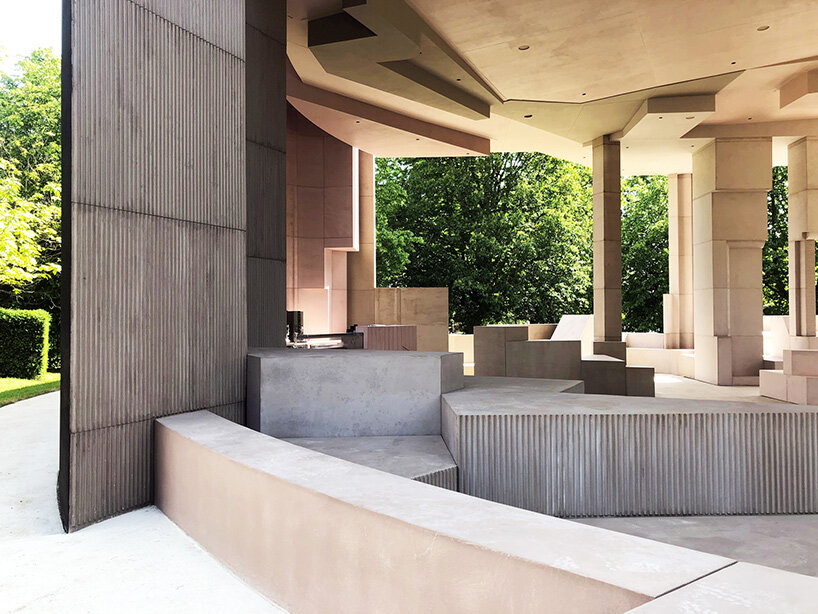 image © designboom
SV (continued): when I first got to london, I spent a lot of time at the bishopsgate library archive. I was interested in finding events and gatherings that might not have physical presences any longer, but that were really important at some point. for example, I was drawn to the theater of black women (britain's first black women's theatre company), east london mosque, the 'four aces' club in dalston, which was the first venue to play black music, and the west indian gazette headquarters. I was thinking about these as important spaces where culture was produced and people started to assert a sense of belonging. that belonging was also held beyond the architecture in those forms of publishing and cultural production. formally, the pavilion transfers some of these places.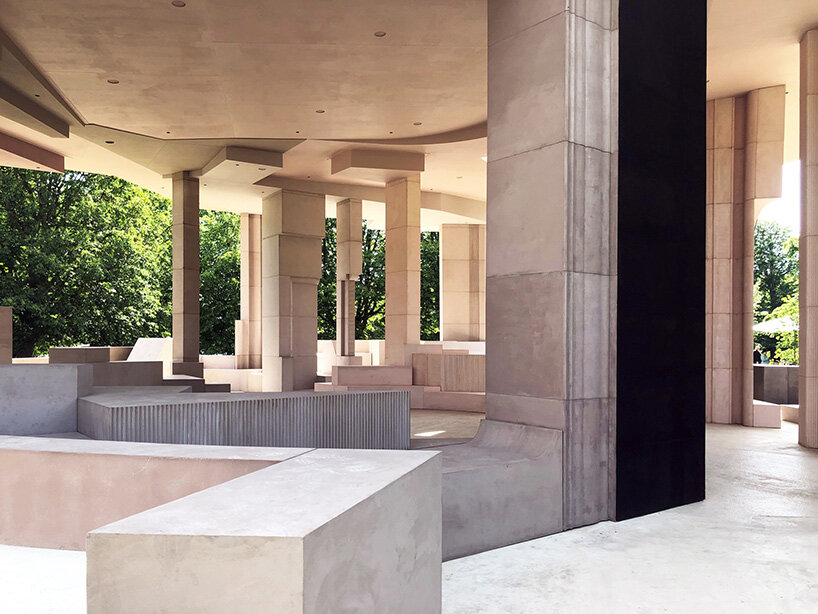 image © designboom
SV (continued): I was interested in architectures that are generous, and that suggest coming together. sometimes it might be a set of porch steps, and other times it might be an archway for two people to sit and have a one-to-one conversation. sometimes it's about a larger scale gathering. those were the architectures that I was interested in transferring. I was also interested in embodying the sense of generosity that those places had embodied so that when people visit here, they experience that generosity. programmatically, we've also partnered with several institutions across london, and really this pavilion is conceived in five parts. this is one part of the pavilion, but equally as important is that it is housed in four spaces in the city.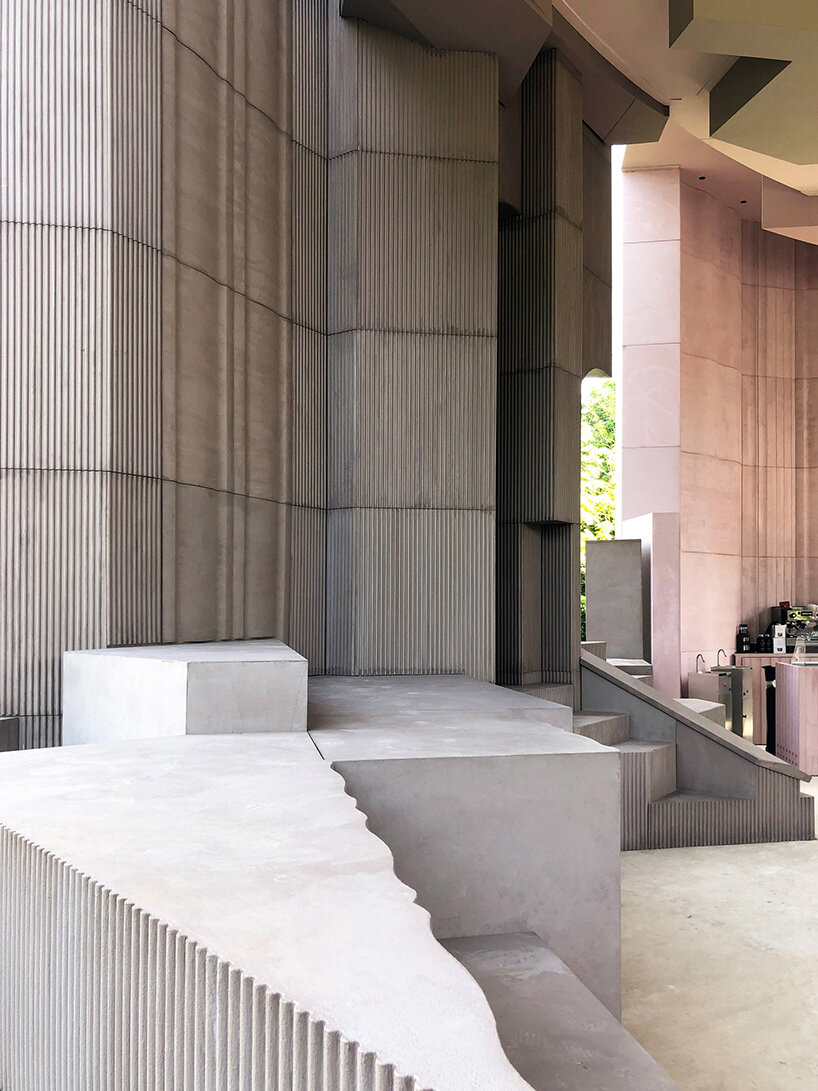 image © designboom
DB: how do those four 'fragments' help the pavilion engage with different communities?
SV: all of the partner institutions that I'm working with are absolutely incredible. new beacon books is, I think, one of the first book shops in the UK to have a focus on afro-caribbean and african diaspora literature. it's also housed so many revolutions across time. I was interested in being able to support the daily function of these spaces, and to be able to lift things out of shadow. gesturally, it is an act that is about gathering. for example, at new beacon books, the typology is a shelf that houses literature, but there is also a little niche and a podium for someone to be able to sit and read in silence, or for someone to use for a recital or a reading for a small audience. each of the fragments has a different typology in mind, but all of them are engendering and suggesting some kind of gathering while supporting existing functions and ways of interacting with community in those places.