imagined by jean nouvel, jeuneville is a unique and avant-garde project that radically and sustainably reinvents the way of living and working in greater paris. combining diversity of uses and modularity of spaces, jeuneville is a vertical neighborhood with a low carbon footprint. with a focus on diversity and well-being, the project is designed specifically for a new generation and a new economy in the french capital. scheduled for completion in 2025, jeuneville will be located on the edge of the seine, in front of the olympic and paralympic villages. jeuneville will welcome more than 100,000 square meters of innovation-centric work spaces as well as 30,000 square meters of public green spaces that will make up a new kind of ecosystem in which an expected 6,000 people will work and 1,500 will live.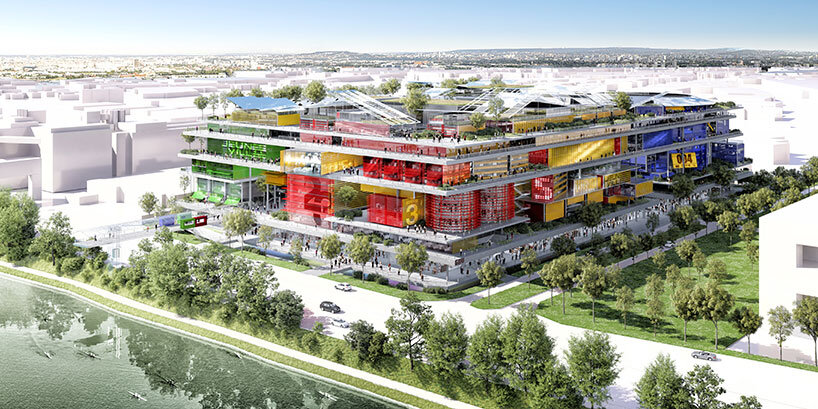 images courtesy of jean nouvel
with jeuneville, ateliers jean nouvel envisions a break with the typical patterns of the traditional urban context. the project responds to the issues of current urban areas by optimizing the experience and well-being of the people who will work and live there. jeuneville is a place of work, of production, of vacationing, and of dwelling. in the same building, offices, co-living spaces, student residences, an educational establishment, green spaces, and shops will offer users a complete and unique life experience.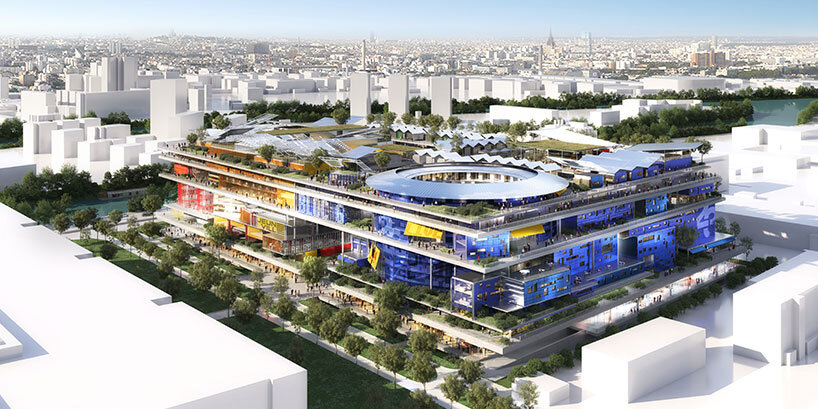 jean nouvel's jeuneville offices are designed for pioneering start-ups dedicated to creation and technology. spacious, luminous, and equipped with technology state-of-the-art, these offices are modular and evolving, planned to be transformed over time with the needs of tomorrow's businesses. co-living spaces offer a centered lifestyle around sharing and a real sense of community. these residences encourage enriched experiences through generous community places — living rooms, kitchens, cinema rooms, games rooms, rooms of sport, libraries, laundry. meanwhile, student residences offer accommodation that promotes the experience of community through spaces and services specifically adapted to them needs. the building is also designed to welcome a campus that will help to promote reconciliation young tomorrow workers with businesses innovative jeuneville.