Those of you who like to avoid grains may have heard the debate over whether quinoa is in fact a grain, or, a seed…
This article in the Huffington Post (among others) asserts that quinoa is a seed because, "botanically speaking, it's a relative of spinach, beets and chard. The part we eat is actually the seed, cooked like rice, which is why quinoa is gluten-free. You can even eat the leaves!"
Well, regardless of whether you consider Quinoa Chenopodium a grain or a seed, when my body asks for some carbs (which I typically keep low), I like to eat sprouted quinoa, due to it's high protein level.
I used to soak all my quinoa before cooking it (to disable the phytates, remove saponins, and increase digestibility) but I'm happy to say that's no longer necessary because you can now buy soaked, sprouted quinoa – yay!
Quinoa is a high fibre food, so it may change your bowel function; especially if you're not used to it. If you also haven't been washing it (to remove the bitter saponins) and then soaking it (to disable the phytates and increase digestibility) it may have caused you diarrhea or stomach pain.
However, when you consume quinoa that is washed, soaked and sprouted – you may find it even firms up your stool due to the fibre content. So start with a small amount of sprouted quinoa to test how your gut reacts to it.
I've brought one of my favorite brands into the LTYG Shoppe in case you can't get any locally. And to celebrate I'd like to share two of my favorite ways to eat quinoa.
The first is as a tabbouleh-type salad (sometimes I add chicken as well) and here's a good recipe for you.
The second way is as a breakfast or comfort food – super easy to make, feels like a real treat and so delicious!
Jini's Quinoa Cardamom Nut Porridge
– Pour 1 cup boiling water into a small pot
– Add 1-2 tablespoons of Organic Traditions Coconut Milk Powder (optional)
– Add 1/4 cup Organic Traditions Sprouted Quinoa (Tru-Roots is another good brand)
– Bring to a boil, stir, then cover with a lid and simmer for 10 minutes
– Add 2 tbsp. of raisins, 1/8 tsp cardamom powder (or nutmeg), 1 tsp vanilla extract, stir well, cover again and simmer for 5 minutes
Pour into a bowl, add some milk of your choice and slivered almonds or chopped pistachios, and sweetener of your choice (coconut sugar, maple syrup, stevia, etc). Layer some thinly sliced banana on there if you want to go all out!
Serves 1
p.s. This is so delicious, I just ate the entire lot. Afterwards I noticed it bunged me up a bit – so may be a good diarrhea remedy! And if you tend towards constipation, be sure and test a small amount first and also consume with a good fat (ghee, butter, coconut oil etc) and eat veggies and fruit that same day.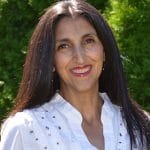 Jini Patel Thompson is an internationally recognized expert on natural healing for digestive diseases. She healed herself from widespread Crohn's Disease and has remained drug and surgery-free for over 20 years. Jini has appeared on numerous podcast, TV, and radio shows throughout the U.S., U.K., Canada, and Australia, giving people hope and vision for how they can heal their Colitis, Crohn's, Diverticulitis and Irritable Bowel Syndrome (IBS), using entirely natural methods. Her books on natural healing for digestive diseases have sold worldwide in over 80 countries.