Speaking during a court hearing June 11, attorneys associated with Kentucky Derby Presented by Woodford Reserve (G1) first-place finisher Medina Spirit  sparred with counsel for the Kentucky Horse Racing Commission over the quantity of the colt's urine to be sent to a New York testing laboratory.
Zedan Racing Stables' Medina Spirit, trained by Hall of Famer Bob Baffert, is at risk of disqualification from the Derby after both his initial test and follow-up split-sample blood test showed the presence of betamethasone, which is prohibited at any level on race day. Baffert also faces the possibility of a fine and/or suspension related to the drug positive, which Baffert, via attorney Craig Robertson, claims was innocuously sourced by the topical cream Otomax to treat a skin rash on the 3-year-old Protonico   colt.
Lawyers representing the connections of Medina Spirit—Robertson for Baffert and Clark Brewster for owner Zedan Racing Stables—want the full sample, between 25 and 27 milliliters of urine, sent to the laboratory, with the KHRC receiving the remainder upon completion of testing. Jennifer Wolsing, general counsel for the KHRC, opposed that request before Franklin Circuit Court Judge Thomas Wingate, suggesting a smaller amount was sufficient. Two milliliters was discussed as a quantity deemed adequate by the KHRC.
Attorneys for Baffert and Zedan Racing Stables want the urine specifically tested to search for ingredients in Otomax, which could validate the claim of exposure from the cream.
The treatments were reported in California, according to Dr. Dionne Benson, chief veterinary officer for 1/ST Racing. As part of 1/ST Racing's Maryland Jockey Club's decision to allow Medina Spirit to run in the Preakness Stakes (G1), where he finished third, it looked into those records and reported that medical records covering the period of April 1-May 10 reflected the dispensing of Otomax.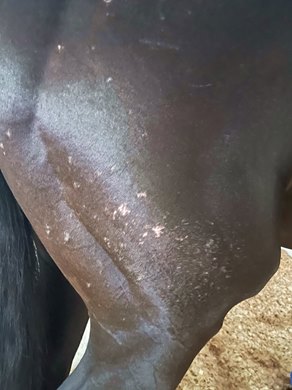 Via his attorney, Baffert said a skin rash on Medina Spirit was treated with the topical cream Otomax
Wingate, who often hears regulatory cases related to horse racing, said he would issue a ruling by June 16 if the sides do not come to terms. He was nearly ready on Friday to approve having the vast majority of the sample available for continued testing.
"The agreed-upon lab can have no more than 24 milliliters of the urine unless agreed upon by the Kentucky Horse Racing Commission to have more. So they must keep three milliliters for further frozen testing," he said, before Wolsing objected and the order was not finalized.
The urine represents the split sample taken from Medina Spirit after the original sample was used for testing and some part of it was damaged on the way to a laboratory, both sides told the court. Pictures submitted to the court also indicate damage.
"It's better to have samples in a couple of places, just in case something happens," Wolsing said.
The hearing took place in a Frankfort, Ky., courtroom, though some available witnesses and Baffert watched via video teleconference. The witnesses and Baffert were not asked any questions, nor did they make any comments.
Betamethasone, a corticosteroid typically given to horses in a joint injection, is permitted for therapeutic use but Kentucky standards call for a withdrawal time of 14 days before racing. Otomax, commonly used to treat ear infections in dogs, contains betamethasone valerate. Its presence is listed on Otomax packaging.
Wingate suggested representatives from both sides accompany the sample to the laboratory, which was not identified by name but by location as a Racing Medication & Testing Consortium accredited laboratory in New York. The only such facility is the New York Drug Testing and Research Program in Ithaca, N.Y.
In a complaint filed in advance of Friday's hearing, attorneys for Baffert and Zedan Racing Stables argued how betamethasone found its way into Medina Spirit is critical from both a regulatory and public relations standpoint.
Medina Spirit's post-Derby test marked the fifth time a Baffert-trained horse tested positive for prohibited medications since May 2, 2020, and the second one specifically for betamethasone. In Kentucky, betamethasone is a Penalty Class C substance, a level considered to have "a lesser potential to influence performance" compared with the performance-enhancing effects of drugs in Class A or B.
Since the findings were announced, Baffert has been barred from running horses at Churchill Downs Inc. tracks and those owned by the New York Racing Association. His stable is based at Santa Anita Park in California.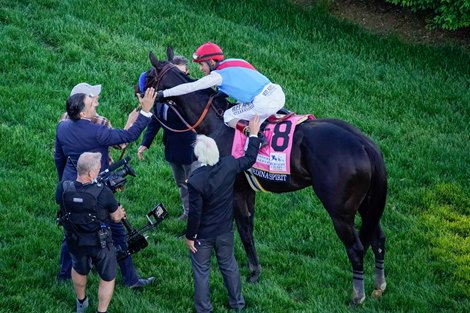 (L-R): Amr Zedan and Bob Baffert congratulate John Velazquez aboard Medina Spirit after the colt's win in the Kentucky Derby at Churchill Downs
In addition to action against Baffert, Kentucky penalty recommendations for betamethasone call for disqualification—which in this case would mean forfeiture of $1.86 million winner's share of the Derby purse—absent mitigating circumstances. The Derby was held May 1 at Churchill Downs.
Though Medina Spirit failed both his initial and split-sample test, stewards have not yet ruled on the matter. Rulings typically follow hearings, which regularly occur after the completion of testing.
Should a disqualification take place, Juddmonte's Mandaloun , second across the wire, would move up to first, and Medina Spirit would fall to last. Pari-mutuel payoffs would not change, standard practice for disqualifications from drug violations.
Robertson and Brewster argued that applying a betamethasone-ointment leading up to the Derby is a mitigating circumstance, saying Kentucky rules are meant to stop drug injections before racing.
"We believe it can be completely exonerating in this case," Robertson said of the application.
Upon inquiry from Wingate, Wolsing said the betamethasone prohibition is "not differentiated" between creams and injections in the regulator's list of prohibited substances.
"Why does it matter?" Wingate asked the lawyers, pointing to a case previously before his court in which trainer Graham Motion contested a methocarbamol drug positive from George Strawbridge Jr.'s Kitten's Point .
That ruling involved a $500 fine for the trainer and the horse's disqualification from victory in the 2015 Bewitch Stakes (G3T) at Keeneland. During that appeal before his court, which, like Medina Spirit, involved a Class C drug violation, Wingate overturned the commission's ruling and sanctions. He called into question Kentucky's absolute-insurer rule for trainers, whether a hearing officer afforded Motion and Strawbridge proper due process, and whether the rule defining the methocarbamol threshold was proper.
The Commonwealth of Kentucky Court of Appeals overruled Wingate's decision, and the Kentucky Supreme Court declined to hear the case. Robertson also represented Motion.
The precedent of that case could have a bearing on a Medina Spirit ruling and anticipated challenges, which could be tied up in appeals before the KHRC and in the court system for months, if not years.
The court "said, 'Hey, we reverse you, Judge Wingate.' It doesn't really matter that it didn't affect the performance of your horse, which I thought was a little arbitrary, but you know, they have the last say on everything," Wingate noted.
He encouraged the sides to agree on testing and to expedite the process in the much-publicized incident.
"I mean, this is somewhat of a black eye upon the industry, in my opinion," he said. "You each need to try to work it out if you care anything about horse racing in this state."