Todd Pletcher, who has mastered the Road to the Kentucky Derby like no trainer in history, has only added to that legacy in 2021; although going into the final round of Derby points races there was no guarantee he would have a starter in the field.
Pletcher has entered four horses in this year's Kentucky Derby Presented by Woodford Reserve (G1) in Curlin Florida Derby Presented by Hill 'n' Dale Farms at Xalapa (G1) winner Known Agenda , Wood Memorial Stakes Presented by Resorts World Casino (G2) winner Bourbonic , Jeff Ruby Steaks (G3) runner-up Sainthood , and Wood Memorial runner-up Dynamic One .
That will add to his already record total of 55 Derby starters, a group that includes 2010 winner Super Saver   and 2017 victor Always Dreaming  . If all four are able to start May 1 at Churchill Downs, it will mark the sixth time the trainer has had four or more Derby starters in a given year.
Pletcher notes that things could have gone either way in this year's final prep races but he did like the idea of getting this group of horses stretched out, which of course also plays in their favor for the 1 1/4-mile Derby.
"Looking at it, we thought we had some live horses going into the final-round preps but that can go one of two ways: really well or you can be left out," Pletcher said. "When Sainthood finished second, we knew he'd probably be in—at least right on the bubble. Known Agenda, that was a big win for a number of reasons. Then we had kind of a pleasant surprise in the Wood, although we did feel that both horses were training well enough to be competitive in there. But when you run a 15-1 shot (Dynamic One) and a 70-1 shot (Bourbonic) you're not necessarily expecting to finish first and second. But we weren't shocked based on the way they had trained."
Known Agenda is Pletcher's sixth Florida Derby winner. Florida Derby winner Always Dreaming, of course, followed that win with a Derby score. A homebred for St. Elias Stable, Known Agenda is a son of classic winner Curlin  .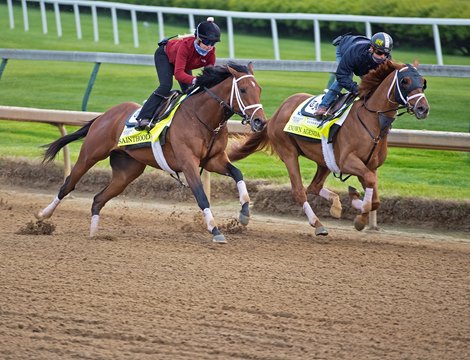 (L-R): Sainthood and Known Agenda work April 23 at Churchill Downs
Bourbonic is Pletcher's sixth Wood Memorial winner. Campaigned by his breeder, Calumet Farm, Bourbonic is a son of classic winner Bernardini  . Repole Stable, Phipps Stable, and St. Elias Stable's Dynamic One is a son of classic winner Union Rags  . China Horse Club and WinStar Farm's Sainthood is from the first crop of Mshawish  , who won grade 1 races on turf and dirt.
"One thing I like about our group overall is, I think they're designed for the mile and a quarter; they're stoutly bred that way, and I think if we can get lucky and get good trips with them, hopefully, they'll all be finishing well in the end," Pletcher said.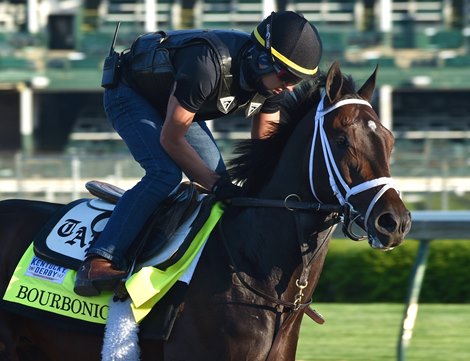 Bourbonic gallops April 27 at Churchill Downs
On a different topic, Pletcher noted a significant challenge during 2020 was lining up riders for horses as personal choices and COVID-19 protocols limiting travel made it difficult to keep the same rider on a horse. As things begin to return to normal in this transition year, most of Pletcher's horses will have the jockeys who were aboard for their final prep race.
Like many horses in this year's field, Pletcher's group of four have had a number of jockey changes. Known Agenda has had three different riders, although multiple Eclipse Award winner Irad Ortiz Jr. will be riding him for a third straight race Saturday. Sainthood will have his fourth rider in as many starts Saturday in Corey Lanerie.
Jose Ortiz, who was aboard Dynamic One in the Wood, stays in place for the Derby—the horse's third rider. Kendrick Carmouche has been aboard Bourbonic for most of his starts and will ride Saturday. Bourbonic has had four riders.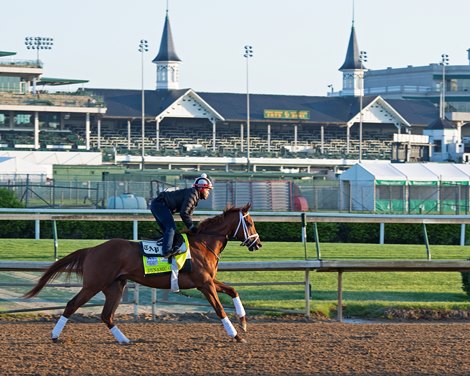 Dynamic One gallops April 26 at Churchill Downs
"One of the biggest impacts of the pandemic was consistently keeping jockeys on horses," Pletcher said. "Starting back right after the Florida Derby last year, some guys took some time off and didn't ride. Some guys stayed at Gulfstream. Some guys took a hiatus. Some guys came here (to Kentucky). Then you had the travel restrictions on guys going out of town and then coming back. 
"I would say in the last year we've had more rider changes than we've probably had the last 20 years combined."