marset — the barcelona-based brand known for its authentic and meaningful lighting projects — introduces a new lighting system, joining 'ihana' by joanna laajisto in its latest collection.
combining simplicity, functionality and poetic aesthetics, 'ambrosia' by ciszak dalmas is a soft segment of light that can be expanded and adapted to suit numerous interior environments. through its openness, accessibility and visually clarity, the lighting system can be used to offer multiple creative compositions, or be integrated into a space and seemingly disappear.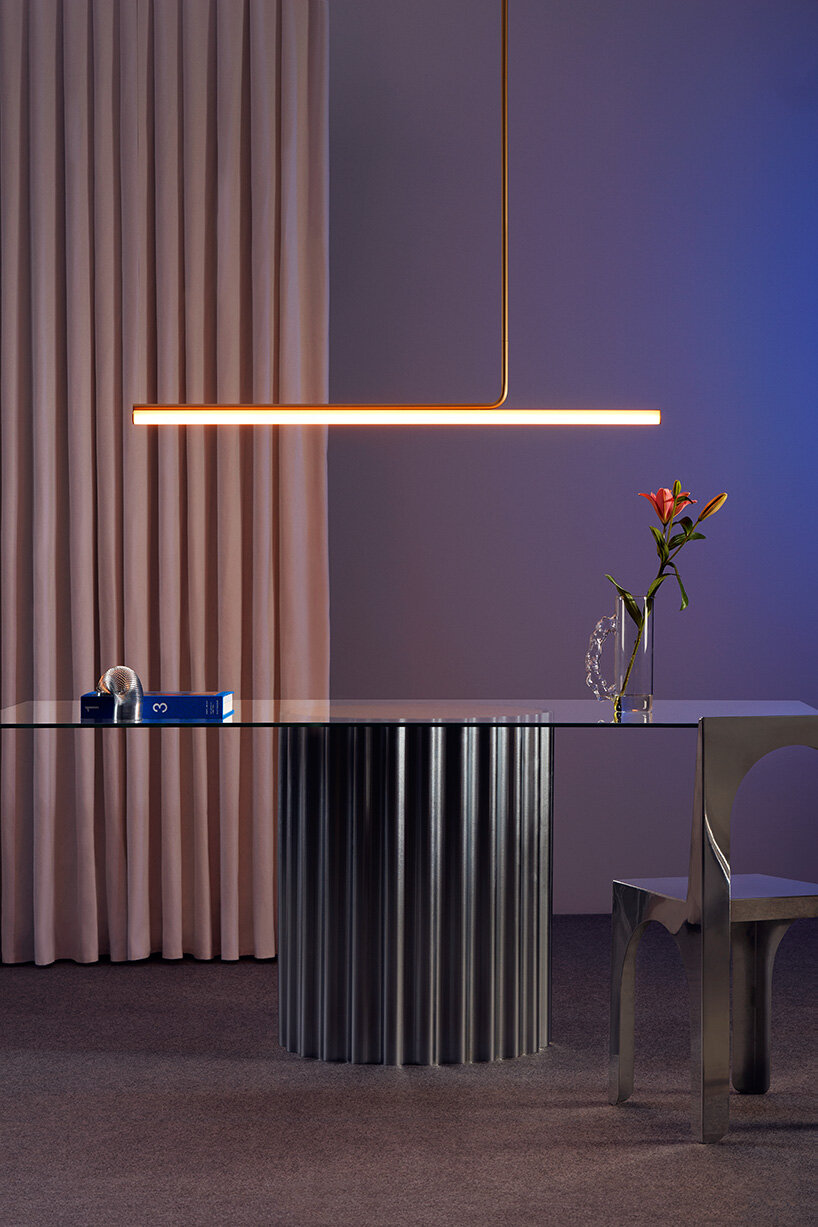 'ambrosia' is a segment of light capable of extending and adopting different sizes
alberto gobbino ciszak and andrea caruso dalmas of madrid-based studio ciszak dalmas are 'designers without labels'. the two childhood friends from turin, italy studied industrial design together and opened their office in the spanish capital in 2009. in 2017, alberto and andrea completely renovated and designed the interior of the 'ambrosia' luxury multi-brand boutique in madrid, for which they created an eponymous suspension lamp — a system which speaks from geometry and adaptability. 'ambrosia' is a segment of light capable of extending and adopting different sizes, offering numerous possibilities and creative interpretations. the lighting system now forms part of marset's new collection.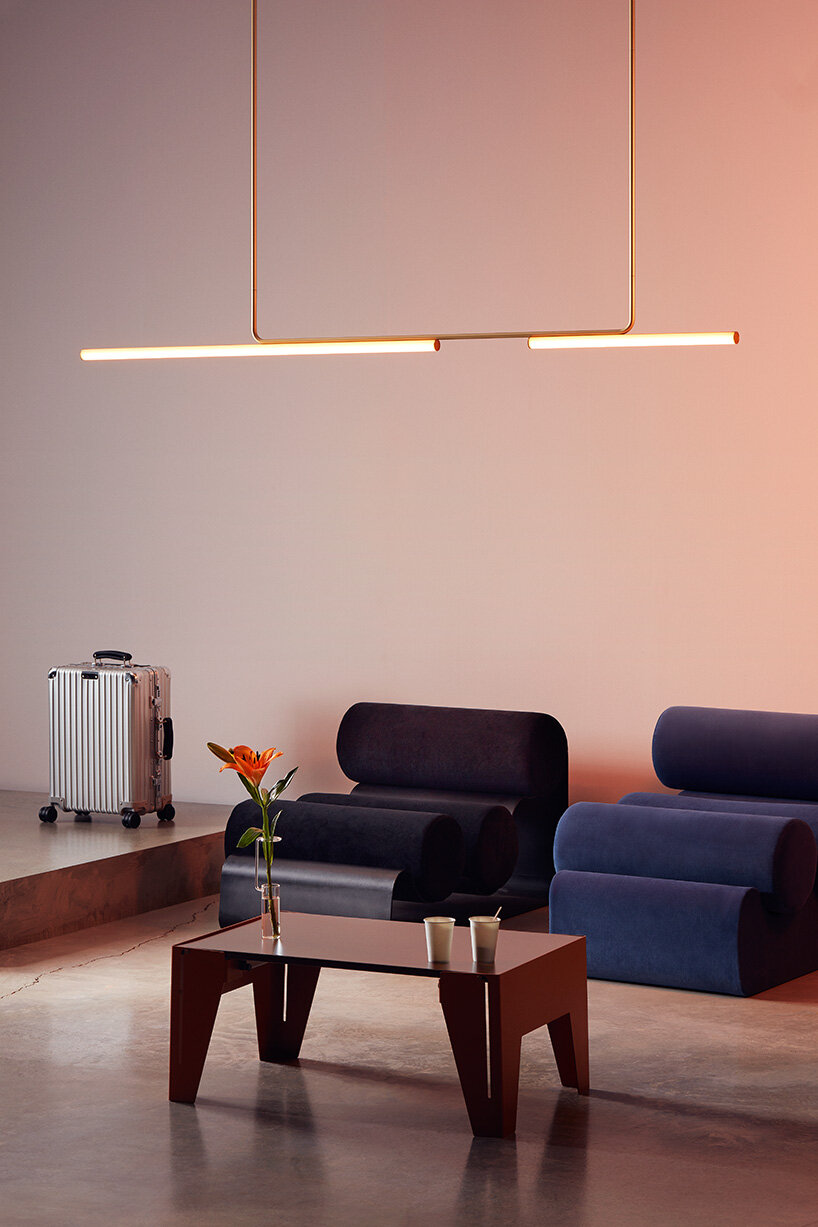 the lighting system offers numerous possibilities and creative interpretations
the starting point for 'ambrosia' centered around the idea of bringing back and updating the traditional linestra lamp, demonstrating how a technical and unyielding design can also be expressive and gestural. linestra was initially a line of light, which transitioned into a modular system that could be extended to adapt to any space. the duo were inspired by the practicality of the linestra products, which 'in a single object solve all the technical aspects of an LED light, being of a high production simplicity and low cost,' they say. 'we wanted to investigate its use, changing its perception from something technical to something poetic, although ambrosia is currently produced with a 'smarter' technique than the original model: it no longer uses the linestra system we were initially inspired by, but takes advantage of the linear extrusion process to achieve the four different sizes of the collection.'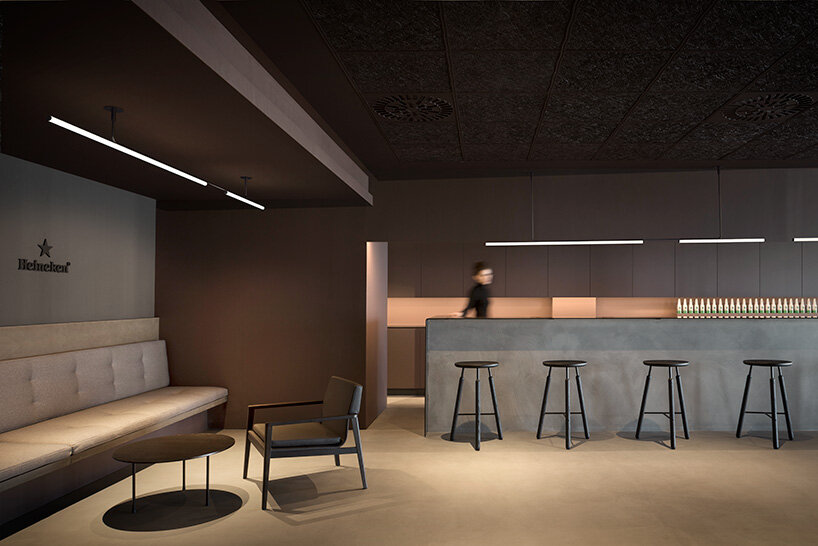 'ambrosia' by marset is available in four pre-set lengths, with extensions that offer a tailored definition in height
in the making of 'ambrosia', ciszak dalmas explored artisanal techniques. across several tests and prototypes, they came to use the linestra model, which allowed them 'to create a composition 'in segments' of a predefined length, solving all the technical aspects such as wiring, transformer and source in one go, which were integrated into a single component.' meanwhile, in order to conceal the plastic coupling of the linestra and finalize the design of the piece, the studio developed a square box welded with brass plates that leaves only the luminous tube in view. 'it was an exercise in simplicity, combining practicality and aesthetics,' they add.