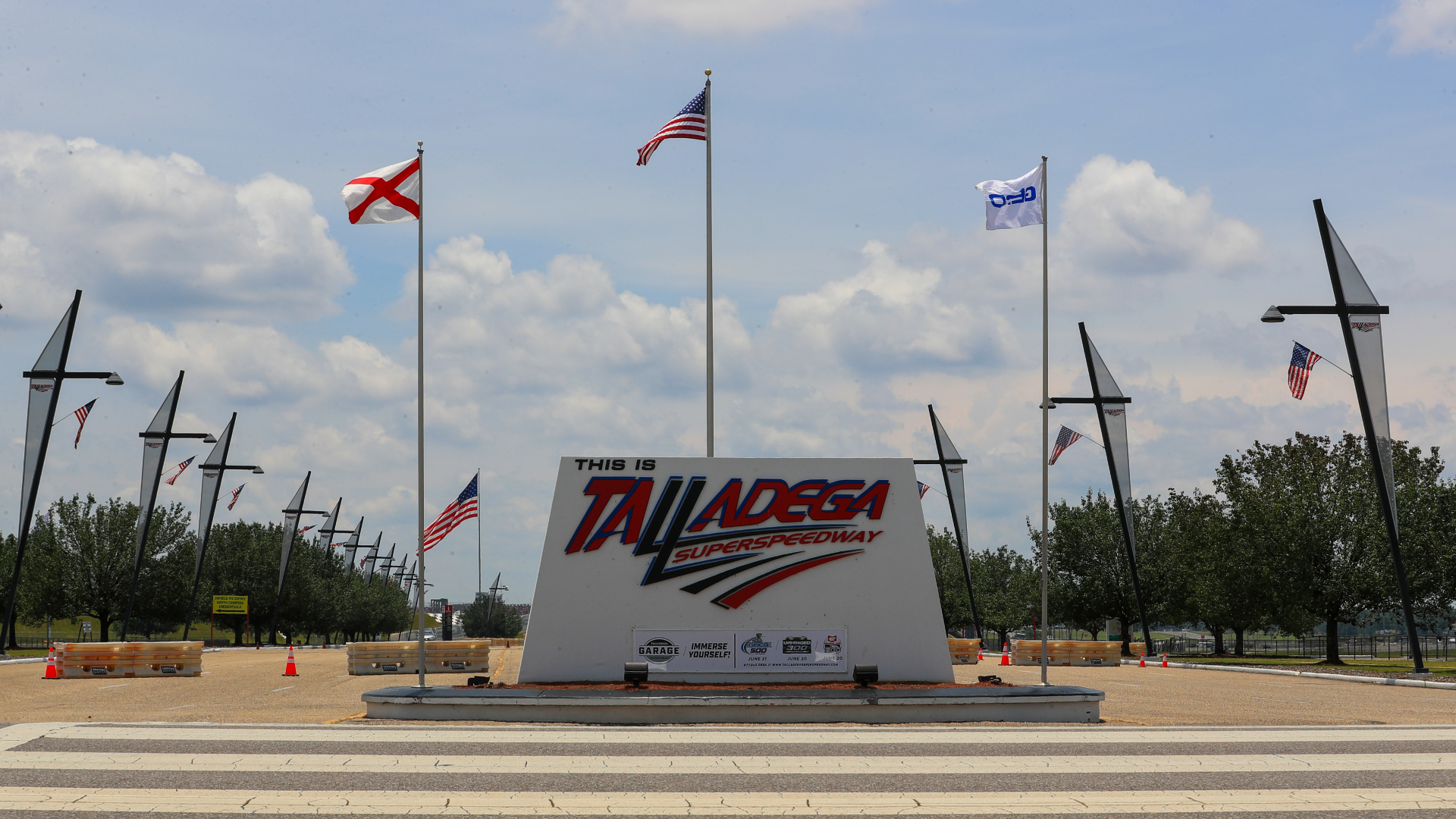 Talladega Superspeedway, the fastest track in NASCAR, will be the site of its latest Cup Series race on Sunday.
While viewers won't see the unchecked speed of previous races, they can at least expect plenty of 200-mph laps with bumper-to-bumper groupings — and the constant threat of wipeouts.
The biggest story heading into the 2021 Geico 500 is whether 2021 Cup Series leader Denny Hamlin, owner of 434 points and eight top-five finishes — including six straight — can earn his first win of the season. Luckily for him, he has five Superspeedway wins, including his last one at the 2020 Yellawood 500. With as well as he has driven this year, it's only a matter of time before he sees the checkered flag first.
Behind him in Sunday's lineup are Joey Logano (third in the standings with 352 points), Martin Truex Jr. (second place with 353 points and the only two-time winner this year) and William Byron (fourth place with 310 points).
Sporting News is tracking live updates and lap-by-lap highlights from NASCAR's race at Talladega. Follow for complete results from the Geico 500.
MORE: Watch today's NASCAR race live with fuboTV (free 7-day trial)
NASCAR at Talladega live updates, highlights from Geico 500
All times Eastern.
3:26 p.m.: DiBenedetto loses three spots under the pit. Elliott and Hamlin move up into the top two positions, respectively.
3:21 p.m.: The stage ends under caution with DiBenedetto in the lead.
3:19 p.m.: Third caution. And there's our first significant crash of the day. Hamlin tries to cut into the outside line but undercuts Logano, who spins out and catches air. He says he's OK on the radio. Looks like Ricky Stenhouse Jr. was involved in that as well: His car is the one who sent Logano flying. Wallace got clipped as well.
3:17 p.m.: Preece and Matt DiBenedetto are jockeying for first place with just three laps remaining in the first stage. Both are looking for their first career win.
3:15 p.m.: And now it's Ryan Preece in the lead pack with just five laps remaining in the first stage.
3:11 p.m.: Logano just pushed Blaney to the top of the lead, giving the Team Penske teammates the top two positions in the race with 10 laps to go in Stage 1.
3:05 p.m.: Hamlin, Keselowski, Blaney, Kyle Busch and Logano make up the top five coming out of the second caution with just 17 laps to go in the stage.
3 p.m.: Second caution. We're at our second caution after Joey Gase spun out his 28 car; Corey LaJoie barely avoided him.
2:56 p.m.: Kyle Busch briefly took the lead from his Joe Gibbs teammate, who quickly retook the lead.
2:48 p.m.: Coming out of the caution: Hamlin in the lead, followed by Kyle Busch, Blaney, Christopher Bell and Byron in the top five.
2:45 p.m.: Then there's Harrison Burton, making his Talladega debut, dragging a fuel can with him from out of pit row.
2:43 p.m.: Hamlin, Kyle Busch, Blaney, Byron, Kurt Buch, Austin Dillon and Blaney all pit under the competition caution.; Truex did too, and will move to the back after speeding on pit row.
2:40 p.m.: Competition caution. Kyle Busch leads the pack after 25 laps, bringing up the first competition caution.
2:31 p.m.: Larson is done for the day. Times like these you really miss being able to get out onto the track before the race. Could have helped his team notice something with the car:
2:30 p.m.: And now there's Wallace in the lead! Excellent driving by him to go from worst to first. Kevin Harvick, Ross Chastain, Tyler Reddick and Chase Elliott round up the top five, respectively.
2:26 p.m.: Meanwhile, Larson's car is smoking; he tried to rejoin the race but is now heading to the garage just nine laps into Talladega.
2:25 p.m.: Bubba Wallace has made up considerable ground after getting moved to the back of the lineup, and is currently in fifth place.
2:23 p.m.: According to the Fox telecast, all the Toyota cars who moved back initially passed inspection — but on the starting line, NASCAR officials apparently saw something they didn't like with the contouring of the cars on the driver's side, moving everyone but Kyle Busch back. A little more detail:
It was an A-Post infraction on the cars that are dropping to the rear: Hamlin Truex Bell Wallace and HBurton (not Suarez) now all to rear for unapproved adjustments

— Bob Pockrass (@bobpockrass) April 25, 2021
2:22 p.m.: Kyle Larson has already pitted with temperature issues. Kind of early for that, but we'll see how that plays out.
2:20 p.m.: William Byron and Logano are trading between the first and second-place spots one lap into the race.
2:20 p.m.: And they're off!
2:19 p.m.: All Toyota cars except Kyle Busch (ninth in the lineup) will move to the back due to unapproved adjustments. That includes pole leader Hamlin and Truex Jr. Incredible.
2:08 p.m.: Hip hop duo Tag Team with those famous words: "Start your engines." Green flag coming up shortly.
1:55 p.m.: No issues with the weather:
NASCAR race start time
The green flag for Sunday's NASCAR Cup Series race at Talladega Superspeedway is scheduled to wave shortly after 2 p.m. ET.
NASCAR lineup at Talladega
Here's the complete starting lineup for the GEICO 500 without qualifying:
| | | | |
| --- | --- | --- | --- |
| Start pos. | Driver | Car No. | Team |
| 1 | Denny Hamlin | 11 | Joe Gibbs Racing |
| 2 | Joey Logano | 22 | Team Penske |
| 3 | Martin Truex Jr. | 19 | Joe Gibbs Racing |
| 4 | William Byron | 24 | Hendrick Motorsports |
| 5 | Alex Bowman | 48 | Hendrick Motorsports |
| 6 | Christopher Bell | 20 | Joe Gibbs Racing |
| 7 | Ryan Blaney | 12 | Team Penske |
| 8 | Chase Elliott | 9 | Hendrick Motorsports |
| 9 | Kyle Busch | 18 | Joe Gibbs Racing |
| 10 | Brad Keselowski | 2 | Team Penske |
| 11 | Austin Dillon | 3 | Richard Childress Racing |
| 12 | Kyle Larson | 5 | Hendrick Motorsports |
| 13 | Matt DiBenedetto | 21 | Wood Brothers Racing |
| 14 | Aric Almirola | 10 | Stewart-Haas Racing |
| 15 | Kurt Busch | 1 | Chip Ganassi Racing |
| 16 | Kevin Harvick | 4 | Stewart-Haas Racing |
| 17 | Ricky Stenhouse Jr. | 47 | JTG Daugherty Racing |
| 18 | Ross Chastain | 42 | Chip Ganassi Racing |
| 19 | Daniel Suarez | 99 | Trackhouse Racing Team |
| 20 | Tyler Reddick | 8 | Richard Childress Racing |
| 21 | Chris Buescher | 17 | Roush Fenway Racing |
| 22 | Erik Jones | 43 | Richard Petty Motorsports |
| 23 | Michael McDowell | 34 | Front Row Motorsports |
| 24 | Bubba Wallace | 23 | 23XI Racing |
| 25 | Chase Briscoe | 14 | Stewart-Haas Racing |
| 26 | Corey LaJoie | 7 | Spire Motorsports |
| 27 | Cole Custer | 41 | Stewart-Haas Racing |
| 28 | Ryan Newman | 6 | Roush Fenway Racing |
| 29 | Ryan Preece | 37 | JTG Daugherty Racing |
| 30 | Anthony Alfredo | 38 | Front Row Motorsports |
| 31 | BJ McLeod | 78 | Live Fast Motorsports |
| 32 | Quin Houff | 00 | StarCom Racing |
| 33 | Cody Ware | 51 | Petty Ware Racing |
| 34 | Justin Haley | 77 | Spire Motorsports |
| 35 | Joey Gase | 28 | Rick Ware Racing |
| 36 | Josh Bilicki | 52 | Rick Ware Racing |
| 37 | JJ Yeley | 15 | Rick Ware Racing |
| 38 | Kaz Grala | 16 | Kaulig Racing |
| 39 | Harrison Burton | 96 | Gaunt Brothers Racing |
| 40 | Timmy Hill | 66 | MBM Motorsports |