with its flexible cooking and kitchen table, premium german brand next125 has created a stylish counterpoint to the technical system-furniture of today's kitchens.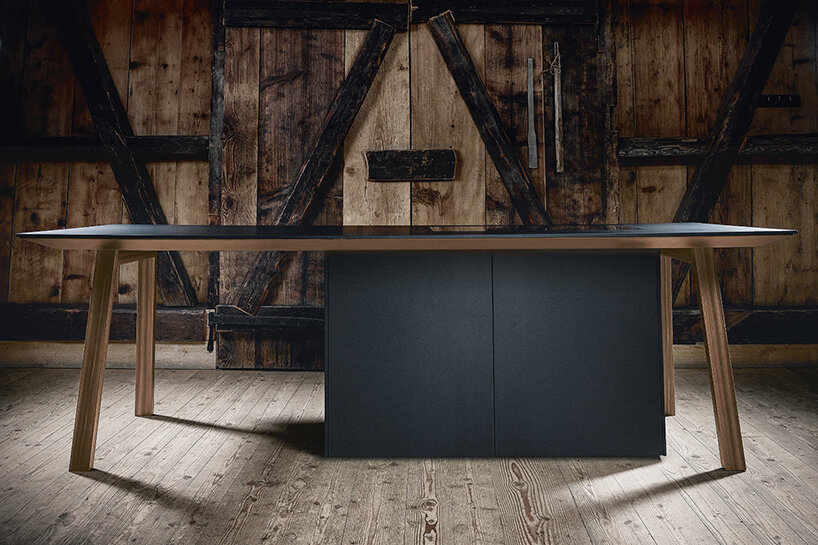 the table and the cooking table by next125 – presented here in a historical black forest barn setting
whether in the kitchen or living room, a table is without question the central piece of furniture in these rooms. this is where the family meets, eats together with friends, holiday plans are made, board games are played and school grades are discussed, this is where people laugh, argue and make up. yes, a table is in a way the epitome of social furniture – in practically all cultures. just imagine an apartment without a table! practically unthinkable. because if food is not being prepared or eaten at it, it can take on many other functions: from a stage for colorful bouquets of flowers or fruit bowls, to a storage and work surface.
it is no coincidence that in one of his famous odes, chilean poet and nobel prize winner pablo neruda once wrote: 'the world is a table' – such is its central role in life. in 17th-century still-life painting particularly, the table becomes an image of life, a presentation surface. overflowing with game, breads or rare fruits, symbols of wealth and power as well as of the changing fortunes of happiness and the passing of time: candles, hourglasses, cubes and lemons are often found here, as are richly decorated cutlery, precious glasses and carafes.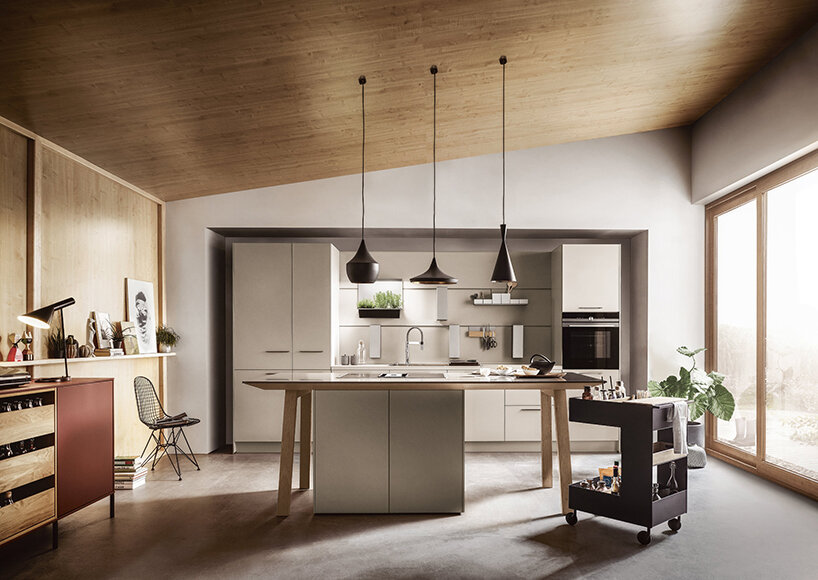 the next125 trolley parks under the worktop to be used whenever needed
even today, tables do not only have a functional side. it is precisely their aesthetic quality – the interplay of their textures, proportions and details – that make them, at their best, an object full of character, a statement in the room. this applies in particular to a design by next125 – the premium brand of german kitchen manufacturer schüller – which is available in two versions: as a dining table and as a cooking table. both unite the seeming contradictions in themselves, because they appear archetypal and timeless in their deliberate simplicity, yet they are completely contemporary, fitting in with a multitude of modern kitchen and living room concepts. another astonishing contrast: how is it possible that such a large, robust table (available in 180, 240 and 300 cm lengths) can still seem so filigree and light? is it the angled legs or the tapering surfaces on their underside?
when combined with the next125 trolley, a multifunctional piece of furniture that can be used as a cooking and serving trolley or as a bar, the cooking table becomes even more flexible and comfortable: this small kitchen helper can be 'parked' under the worktop and used wherever it is needed.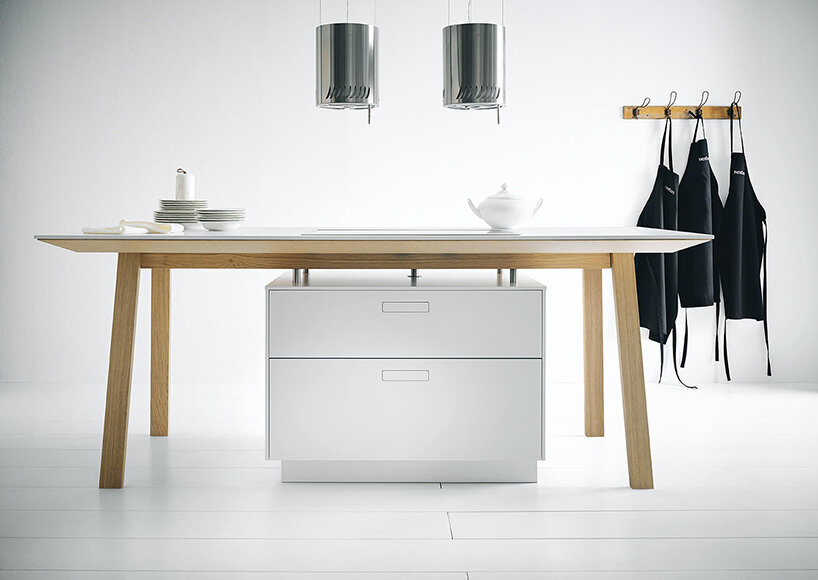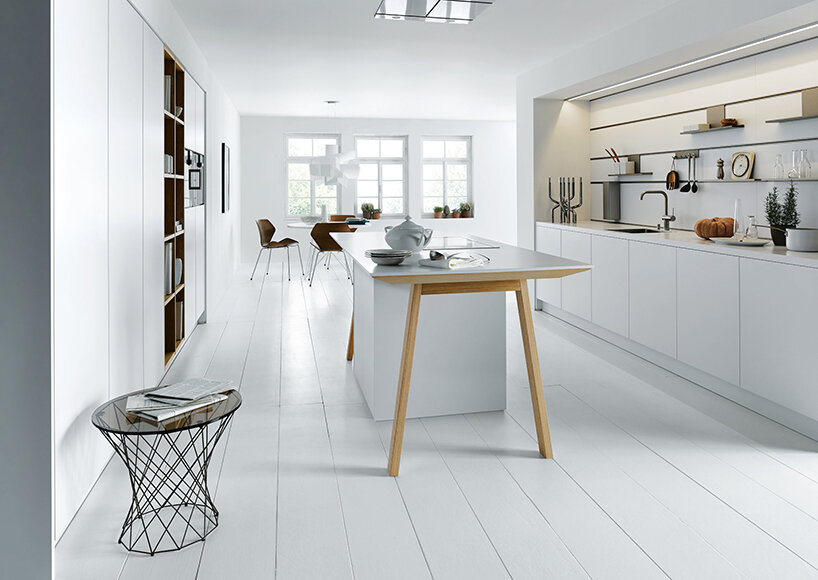 the cooking table's work surface, whether ceramic, quartz stone or laminate, makes the preparation of food fun
now, next125 could have left it at the dining table. but its potential as a real cooking table was recognized, so, the idea was put into practice. with a worktop made of either ceramic, quartz stone or laminate, the table becomes a place that makes food preparation fun, and it doesn't, despite the added functionality and engineering, lose any of its homely appeal – regardless of the type of wood chosen, be it knotty oak, larch or walnut. last but not least, the cooking table is completed by a base cabinet whose wood panelling and interior can be individually adapted and configured.
there is no doubt that both table variants can be passed down from generation to generation and will last for many decades. an investment in the future that can be enjoyed every day.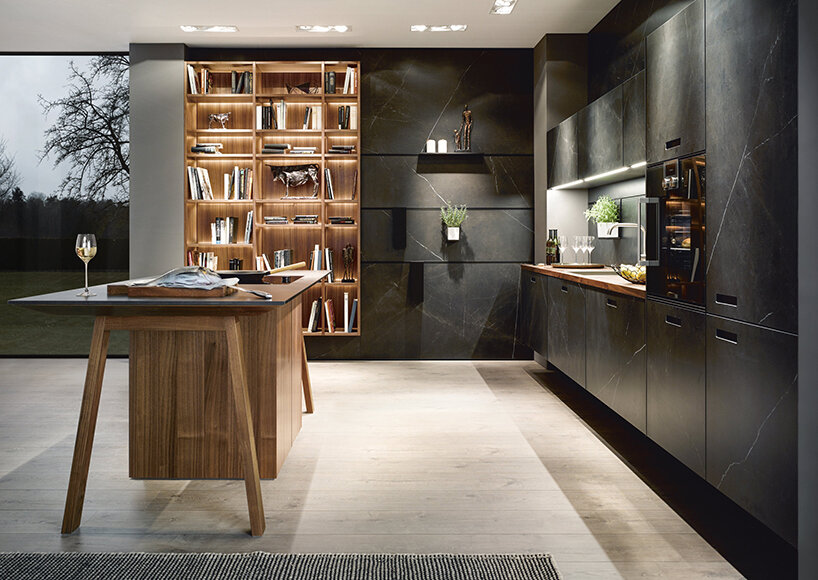 despite all its technology, the table loses nothing of its homely feel
guest feature by gerrit terstiege / architonic
simon keane-cowell I architonic
may 13, 2021