For a few months now, I've had many people write in asking if George's Aloe Vera is suitable for making your own DIY hand sanitizer. Well, the answer is yes – however, actually washing your hands with soap and water for at least 20 seconds is the BEST way to go!
That being said, sometimes you are on the go and simply can't wash your hands at that moment. In this case, if I were to make my own hand sanitizer at home, I much prefer using hydrogen peroxide & essential oils as ingredients over abrasive isopropyl alcohol. Isopropyl is harsh and drying on the skin. So here is the recipe I would use:
Natural Aloe Hand Sanitizer
1/4 cup aloe vera juice
1 tbsp colloidal sliver
1 tsp 3% hydrogen peroxide
20 drops tea tree essential oil (or thyme, or rosemary, or eucalyptus)
5-10 drops lemon essential oil (optional)
Pour into a spray bottle and shake well.
Spray enough on your hands to get them wet and rub them vigorously together. Let your hands air dry.
*NOTE: I am not a fan of hand sanitizers and I do not use them for myself or my kids, because our hands/skin has a natural microbial/bacterial population that protects us from opportunistic infection. If we are continually killing off our native flora, our skin becomes susceptible to infection. Sound familiar? YES, just like we avoid antibiotics as they destroy our healthy gut flora!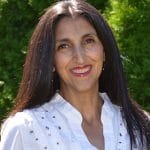 Jini Patel Thompson is an internationally recognized expert on natural healing for digestive diseases. She healed herself from widespread Crohn's Disease and has remained drug and surgery-free for over 20 years. Jini has appeared on numerous podcast, TV, and radio shows throughout the U.S., U.K., Canada, and Australia, giving people hope and vision for how they can heal their Colitis, Crohn's, Diverticulitis and Irritable Bowel Syndrome (IBS), using entirely natural methods. Her books on natural healing for digestive diseases have sold worldwide in over 80 countries.