New York regulators are proposing a plan to end what they call a gaming of the system by some jockeys who are suspended for riding infractions but can now delay their punishment until less lucrative racing meets are underway. 
The New York State Gaming Commission June 29 gave initial approval to a new rule that would give the agency discretion to require jockeys to serve riding violation suspensions at the tracks where the violations occurred. 
Regulators say they hope to end a practice seen mostly for violations that occur during the summer Saratoga Race Course meet in Saratoga Springs, N.Y., where purses are especially high and some jockeys might be motivated to get their suspensions deferred to the other New York Racing Association meets.
"The proposed rule could discourage gamesmanship in the agency hearings process that has the effect of delaying a suspension until after the Saratoga meet," Edmund Burns, the agency's counsel, wrote in a recent memo to the gaming commission's board members.
The plan was unanimously approved Tuesday and will now go to a public comment period and likely final approval later this year.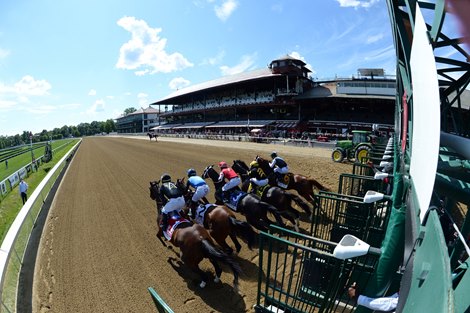 Horses leave the gate at Saratoga Race Course
Robert Williams, executive director of the Gaming Commission, told the commissioners Tuesday that the agency's predecessor department, the State Racing and Wagering Board, once had a policy that permitted regulators to impose suspensions for violations at Saratoga at the same track, even if it was delayed a year until a new meet. That policy was struck down by the courts, he said, because a formal rule was never put in place by the board's commissioners. The new proposal would enact such a formal rule.
Presently, a steward can impose a suspension for a riding violation, but the penalty is stayed if a jockey requests a formal administrative hearing, an often lengthy process. Williams said that some jockeys "seek to game the system" by requesting a hearing for alleged riding offenses at the Saratoga track, only to then later rescind the hearing request when Saratoga ends in order to serve their suspension during a subsequent NYRA meet with smaller purses.
"This tactic has a real impact on commission operations and staff expense resources in arranging and preparing for a hearing that fails to be conducted," Williams told the commissioners.