As slow as the Thoroughbred racing industry may have been to embrace the virtues of working with national television networks, the New York Racing Association has quickly made up for all that lost time—and then some.
Expanding on an already extensive partnership, NYRA and FOX Sports announced March 25 a nine-year agreement to air NYRA races on broadcast and cable networks that also includes an equity option to purchase a 25% share of the lucrative NYRA Bets wagering platform by the summer, pending approvals from regulators.
The agreement, which runs through 2030, calls for FOX to air at least 700 hours of NYRA racing from Belmont Park and Saratoga Race Course on FOX Sports 1 and FOX Sports 2, and, with the exception of races covered in existing contracts with other networks such as the Belmont Stakes (G1) on NBC, gives FOX exclusive national broadcast rights at the two New York tracks. While most of the programming will be on FS2, the contract stipulates at least 30 hours a year must be presented on the larger FS1 and FOX broadcast channels.
"If someone had told me 10 years ago that a deal like this would be happening today, I would have told them there's no chance of it happening. It's a landmark deal and that's not overstating it in any way, shape, or form," said Tony Allevato, NYRA's chief revenue officer and president of NYRA Bets. "As someone whose whole career has been in television, I could not have seen this happening."
The deal also includes live coverage of the Travers Stakes (G1) on FOX's flagship broadcast network for the next nine years, continuing what has been the television home for the Midsummer Derby since 2019.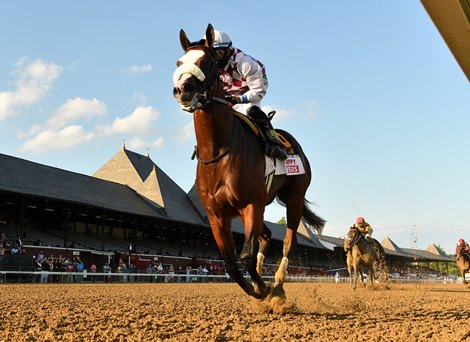 Tiz the Law wins the 2020 Travers Stakes at Saratoga Race Course
While acquiring an equity stake in NYRA Bets gives FOX a share of a highly profitable online and mobile wagering platform and provides NYRA with millions of dollars from the purchase price, the acquisition gives FOX even more reasons to partner with NYRA to the mutual benefit of both companies now and going forward. The agreement includes a provision allowing FOX to increase its stake in NYRA Bets in the future.
"The NYRA relationship has been incredibly positive from day one," said Mike Mulvihill, FOX Sports' executive vice president, head of strategy and analytics. "They have been phenomenal partners. I'm proud of what we've done on the TV content side and now we can participate in the wagering side which incentivizes us to promote and develop the relationship on all of our platforms and elevate some races to FS1 and FOX broadcast channels. It also motivates us to see how we can come up with new ways to grow the business partnership. We've found ways to grow it in the past, and now we're more incentivized than ever to keep growing it."
The right to purchase a share of NYRA Bets was included in past contracts.
"What we exercised today was actually negotiated several years ago. We had this option for some time and knew whatever we could do to grow the NYRA Bets business would ultimately pay off for us when we decided to go forward with that equity stake," Mulvihill said. "Now we have a path to additional equity in the future, so there's even more reasons to aggressively try to grow the business."
As NYRA's presence on the FOX channels ballooned in recent years, the growth of NYRA Bets has also skyrocketed. After handling just $7.2 million in 2016, NYRA Bets took in $225 million in wagers in 2020, which marked an increase of more than 100% over 2019 despite NYRA tracks being closed for 80 days due to the pandemic. 
During the same time, FOX Sports and NYRA's coverage of racing on the "America's Day At the Races" and "Saratoga Live" programs has taken a quantum leap from 80 hours in 2016 to more than 700 hours in 2020 with projections calling for similar totals, at the very least, in 2021 and beyond.
"If you look at how things played out last year with the pandemic, there was a realization at how much our sport has become a television sport, and I don't mean just traditional television. That includes our simulcast programs, the Internet, and apps. It's safe to say 90% of all handle is coming from a TV signal of some sort," Allevato said. "Having this television deal last year was a savior for our business. FOX has been a significant partner and for NYRA this is a long game. We believe this has short term benefits but to have a partner like FOX until 2030 at a minimum, and have that sheer volume of hours locked in, is an asset for NYRA and the sport. Giving (FOX) some skin in the game ensures that they will do everything possible to make this successful. We're excited about it. It's a great deal for NYRA. It's a great deal for horse racing."
Mike Trager, a highly respected sports media consultant, said the marriage between NYRA and FOX brings together two well-matched entities. Unlike other networks with direct-to-consumer platforms, such as ESPN+, Peacock, and Paramount, FOX is a linear (live broadcasting channel) network which needs 24/7 cable programming for FS1 and FS2, while horse racing's demographics make it a natural for television as opposed to streaming.
"It is quite significant that NYRA could work out a deal like this with FOX, especially for nine years," said Trager, who negotiated the Breeders' Cup's groundbreaking first television deal with NBC while owning Sports Marketing and Television International. "FOX is committed to its linear broadcast stations and is smart to get as much inventory as possible. This is important for the sport because I don't know if it's going to be on some of those direct-to-consumer platforms because of their young demographics that seem willing to pay for those services. With racing's audience being older, it's a significant step for NYRA to access this much programming exposure for that long.
"FOX's recent NFL deal (for 11 years announced last week) has proven that over the next 10 years the linear platforms are going to survive and this deal fills a need for (FOX)," he added. "No matter what people say, racing is going to be around for the next 10 years. People are not going to stop betting on horse racing. So, what NYRA took advantage of is a significant opportunity they would not have gotten with the other networks because the other networks are now looking for significant programming for their direct-to-consumer services and FOX isn't."
The impending acquisition of NYRA Bets also strengthens FOX's already strong position in the wagering marketplace.
"FOX Sports is going through an evolution from being exclusively a media content brand to becoming a content and gaming brand. I think you are seeing that come into play on multiple fronts. You see it in this deal. It's the FOX Bets elements that are part of our new NFL deal. It's wagering content that we do every day on FS1 on Colin Cowherd's show and FOX Bets Live. It's a little bit of poker programming on FS1. It's all these things collectively that are starting to add up to be a pretty significant part of our business and our brand," Mulvihill said. "We're now the only media company that has a stake in bet-taking businesses in sports, horse racing, poker, and online casino gaming. I think that's an advantageous place for us to be. This deal with NYRA is part of a broader deal that has a chance to be transformational for our company."