Ocala Breeders' Sales brings the curtain down on its 2021 juvenile sale season with the June Sale of 2-Year-Olds and Horses of Racing Age June 9-11 in Ocala, Fla.
No longer viewed as simply the last stop of the juvenile sale season, perception of the June Sale has changed in recent years, and the wide-ranging collection of juveniles on offer this week have sale officials and consignors, alike, optimistic that the momentum from a sizzling 2-year-olds in training marketplace will continue its run with participation from buyers at all levels.
"I hope we pick up where we left off in April," said Tom Ventura, OBS president. "It's certainly a different sale than April (OBS Spring Sale), but this sale has improved in quality a lot over the years. The quality of horses is getting better and better, and now consignors are targeting this sale.
"Ten to 15 years ago, this was the last stop," Ventura added. "Now, I think, the horses are being presented where they can be best presented. So, if a horse has a little hiccup along the way or just needs more time to mature, (sellers and consignors) can still be rewarded. Buyers have recognized the change in quality, and they have done well buying here (out of this sale)."
The OBS June sale catalog covers reveal the type of successful graduates that have come out of the June Sale in recent years, including cover boy Medina Spirit  who sold for $35,000 to Gary Young, agent for Zedan Racing Stables, out of the Whitman Sales consignment at last year's sale (which was rescheduled and held in July due to COVID-19).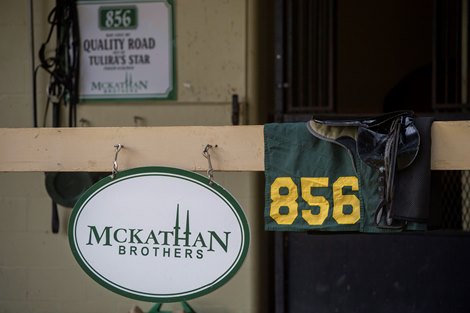 Nearly 10 months after going through the ring in Ocala as a 2-year-old, the Florida-bred by Protonico   crossed the wire first in the Kentucky Derby Presented by Woodford Reserve (G1) May 1, although a subsequent positive post-race test has left that result in limbo for now. Medina Spirit, who went on to finish third in the Preakness Stakes (G1) and as of now is an earner of $2,285,200, is a two-time OBS graduate, having also sold for $1,000 as a yearling when consigned by Summerfield, agent, on behalf of breeder Gail Rice, at the 2019 Winter Mixed Sale. 
The pipeline of stakes-winning graduates also includes the likes of multiple graded stakes winners Yaupon , Anothertwistafate , C Z Rocket , and War Like Goddess  who grace the back cover of the catalog along with the ill-fated group 1 winner Zenden , winner of this year's Dubai Golden Shaheen Sponsored by Gulf News (G1).
"OBS is recognized as the 2-year-old source. So, whether it is the March, April, or June sale, buyers are comfortable buying here," said Ventura. "When you have 900 horses in a catalog, obviously some are going to float to the top, while others will fit different categories—whether for regional markets or different racetracks and budgets. This sale has a variety of horses, and that attracts buyers. It's a sale where you can shop and end up with a good horse in almost any category."
Featuring an original catalog of 874 head, the three-day auction includes supplemental entries that will sell as Hips 875-927 on the sale's final day. As of Tuesday afternoon, there are 182 outs.
Prospective buyers had an opportunity to see the 2-year-olds in the June sale stretch their legs during five under tack previews, all of which were conducted under dry, warm conditions June 2-6. Working the fastest quarter-mile of the sale was Hip 573, a daughter of Shackleford  who breezed the distance in :20 3/5. Consigned by Navas Equine, the filly is produced from the Cuvee mare Moondancer.
"I've been fortunate to have this filly," said Jonathan Navas following the filly's eye-catching move. "I bought her in September—she had good size and good conformation. She has always been easy to train, she has a nice mentality, and she is just a lovely horse to be around. She has never had any issues and has always been forward."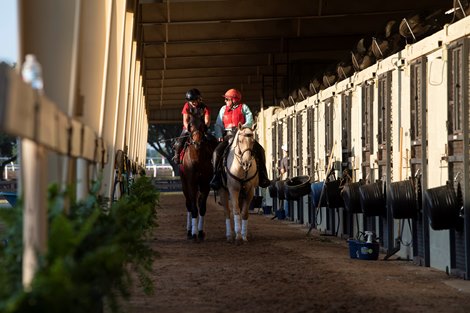 Three horses breezed the fastest eighth-mile of the preview: Hip 107, a daughter of Midnight Storm   consigned by Scanlon Training and Sales, agent; Hip 447, a filly by Frosted   consigned by Top Line Sales, agent; and Hip 856, a son of Quality Road   consigned by McKathan Bros. Sales, agent.
"Everything went great with the breeze," said Chris McKathan of Hip 856. "He galloped out in :33 and change, and being by Quality Road, that should put him on the big boy list."
Hip 344, Platinum Beauty, a daughter of Neolithic   consigned by Rolling Meadows Farm, worked the sale's fastest three furlongs, clocking the distance in :32 4/5. The half sister to stakes-placed Gran Greyfrost  is out of the Waquoit mare Frost Princess .
Also, among the fastest workers during the preview was Hip 816, a Quality Road colt expected to command his share of attention. Consigned by de Meric Sales, agent, the colt breezed a swift quarter-mile in :20 4/5, a co-bullet in the Sunday session and co-second fastest time of the sale at the distance. 
Bred in Florida by Bridlewood Farm, the colt is produced from the stakes-winning Scat Daddy mare Surfside Tiara  and hails from the family of 2-year-old champions and grade 1 winners Flanders and Air Force Blue  . He was a $400,000 RNA at The Gulfstream Sale, Fasig-Tipton's selected 2-year-olds in training sale at Gulfstream Park, in March.
"He is a beautiful colt, a homebred for Bridlewood," said Tristan de Meric. "We didn't quite get the job done down there (at the Gulfstream sale). He worked in :10 flat down there. He came out of it in great shape and went back to Bridlewood after the sale. He has continued to move forward and came over here and stepped up and worked a great quarter. He was an impressive horse in Miami, and he is even more impressive now. He has put on more weight, and he is more mature. He is a big, nice colt."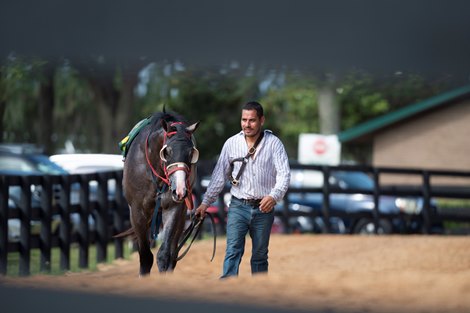 De Meric also lauded the prospects of Hip 145, a colt from Gun Runner  's first crop out of the grade 3 winner Brazen Persuasion  that de Meric Sales went to $110,000 for at last year's Keeneland September Yearling Sale; Hip 293, a Classic Empire   colt who is a half brother to multiple graded stakes winner Envoutante ; and Hip 319, a colt by Quality Road from the immediate family of champion 2-year-old filly Flanders, the dam of champion 3-year-old filly and multiple grade 1 winner Surfside.
"Hip 319, the Quality Road colt, is from a great family. He is super athletic; he is a nice colt. He is one we have loved all year," de Meric said. "The Gun Runner (Hip 145) is another homebred for Bridlewood that we bought into as a yearling last year. He was supposed to be in the March sale but had a little setback and wound up here. He is a beautiful horse. The Classic Empire (Hip 293) is another nice horse, and his pedigree is going the right way.
"We brought a nice group of horses here," added de Meric. "When you don't bring a good group to this sale, it can be a lonely feeling. There is a strong market here for nice horses. I am hoping that the bottom and middle are steady like they were in April (OBS Spring Sale) and in Maryland (Fasig-Tipton Midlantic). I'm sure there are some new faces that will be here, and hopefully, buyers that still have money to spend to fill inventory will support that middle market. All in all, it has been a great sale season for us. March and April were great, and the Maryland sale was outstanding, so we're looking forward to it continuing."
The most expensive pinhook selling this week is Hip 465, a colt by Ghostzapper   who sold for $300,000 to Bradley Thoroughbreds at last year's Keeneland September sale. Bred in Kentucky by Brereton Jones and sold by his breeder at Keeneland, the colt is out of the winning Include mare Kittery Point and is a half brother to grade 1 winner Sam's Sister  and stakes winner and multiple stakes-placed Sensitive . 
Consigned by Eddie Woods, agent for the Complete Dispersal of the Estate of Paul P. Pompa Jr., the colt breezed an eighth-mile in :10 3/5 at the under tack preview.
At last year's Sale, OBS reported 521 head changed hands for $15,872,800, good for an average of $30,466. The median price was $13,000 and the buyback percentage was 20.3%. McKathan Bros. Sales, agent, consigned the sale-topper, a $700,000 Distorted Humor   colt out of Tizacity, by Tizway, who breezed in :10 and was bought by West Bloodstock, agent for Robert and Lawana Low.
The June Sale kicks off June 9 at 10:30 a.m. ET with hips 1-316 slated to go through the ring.