Returning to the scene where past glories were first conceived proved a running theme at a record-breaking edition of the Goffs UK Breeze-Up Sale, no more so than when Michael O'Callaghan capped a headlining day for Tally-Ho Stud by swooping for a £210,000 (US$292,503) Twilight Son  colt.
The sale's joint top lot comfortably eclipsed the amount that the upwardly mobile Kildare trainer laid out 12 months ago on a £28,000 ($34,722) son of Clodovil, who would be named Steel Bull. He was to take the Markel Insurance Molecomb Stakes (G3) at Goodwood on only his second start and was bought privately within the yard by Chantal Regalado-Gonzalez.
Lot 118's dam, My Lucky Liz, has produced several winners already but, more significantly, the offspring of a stallion who proved a bit of a sleeper hit with his first crop looked a well-tutored and ready-to-run type.
"I've had a lot of success from Tally-Ho and I saw this horse three weeks ago and loved him," said O'Callaghan. "He took it all plenty well; he went around like an old handicapper. Let's hope it's the last time he looks like one!"
That figure was equaled by the very last lot in the ring, from the same consignor. A son of first-season sire Galileo Gold , he had the most current of pages as his half brother Acklam Express, a smart juvenile for Nigel Tinkler last term, was third in the Al Quoz Sprint Sponsored By Azizi Developments (G1).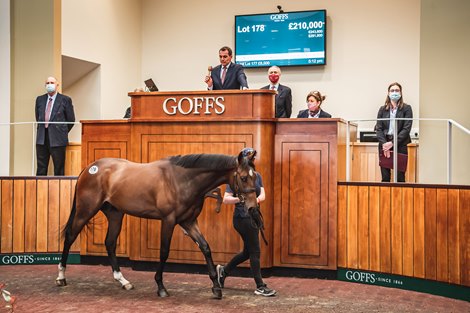 The Galileo Gold colt consigned as Lot 178 in the ring at the Goffs UK Breeze-Up Sale
He was bought for an undisclosed client by agent Armando Duarte, signing under Ling Bloodstock, who said: "Obviously, we don't know about the sire but the mare has produced one already, and we thought he could have the chance to be an Ascot horse. He'll stay in Britain."
Ascot On the Minds of Many

Royal Ascot is writ large at Goffs UK's breeze-up showpiece, being the source of five winners at the meeting in as many years, and names responsible for two of the cover stars were back to attempt to repeat the trick.
Richard Brown had secured a joint £170,000 ($244,783) top lot here in 2016, when selecting the subsequent Windsor Castle Stakes and Pepsi Max Flying Childers S (G2) hero Ardad , and the Blandford Bloodstock agent made another splash with a £200,000 ($278,575) No Nay Never  colt from Willie Browne's Mocklershill.
Coincidentally, Lot 74 was usurping a Kodiac  colt representing connections of Robert Cowell, who had trained the same Tally-Ho stallion's Prince of Lir  to glory in the Norfolk Stakes (G2) after he shared highest billing with Ardad in the ring.
The No Nay Never colt would catch the eye as a specimen, a rangy chestnut with a slight flaxen hue out of a half sister to the high-class Boomshackerlacker, but he had also been ringed in many catalogs after his performance on the adjacent racecourse on Tuesday.
"He's for a new owner. He'd said to me, 'Buy me one good colt when you see one'—so I did," said Brown, who was about to alert a leading Newmarket trainer to keep a stable vacant.
Brown was not about to look a metaphorical gift horse in the mouth, although he wondered if the colt might have made far more on another day.
"It's a fair price of course, but I have always thought he was special," he said. "He was owned by his breeders, Meadowcourt Stud, and he's the fastest horse we've had for a couple of years."
Although normality has not quite returned, it would be a dour character who did not feel at least a little uplifted on a day of flawless pale blue skies and where even the odd pair of shorts was being bravely sported among buyers emerging from hibernation.  
Cowell would like to imagine he will be dusting off his top hat in a couple of months' time, and he has the sale's fourth and sixth highest-priced lots, both by Kodiac, to aim in that direction.
Middleham Park Racing and Cowell's long-standing owner Tom Morley partnered up for the Con Marnane-consigned colt (Lot 52), who is related to the Qatar Prix de l'Abbaye de Longchamp (G1) winner Wizz Kid.
"It'll be a nice partnership between them, and we were looking for a nice, fast horse to hopefully repeat something like Prince of Lir did a few years ago," said Cowell.
Although Cowell said Ascot was "the dream, not the be-all and end-all," he added: "Certainly within three weeks from now I'd have thought he'll be on the track. Con has got him fairly fit, and I've bought from him before; they're ready to go."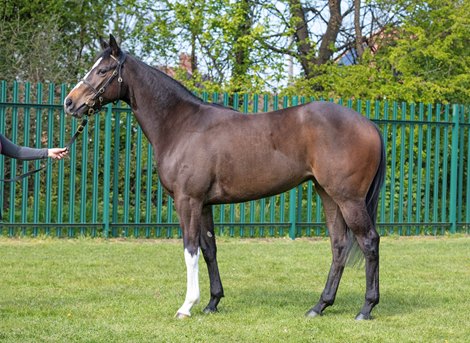 The Kodiac filly consigned as Lot 154 at the Goffs UK Breeze-Up Sale
He was also announced by Oliver St. Lawrence as the recipient of the filly who had clocked Tuesday's quickest time (Lot 154), who left Derryconnor Stud's Katie McGivern dumbfounded when selling for £180,000 on a £13,000 outlay.
"I don't often own them on my own, so it's life-changing—I'm pretty speechless," she said. "I do like a Kodiac; she was small at the time, that's probably how I got her for that." St. Lawrence explained that she would be owned by Bahraini outfit KHK Racing.
Mehmas Marching On

Tally-Ho's resident Mehmas  has demonstrated that he is not to be a one-season wonder in the most timely fashion, the freshman sensation not only responsible for Ballylinch Stud Priory Belle Irish One Thousand Guineas Trial (G3) scorer Keeper of Time  but place-getters in both the Greenham (G3) and the Craven Stakes (G3).
Blandford's Tom Goff was effusive about the first of 15 six-figure lots on the day, a £150,000 ($208,931) filly from the family of Betfair.com St. Leger (G1) winner Rule of Law who was providing a terrific pinhook for Roderick Kavanagh's Glending Stables.
Goff could reveal only that she would be trained in Newmarket.
"She's from a very good farm; I bought a nice filly by Bated Breath from them called Passionova, who won at Lingfield recently," he said.
"This was the best filly here by a country mile, the sire's absolutely on fire. She's out of a Shamardal mare and goes back to a lovely Sangster family. Hopefully, she's got enough class and speed to be a good 2-year-old but also the scope and quality to go on and do more next year."
Kavanagh, son of famed Kildaragh Stud owners Peter and Antoinette, runs Glending as a separate business in Kildare, which he has built up only over the last handful of years, and this year's team of 14 breezers was his biggest to date. The filly had been knocked down to Peter and Ross Doyle for just £25,000 ($31,859) at the Goffs Sportsman's Sale.
Kavanagh said he had been "there or thereabouts" in terms of pinhooking profits but was still quite overwhelmed. "You dream of it, but it's certainly beyond my expectations," he said.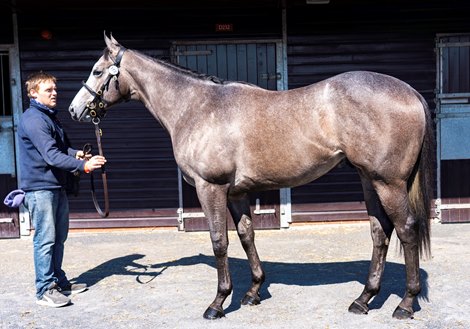 The Blame colt consigned as Lot 172 at the Goffs UK Breeze-Up Sale
One more to draw a terrific profit was a grey colt by Blame   (Lot 172), who is likely to start off in Dubai after a £170,000 ($243,753) Rabbah Bloodstock purchase. Johnny Collins of Brown Island Stables bought him for a mere $14,000 at the Keeneland September Yearling Sale. 
An aggregate of £6,219,500 (US$8,662,963) (up 56% on last year's renewal, which was held in a post-Royal Ascot slot July 1), average of £48,590 (US$67,679) (up 9%) and median of £34,000 (US$47,348) (up 21%) were sale records, to go along with a healthy clearance rate of 89% as 128 of 144 offered lots changed hands.
'Incredible Business'
Goffs UK managing director Tim Kent reflected: "This is an incredible business and today has been an amazing day. To have the ability to hold the sale on its original date and at its intended location was the first success. To then smash all records is something that we couldn't have envisaged in the lead up to this sale, and the results are very positive for the industry and for our loyal vendors who really backed us with some very nice horses.
"This sale has a brilliant record on the track and has produced five Royal Ascot winners since 2016, a fact that was not lost on buyers at any point today. We would like to extend a sincere thank you to everyone who purchased today, and we are sure that we will see many of them at Royal Ascot in eight weeks' time.
"In 2016 we saw two colts who shared the sale-topping price—Prince of Lir and Ardad—who went on to win the Norfolk Stakes (G2) and listed Windsor Castle Stakes at Royal Ascot that year. We hope that that is a good omen for this sale and we would like to extend a big thank you to our vendors who provided us with a catalog of real depth to market to our international audience, whilst we would also like to thank Doncaster racecourse, who produced superb ground to show our breezers to maximum effect."