Disclaimer:  This site is not affiliated with the National Hurricane Center, Hurricane Hunters, Storm Prediction Center, or National Weather Service.  ALL forecasts herein are the result of my analysis, and I am solely responsible for the content.  As ALWAYS, follow the National Hurricane Center, National Weather Service, and your local Emergency Management officials for emergency decisions.  In addition, this is strictly a FORECAST OFFICE.  I CANNOT make decisions regarding travel plans, etc.  My purpose, is to provide you the information, based solely on information I analyze, and the accuracy of the information at hand of the time of analysis, so you may make informed decisions.
(T. F. "Storm" Walsh)
For those who have donated to my site, your help has been greatly appreciated.  If you are not aware, donations to my site help pay for subscriptions to sites I use as well as software updates, which provide all the models and information used in my forecasts.  To donate, please click the DONATE button to the right side of the page, or on the graphic of the dog.  Any help you provide is immensely appreciated! 
DONATIONS NEEDED AND APPRECIATED


Please be aware, even though I do not post every night, rest assured I am continuously monitoring various areas for any significant weather.  I will be taking Sundays off (family time), unless we have active systems that may be posing a threat (i.e. Tropical, Winter Weather, Coastal Storms, etc.).
STORM WALSH PRE-SEASON FORECAST
TOTAL NAMED STORMS: 17 – 20
TOTAL HURRICANES :        7 – 9
MAJOR HURRICANES:       4 – 5
AVERAGE HURRICANE SEASON:
TOTAL NAMED STORMS: 14
TOTAL HURRICANES:         7
MAJOR HURRICANES:       3
2021 SEASON TOTALS:
TOTAL NAMED STORMS:  5
TOTAL HURRICANES:        1
MAJOR HURRICANES:      0
TOTAL U. S. LANDFALLS:  3
The following is the list of storm names for the 2021 Atlantic Hurricane Season:
Ana Bill Claudette Danny Elsa Fred Grace Henri Ida Julian Kate Larry
Mindy Nicholas Odette Peter Rose Sam Teresa Victor Wanda
As a storm becomes named, I will be marking it in bold red to keep track of the activity for this Atlantic season.
Please note..when we are dealing with multiple systems, they will be listed in order as to the greatest threat to land or the U. S. , to the least threat.
Good evening everyone
INVEST 94L has been upgraded to PTC (Potential Tropical Cyclone) SIX.  As of the initial advisory, the following was available on PTC SIX:
8:00 PM EDT Mon Aug 09
Location: 14.7°N 60.1°W
Moving: WNW at 15 mph
Min pressure: 1010 mb / 29.83 in
Max sustained: 35 mph
ABOUT 90 MI…145 KM ESE OF DOMINICA
ABOUT 135 MI…220 KM SE OF GUADELOUPE
Based on data from the NHC, the initial motion estimate is a somewhat uncertain 290/13 kt.  I currently agree on this, since the system is still in its initial formative stage.  In the formative stage, it is not unusual for the center to reform from previous estimated locations.  In fact, based on my analysis of current satellite loop imagery (SWIR channel), the center appears to be located somewhat SW of the heavy convection, which you'll note in the animation.  The system looks much better defined and organized than it did yesterday, with convection much more consolidated.
WEATHERNERDS GOES SATELLITE IMAGERY ANIMATIONS


SWIR ANIMATION


The initial motion is determined to be WNW.  Based on the current steering layer, this seems to be the case.  The main flow near and over the Caribbean, is out of the east, which would give the system a westward motion.  However, this combined with a weakness noted over the Bahamas, averages out to a WNW influence on the system.  Based on my analysis of forecast steering, I have to concur at the moment with the NHC forecast track, in that a WNW motion should continue through the forecast period.  Now, this is all dependent on where the center of the LLC eventually develops, and how much of the system moves over Hispaniola in a couple of days.  Too much of it over land could disrupt the center enough, that when it exits back over water, a reformation could occur.  IF the system moves more north (just offshore or along the coast), the forecast track could stay intact as shown.  Of course, any changes between now and the 5 day period in steering winds will affect the accuracy of track as well.  So, for right now, based on my analysis, I agree with the NHC forecast track, however I am slightly right, inline with the consensus models TVCA and TVCE which are closer to FL. in the track guidance graphic from 18Z this afternoon.  Again, we know how quickly certain parameters can change, so at the moment, do not take this as written in stone, however this scenario seems the most plausible as of current.
CURRENT LAYER MEAN STEERING


18Z TRACK GUIDANCE


NHC FORECAST TRACK MAP


Maximum sustained winds associated with PTC SIX were 35 mph.  This is 4 mph from Tropical Storm status.  Analysis of the wind shear product from CIMSS indicated PTC SIX was under a low shear environment, and SST's of 28.0C, with a possible beginning development of an upper level anticyclone.  Based on analysis of current wind shear forecast maps from the ECMWF and GFS (which both currently agree with the current shear pattern), upper level winds should remain conducive for slow development during the next 36 – 48 hours.  Thereafter, the SHIPS diagnostic report, and forecast shear maps tend to indicate shear may increase out of the SW.  This would have a tendency to limit intensification.  One other limiting factor, besides land interaction with Hispaniola later in the period, will be intermittent mid level dry air intrusion at 500 mb, analyzed in my analysis this evening of the 500 mb relative humidity forecast.  Based on analysis of the shear forecast from both the ECMWF and GFS up to that point, and analysis of the 200 mb streamline patter, conditions appear to be favorable for some gradual strengthening.  You will note the 200 mb pattern is not too favorable at the moment, however an outflow pattern does become more pronounced by 42 hours in the forecast period from 12Z this morning, which should allow for continued gradual strengthening up to the 48 hour period.  I imply gradual, as the setup is not optimal for upper level outflow, given the center of the system is forecast to be where I have the orange circle drawn.
ECMWF 200 MB STREAMLINE FORECAST


Again, both track guidance and strength are going to depend on excatly where the center finally develops and becomes a closed circulation, and how much interaction with Hispaniola the system encounters.  Based on everything analyzed, I concur with the NHC intensity forecast for now, which pretty much mimics the recent intensity guidance, and we could have a depression overnight, and possibly Tropical Storm FRED sometime tomorrow.
NHC  INTENSITY FORECAST
INIT 09/2100Z 14.2N 59.2W 30 KT 35 MPH…POTENTIAL TROP CYCLONE
12H 10/0600Z 15.4N 61.4W 35 KT 40 MPH…TROPICAL CYCLONE
24H 10/1800Z 16.8N 64.5W 40 KT 45 MPH
36H 11/0600Z 17.9N 67.3W 45 KT 50 MPH
48H 11/1800Z 19.2N 70.2W 35 KT 40 MPH…INLAND
60H 12/0600Z 20.3N 72.8W 35 KT 40 MPH…OVER WATER
72H 12/1800Z 21.1N 75.0W 35 KT 40 MPH
96H 13/1800Z 22.8N 78.8W 40 KT 45 MPH
120H 14/1800Z 24.5N 82.0W 40 KT 45 MPH
18Z INTENSITY GUIDANCE


Tropical Storm watches have been issued, and the following information is from the NHC advisories:

SUMMARY OF WATCHES AND WARNINGS IN EFFECT:
A Tropical Storm Watch is in effect for...
* Martinique and Guadeloupe
* Dominica
* Saba and St. Eustatius
* Puerto Rico, including Culebra and Vieques
* U.S. Virgin Islands
* Dominican Republic on the south coast from Punta Palenque eastward
and the entire northern coast to the Dominican Republic/Haiti
border.

A Tropical Storm Watch means that tropical storm conditions are
possible within the watch area.

For storm information specific to your area, please monitor
products issued by your national meteorological service.
HAZARDS AFFECTING LAND
----------------------


Key messages for Potential Tropical Cyclone Six can be found in
the Tropical Cyclone Discussion under AWIPS header MIATCDAT1,
WMO header WTNT41 KNHC and on the web at
www.hurricanes.gov/graphics_at1.shtml?key_messages.



RAINFALL:

 The potential tropical cyclone is expected to produce the
following rainfall amounts:

Over the Leeward Islands, Virgin Islands, and Puerto Rico...2 to 4
inches, with isolated amounts of 6 inches. This rainfall could lead
to flash, urban, and small stream flooding and potential mudslides
across the U.S. Virgin Islands and Puerto Rico.

Over the northern Windward Islands...1 to 3 inches.

Over the Dominican Republic...3 to 6 inches.



WIND:

  Tropical storm conditions are possible within the watch area
in the Lesser Antilles later tonight, and are also possible within 
the watch area in the U.S. Virgin Islands and Puerto Rico beginning
Tuesday afternoon.  Tropical storm conditions are possible within
the watch area in the Dominican Republic beginning early Wednesday.



SURF:

  Swells generated by the disturbance are affecting portions of 
the Leeward Islands.  These swells are expected to spread across the 
U.S. Virgin Islands and Puerto Rico on Tuesday and across portions 
of Hispaniola on Wednesday, and they could cause life-threatening 
surf and rip current conditions.  Please consult products from your 
local weather office.

The following are projected 7 day total precipitation values from the ECMWF and GFS models, and the NCEP WPC.
ECMWF


GFS


NCEP WPC


The following map will allow to to get information from your NWS office.
NWS WATCH / WARNING DISPLAY (LINKED…CLICK MAP, THEN YOUR AREA)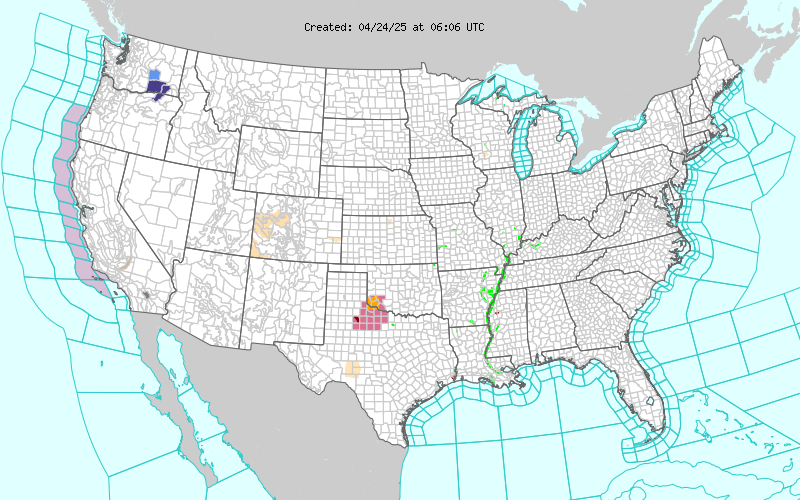 WSI DOPPLER RADAR LOOP (LINKED, CLICK RADAR MAP)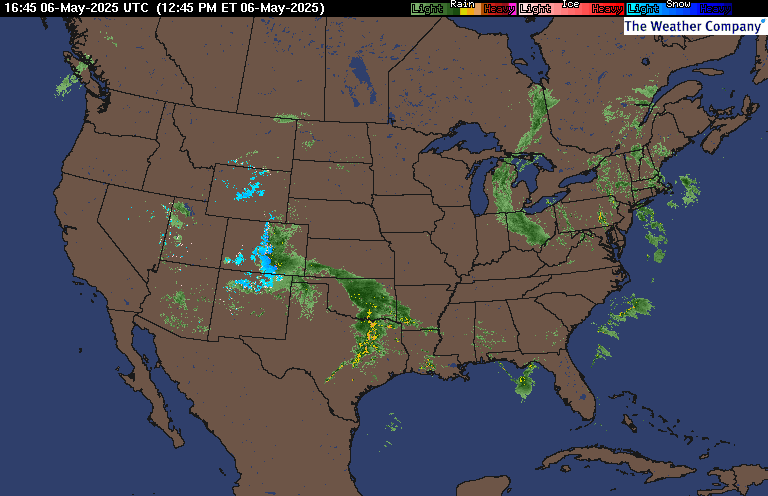 RAP RADAR (CLICK IMAGE THEN RADAR SITE)

I will continue to monitor PTC SIX for any significant changes, and intend to update again tomorrow evening.
You may direct any questions by contacting me personally, ANYTIME, at: [email protected]
Have a blessed day!
T. F. "STORM" WALSH III
GMCS, USCG (ret)
METEOROLOGIST / HURRICANE SPECIALIST /SEVERE WEATHER SPECIALIST
MEMBER WEST CENTRAL FLORIDA AMS