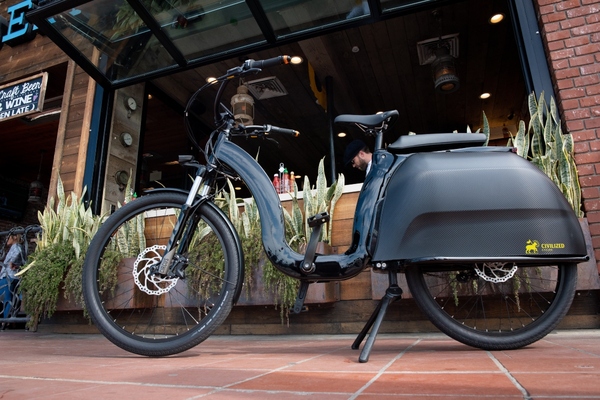 The Model 1 e-bike is equipped with automated air ride technology
A premium e-bike equipped with automated air ride technology has been unveiled by Civilized Cycles. The maker claims "Model 1" is the world's first e-bike with self-levelling air suspension that allows passengers and cargo to glide over any terrain "while floating on air".
Described as a reimagined form of urban transport that provides a safe, green, and affordable way of getting around, Civilized claims its Model 1 e-bike is also a credible alternative to the second car or moped.
Two-wheel world
The Model 1 takes design cues from across the two-wheel world with a shaped lightweight "step through" frame that accommodates two passengers and panniers that expand to carry fully-loaded grocery bags.
"We are excited to begin sales of the Model 1 and are eager to show that for local transportation, our greener future isn't a sacrifice, it's an upgrade." said Zachary Schieffelin, founder and CEO of Civilized Cycles. "All of us have people and stuff in our lives, so our bikes are designed from the ground up to accommodate both."
Model 1 seeks to blend the functionality of a cargo bike with flexibility of a passenger cycle. The lightweight forged and hydroformed aluminium frame features a low step through shape for easy boarding access regardless of clothing or hip mobility, and with or without passengers.