Barry Bowditch is predicting a big finish to the Magic Millions National Broodmare Sale after a relative calm came over the Gold Coast auction ring May 26 in a strong but steady session in which one mare hit seven figures, the 19th of the sale. 
The race fillies and mares session on Tuesday, bolstered by the unreserved dispersal of the Shadwell Stud Australia draft, helped create an unprecedented day of trade but there was more even competition between buyer and vendor on day two.
After 18 million-dollar lots on day one, Quilista was the sole mare to hit the mark Wednesday and there promises to be more with the likes of group 1 winner Volpe Veloce, who is in foal to I Am Invincible , Tsaritsa, Hell Or Highwater, Serenade, Taste Of Heaven , and Oregon's Day also set to be sold Thursday.
As expected, the average dropped from a record of AU$328,038 (US$253,821) to AU$250,190 ($194,039), which is still up 78% on last year, after the second day, while the AU$100 million barrier will be broken early Wednesday after 394 mares have so far changed hands for AU$98,575,000 ($76,451,600). 
The median of AU$120,000 ($93,068) was almost double last year's figure of AU$65,000, a massive rise even accounting for the impact of COVID-19.
After day two of the 2019 sale the average was AU$158,646 and the median was AU$70,000.
"We set a huge benchmark (on Tuesday), but today it was just good, solid trade with good momentum throughout the day which flowed right to the last lot," said Bowditch, Magic Millions' managing director. 
"To hold a AU$250,000 average and a clearance rate of an exceptional 88% and a gross ticking towards AU$100 million is sensational. I couldn't be happier."
The spread of buyers, in numbers and locations, has been a key feature of this year's breeding stock market with most participants reinvesting their profits from the 2021 yearling sales or other players stepping up their involvement.
"As I said last night, I thought everyone will get a turn from here on in and that was evident today," Bowditch said. 
"There was value to be found if people kept their lists long and did their work. Most vendors would walk away happy with how their horses sold today, and we're delighted with how the sale's traveling with one really strong day to go tomorrow."
Bowditch added: "There's some real stars (Thursday) from really early in the day through to the supplementaries, so I am sure there will be people going home tonight and growing their lists." 
Quilista to Cressfield's Broodmare Band

Bruce Neill's quest for quality over quantity was again on show Wednesday with the Cressfield Stud principal buying his second seven-figure sprinting mare of the sales series at the Gold Coast.
With New Zealand agent Bruce Perry bidding on Neill's behalf from a table to the right of the auctioneers' box, the prominent breeder went to AU$1 million ($775,568) for group 2-winning sprinter Quilista (by Scandal Keeper) who was sold in foal to Pierata.
Sold by Segenhoe Stud on behalf of Aquis Farm as Lot 978, Quilista was the only mare in foal to hit the seven-figure mark Wednesday. She was a AU$950,000 ($657,210) purchase by Tony Fung at the 2019 National Sale and sent to I Am Invincible. That weanling, a filly, sold for AU$340,000 last week on the Gold Coast.
"She was the pick of the ones I wanted at the sale," Neill said. 
"I was interested in her weanling, and she was a good type, but she had some X-ray issues, and that's why she probably only made AU$340,000. 
"She was a very fast mare and my strategy is to buy fast mares, clear of Danehill, and she fits the bill perfectly."
Neill employed the same strategy at the Inglis Chairman's Sale where he bought dual group 1-winning sprinter Pippie for AU$1.8 million. 
Pippie will visit Exceed And Excel  this year while Quilista is likely to be mated to Arrowfield's champion stallion Snitzel .
Neill said: "I only have to top up my broodmare band. I've got nearly 25 mares and probably 20 of them are Easter or Magic Millions quality, so I just need to top them up and keep it fresh."
The overall level of investment across the board at the Australian bloodstock sales so far this year has been remarkable with Victoria's breeders coming to the fore in a market normally dominated by the big Hunter Valley players.
Largely driven by the Written Tycoon Syndicate, which has bought 36 mares for AU$15,215,000, and the dramatic upscaling of investment by Rosemont Stud, which has spent AU$10,655,000, Victorian buyers have bought 136 mares sold so far, accounting for almost AU$45 million of the total aggregate.
This year's spend is not a complete shock as Victorian-owned mares accounted for 23% of Australia's broodmares in 2016, 24% in 2017 and 2018, and 27% in the past two breeding seasons. 
Given Yulong's and Rosemont Stud's propensity to increase their numbers, along with the emergence of Leneva Park and others, that percentage could rise again in 2021 and was one of the reasons for the increased competition on the buying bench in the past few weeks.
Tasmanian Neill said of the market: "There is a lot of new investment and a lot of it is coming from Victoria, which is quite amazing, but it's good to see them punching above their weight.
"There's a lot of reinvestment going on around the world with asset classes. Obviously, we are in that category with the horse industry and it's very encouraging."
Separately, Bowditch welcomed buyers from outside the power states of New South Wales and Victoria choosing to reinvest in the industry.
"We obviously hold significant sales in Queensland, South Australia, Western Australia, and Tasmania and there's great representation from all of those states," Bowditch said. 
"They're getting in off the back of strong yearling sales in those regions this year and reinvesting their money that they've reaped reward from at the recent yearling sales."
Kia Ora Get Behind Slipper Winner Farnan

Kia Ora Stud also demonstrated its commitment to first-season sire Farnan by adding two high-priced mares in quick succession to its broodmare band to be covered by the Longines Golden Slipper Stakes (G1) winner later this year.
The Hunter Valley nursery paid AU$750,000 ($581,676) for listed winner Moqueen, who is in foal to Exceed And Excel, before increasing the budget to AU$900,000 ($698,012) for group 3 winner Moss Trip, who is in foal to Trapeze Artist.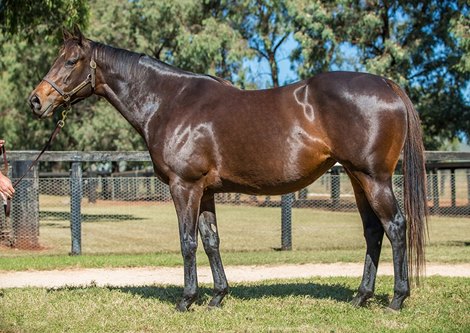 Moss Trip will be bred to Golden Slipper Stakes winner Farnan
Earlier in the session, Kia Ora paid AU$400,000 ($310,227) for Lucky Can Be, a half sister to group 1 winner Ofcourseican and South African grade 1 winner Gimmethegreenlight. The mare, sold by Woodside Park Stud as Lot 860, is in foal to Written Tycoon .
On day one, Kia Ora paid AU$1.7 million ($1,318,470) for Ektifaa, a grade 2 winner with a deep stakes-winning family, who is in foal to I Am Invincible.
The sale of Moss Trip, who was consigned by Yarraman Park Stud as Lot 926, brought to an end a great ride experienced by her Triple Crown Syndications owners.
"It's a fairytale result, really," Triple Crown's Chris Ward said. 
"Moss Trip was a filly we bought for AU$32,000 ($22,621) from memory, and she went on to win AU$500,000 in prize money and now, to cap it all off, with all the owners here at Magic Millions enjoying the other side of the industry … is outstanding."
Kia Ora Stud's Shane Wright confirmed Moss Trip would be a high-profile member of Farnan's first book of mares.
"I love the mare, she's absolutely beautiful, and she'll go straight to Farnan this year. I think they will really suit each other this year," Wright said.  
"There was good competition for her, but it always gives you great confidence when good people are bidding on these horses because you know you are on the right ones." 
Late in the day, Kia Ora made its presence felt again but this time for a well-bred Snitzel mare, who is a sibling to group 1 winner Sweet Idea  and group 2 winner Showtime, and AU$650,000 ($504,119) on group 3 winner Think Bleue, who is in foal to Deep Field. 
Sweet Sister, who made AU$750,000 ($581,676), is already the dam of listed-winning 2-year-old Supreme Idea while she has a yearling brother to that horse and a Zoustar weanling colt, who was withdrawn from last week's National Sale.
She is in foal to Arrowfield Stud sire Dundeel .
"She is a lovely young mare with a super pedigree who has already thrown a stakes winner. We haven't decided on a stallion yet but young mares like her don't come around very often," Wright said.
"The bloodlines aren't easy to get into."
Offered by Milburn Creek as Lot 1072 on behalf of Nick Wakim's Hilldene Farm, Sweet Sister was bought for AU$550,000 ($410,630) at the 2017 Magic Millions National Sale.
Kia Ora Stud has spent AU$4.5 million on its five-mare haul.
The third and final day of the National Broodmare Sale starts Thursday at 10 a.m. local time.