This succinct presentation by Dr. Mallory-Blythe MD sums up why WiFi and Cellphones are a BIG threat to your health or efforts to heal yourself.
If you follow my blog, you may already know a lot of this, but even I was surprised at this graph (from the video) showing that a laptop accessing info or loading a webpage has a much higher radiation intensity level than a cell tower (mast)!
What Can You Do?
First, find out what the radiation levels are in your home or anywhere else you spend more than a couple of hours.
If your home has unhealthy levels of radiation that you cannot eliminate or reduce yourself by switching to cable internet – or at least unplugging your wifi modem at night – and putting all devices in Airplane mode in the house (make sure that turns off ALL radiation as some devices don't). Then check out these EMR Solutions from engineer Jeromy Johnson.
And lastly, here are my tips on how to protect your kids.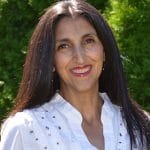 Jini Patel Thompson is an internationally recognized expert on natural healing for digestive diseases. She healed herself from widespread Crohn's Disease and has remained drug and surgery-free for over 20 years. Jini has appeared on numerous podcast, TV, and radio shows throughout the U.S., U.K., Canada, and Australia, giving people hope and vision for how they can heal their Colitis, Crohn's, Diverticulitis and Irritable Bowel Syndrome (IBS), using entirely natural methods. Her books on natural healing for digestive diseases have sold worldwide in over 80 countries.