It was a big week for the McCarthy clan. All the McCarthy clans.
Andrew McCarthy, Brat Pack actor, was making the rounds with a book that, I presume, finally explains why there never was a "Weekend at Bernie's III." Kevin McCarthy, a politician from California, kept meeting himself coming the other direction. Jenny McCarthy, professional celebrity, finally guessed one right on "The Masked Singer," while Melissa McCarthy, the movie star, watched her super hero spoof "Thunder Force" get a ripe 21% rating from Rotten Tomatoes.
Then there was Michael William McCarthy, who, if racing's social media is to be believed, single-handedly raised Thoroughbred racing from its self-inflicted pit of despair over the Medina Spirit  scandal by having the feisty colt Rombauer  primed and ready to run the race of his life in the 146th Preakness Stakes (G1) on May 15. The fact that the trainer was merely doing the job he loves is beside the point.
The victory of Rombauer also put a spotlight on his owners, John and Diane Fradkin, who bred the son of Twirling Candy   from a mating with their mare Cashmere, by Cowboy Cal. For those who like their packages tied with neat bows, it was McCarthy, while assistant to Todd Pletcher, who supervised a successful winter of 2009 at Santa Anita Park with Cowboy Cal to win the San Pasqual Handicap and Strub Stakes, both grade 2 events.
After eight seasons on his own as a public trainer, McCarthy has weaned himself from the considerable shadow of Pletcher, the game's all-time money winner. Still, the "apprentice makes good" theme works for simple-minded TV, so there was McCarthy standing alongside Pletcher and his former boss, D. Wayne Lukas, in a three-piece tableau during the Preakness broadcast, framed as the junior exec on the make.
In fact, from barely a thousand starters, McCarthy already has won the Breeders' Cup Dirt Mile (G1), Pegasus World Cup Invitational (G1), Malibu Stakes (G1), Gamely Stakes (G1T), Central Bank Ashland Stakes (G1), Apple Blossom Handicap (G1), Las Virgenes Stakes (G1), John Henry Turf Championship (G2T), and the Mathis Brothers Mile (G2T). His ability to get the most from a talented runner has been proven beyond a doubt.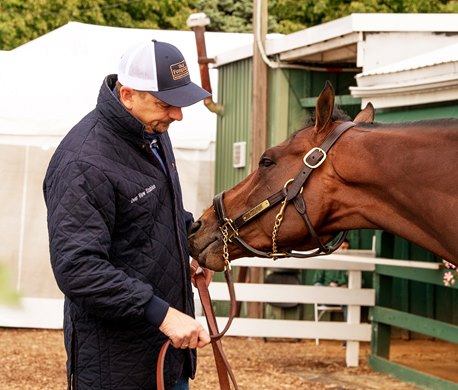 Michael McCarthy with Rombauer at Pimlico Race Course
So let's at least get the name straight. On the Preakness telecast, Michael "Mike" Tirico of NBC insisted on referring to McCarthy as "Mike" as if they were long lost pals. Reporters living outside McCarthy's orbit followed suit. McCarthy goes by "Michael" and leaves "Mike McCarthy" to the head coach of the Dallas Cowboys, who is more famous than Michael McCarthy, for now.
McCarthy, though, is a serious guy, born in Ohio and raised in SoCal, who tries not to sweat the small stuff. He'll answer to just about anything that sounds vaguely Irish, or has a good horse attached. There was some confusion a couple of years ago when Sean McCarthy, a local trainer, had a brief stint as an assistant to Michael McCarthy before going back on his own. It also goes without saying that both Michael McCarthy and Sean McCarthy will be using Trevor McCarthy on their horses now that the capable young rider is migrating to Southern California.
In his younger days at the racetrack, while he worked for West Coast trainers like Ben Cecil and Doug Peterson, the towheaded, fair-skinned McCarthy was known by the nickname "Whitey," confirming the sorry truth that racetrackers are nothing more than glorified high schoolers when it comes to such creative appellations as Fats, Frenchie, Legs, or Smiley.
"Whitey" wasn't McCarthy's idea, and only a stubborn few of his friends cling to its use. There are better nicknames these days, anyway. Call him "Maryland Mikey" or "Young Hilltop" or anything else that will summon the image of his victorious first entrant in an American classic. As noted in the wake of Rombauer's display, McCarthy has been there before, at Pletcher's side, most notably in celebrating Super Saver  's 2010 victory in the Kentucky Derby Presented by Yum! Brands (G1) when he had to restrain himself from rushing onto the playing field before the stragglers had crossed the line.
Erin McNamara never knew her husband as Whitey. To her, he always was Michael McCarthy, first grade classmate at Hugo Reid Elementary in Arcadia, located less than a mile from the Baldwin Avenue entrance to Santa Anita Park. Is there a class picture? Yes, there is.
"I ended up going to a private girls school in Pasadena, and we really didn't connect again until 2007, when he came to California with horses for Todd," Erin said. "I ran into him and thought, 'I know him.' Angie Stevens, Gary's wife, said, 'That's Whitey … Michael McCarthy.' And it clicked. First grade!"
Clearly, some things are meant to be. They were married in 2009—the year of Cowboy Cal—and by the following spring Erin was in the early stages of pregnancy while Pletcher and McCarthy were at Louisville to run Super Saver in the Derby.
"My doctor ordered bed rest for my pregnancy, so I had to miss it," Erin said.
Their daughter, Stella, was born six months later.
"This time we stayed home because of school COVID quarantine rules after travel," Erin said. "Stella wanted to go anyway. Remote learning was OK with her. After the race she said, 'See, mom. I told you we should have gone.'"
It would have been a memorable moment, had young Stella been by her emotional father's side in the shadow of the Pimlico grandstand. This was the same Stella McCarthy who was captured in a candid photo bidding a tearful farewell to stable star City of Light   in January of 2019. The apple has not fallen far from the tree, at least as far as emotions tapped by devotion to their horses.
"Michael's got a tough exterior, that's for sure," Erin said. "But he is a real softie on the inside. And he's certainly not one to pat himself on the back. He is passionate about what he does. He loves his horses. And I think you saw the real Michael yesterday.
"This was a tough week in racing, obviously," Erin added. "I just hope the world saw there are real human beings like Michael behind these horses, people who care so much."
In his on-air essay during the Preakness telecast, writer Tim Layden concluded his telling of the Medina Spirit-Bob Baffert drama with a stern warning to the horse racing community.
"There is a cost to letting one character sell the movie over and over again," Layden said. "Look what happened when cycling gave itself to Lance Armstrong, or when baseball decided no amount of home runs was too many."
True enough, so why not change the trend to a Movie of the Week? There are plenty of players to go around. McCarthy can carry the ball through the rest of the Triple Crown—hopefully past the confirmed positive and likely disqualification of the Derby winner—and then hand it off to the next character, and then the next. After all, Baffert proved that winning a Kentucky Derby is easier than it looks, and reruns are a drag. But when missing your family is your first thought after the biggest achievement of your career, that goes to the heart of the matter.
"There are some days you feel a little bit lonely," McCarthy said, five years ago, after a tough couple of seasons away from the Pletcher nest. "On Breeders' Cup day, Kentucky Derby day, you're used to being part of it, and there are a lot of fond memories. So you get up in the morning, work hard, and maybe make some of those memories for yourself at some point."