In a tremendous boost to the profile of Widden Stud's expansion into Victoria, the famed Thompson family-owned Thoroughbred nursery will stand Russian Camelot and Doubtland at its new Kerrie base, formerly Sun Stud, this spring.
Widden Stud's Antony Thompson confirmed the exciting deal April 15 with ANZ Bloodstock News.
"They are two very exciting and very good-looking stallions, although quite different in their profiles," he said.
"It's a part-purchase of both horses. Widden managed to buy an interest in Russian Camelot but with the owners retaining a good interest."
Russian Camelot will stand at a fee of A$22,000 (£12,360/€14,220). The 4-year-old was retired last month after suffering a tear in his near-fore tendon following his second place finish in the All-Star Mile at Moonee Valley.
Under the guidance of Flemington trainer Danny O'Brien, Russian Camelot won four races from 11 starts, for over A$2.3 million (US$1,698,314) in earnings, with his major successes being the Hyland Race Colours Underwood Stakes (G1) at Caulfield and the Tab South Australian Derby (G1).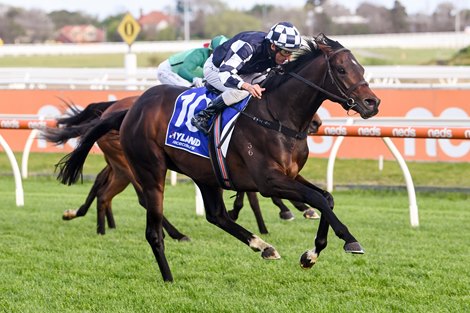 Russian Camelot wins the 2020 Underwood Stakes at Caulfield Racecourse
O'Brien was in no doubt as to just how good Russian Camelot was, saying: "I think he's the best horse I've had anything to do with, particularly to do so much so early in his career.
"He's got charisma, if you've ever seen him close up at the races, he just looks the part. He is a horse that just turned up in any weather and under any conditions, gave his all, and never let anyone down. He was just an outstanding racehorse."
Russian Camelot captured the imagination of racing fans, particularly in Melbourne, during his relatively short career in Australia and will be a welcome addition to the Victorian breeding ranks.
"We see him as the epitome of the elite European-style Thoroughbred, but yet he's a horse that's proven his stripes in Australia under those unique training and racing conditions with great success.
"From our point of view, to be the first European-bred Derby winner to come down and compete out of his age, that really set him up as something very special, something that's never been done before."
By highly regarded Sadler's Wells line sire Camelot, Russian Camelot was purchased by agent Jeremy Brummitt, working in partnership with Danny O'Brien, from the Tattersalls October Yearling Sale for 120,000 guineas (US$164,972) with the specific goal of racing in Australia.
Thompson did not rule out the possibility of shuttling Russian Camelot to the northern hemisphere in the longer term. He is no stranger to sending stallions to stand in that part of the world having successfully collaborated on Zoustar with Qatar Racing and Tweenhills Farm & Stud in the UK.
He said: "All those things are possibilities at this stage, but we're really focusing on the Victorian market. He's a bit of a cult hero down there. He's an iconic sort of horse with a huge following, so I guess we're placing him where he's known and loved, and he'll be very well supported.
"Our main aim is to really launch him into the Victorian marketplace that knows him so well, and that'll get 100% of our attention at the moment, and we'll look to see what happens afterwards."
No Doubts About Doubtland
Group 2-winning colt Doubtland is also set to join Russian Camelot on Widden's new Victorian roster. He will stand for a fee of A$16,500.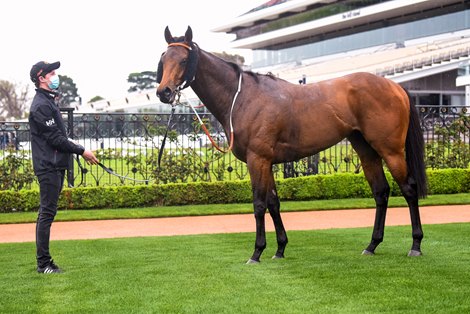 Doubtland after winning the 2020 Danehill Stakes at Flemington Racecourse
The Hawkes Racing-trained 3-year-old was retired after finishing ninth of 10 runners in the Darby Munro Stakes at Rosehill at his most recent start on March 27.
Thompson said: "Doubtland of course has a very colonial commercial profile. He's that Australian speed and precocity that Australia and Widden are renowned for."
A A$1.1 million (US$784,080) Inglis Easter Yearling Sale purchase, Doubtland was undefeated as a 2-year-old.
"He was dominant in the Widden Kindergarten Stakes (G3), the 4 1/2 lengths he won by being the biggest winning margin by a colt in the history of the race, and certainly the highest rated," said Thompson. "He went on at 3 to win the Seppelt Danehill Stakes (G2) and was fourth in the Coolmore Stud Stakes (G1).
"He's a very good-looking horse, very fast, with a stunning pedigree from a colonial speed point of view, inbred to the Rory's Jester pedigree through Sushi Rocket, back through Not A Single Doubt . So, there's a couple of Slipper winners on the page there. I think he'll be the highest-rated 2-year-old by Not A Single Doubt to stand in Victoria. He's going to be a huge hit."
Widden will be selling a limited number of shares and lifetime breeding rights in both Doubtland and Russian Camelot, and plan to parade the high-profile pair alongside new arrivals Nicconi  and Star Witness  at the official launch of Widden Victoria to be held this Sunday.
"It's the first time Widden's really ever put its stamp on anything outside the Widden Valley, so it's a big expansion plan, but I think there's a big future in the Victorian industry," said Thompson.
"There's a lot of great things happening, and I see this as a strategic and important move for us to expand our brand and launch new stallions like Russian Camelot and Doubtland into the Victorian market, alongside the relocation of Nicconi and Star Witness. It's a really serious investment for us and a big, long term play."