Knowing he competes in a sport of emotional peaks and valleys that sometimes delivers those extremes in the shortest of time spans—say 22 minutes apart—jockey Luis Saez embraces the stability of family and faith as he pursues racing's heights. 
Saez is one of the few riders in the world who knows what it's like to reach the wire first in the Kentucky Derby. He's the only rider to know what it's like to have an apparent Derby victory taken away because of interference during the running of the race.
To this day, the stewards' decision to disqualify his mount Maximum Security   from an apparent 1 3/4-length victory in the 2019 Kentucky Derby Presented by Woodford Reserve (G1) at Churchill Downs still surprises Saez. He acknowledges the sting of that toughest of defeats, but credits his faith and family for not allowing that disappointment to spiral; allowing him continued success on the track.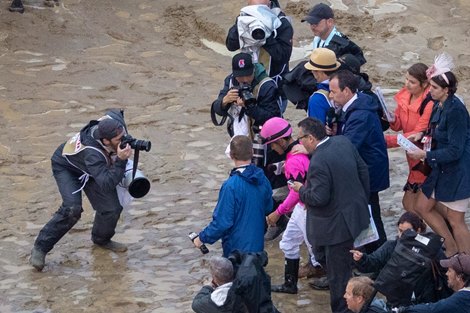 Luis Saez reacts to being disqualified from the 2019 Kentucky Derby at Churchill Downs
That foundation has helped Saez deal with losses far greater than any loss on the track. The Saez family suffered a life loss in 2014 when Luis' 17-year-old brother Juan Saez died in a riding accident at Indiana Grand Racing & Casino.
That bedrock also has helped Saez continue to excel on the track. In 2020 one of the world's leading owners would entrust Saez with a promising 2-year-old named Essential Quality . They would team for victories at Keeneland in the Claiborne Breeders' Futurity (G1) and TVG Breeders' Cup Juvenile Presented by Thoroughbred Aftercare Alliance (G1) to secure a divisional championship. Godolphin's Essential Quality and Saez have followed this season with two more graded stakes wins and they figure to be favored when they enter the Derby gate with an unblemished record. 
"If we win," said Saez, "I would dedicate this race to my wife and my daughters. We have been through so many hard times, especially since the 2019 Derby, and they have been my support. I would also dedicate the race to the late Juan Saez, my brother, who is in the sky now." 
Saez paused, and then added softly, "And I would dedicate the victory to Maximum Security."
Ahead of this year's 1 1/4-mile test, the 28-year-old native of Panama has allowed himself to again picture Derby victory—the great ones envision success—but takes nothing for granted.
"The Kentucky Derby is a hard race to win, and everyone obviously wants to win it, there is always a lot of competition. I know my horse is very good, but there are other very good horses in the race," Saez said. "It would be so big to win, so special. I know that the horse and I will make a tremendous effort and maybe we will win."
The elusiveness of the Derby is not lost on Saez' jockey agent, Kiaran McLaughlin, who sent out Closing Argument  to a second-place finish in the classic in 2005 and finished fourth in the race three times with: Jazil  (2006), Frosted   (2015), and Mohaymen   (2016). In March 2020 McLaughlin announced he was retiring from training and taking Saez' book, as the rider's previous agent, Richard DePass, was retiring.
As a trainer, McLaughlin went to Dubai to train for Sheikh Mohammed's Godolphin operation. He also trained for the late Sheikh Hamdan's Shadwell Stable as he has enjoyed a long relationship with the Maktoum family. It is extra meaningful to him that Essential Quality is a Godolphin horse, as his longstanding relationship with Godolphin helped in securing Saez the mount—as did his rider's considerable talents.
"Sheikh Mohammed was a fan of Saez' already, but my connections with Godolphin certainly didn't hurt," McLaughlin said.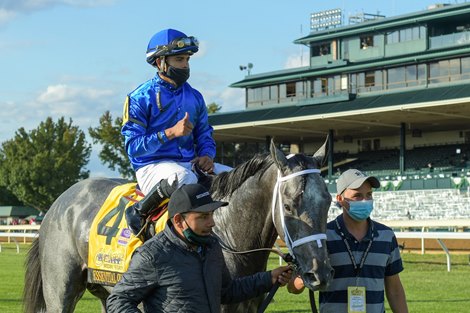 Luis Saez heads for the winner's circle aboard Essential Quality after winning the 2020 Breeders' Futurity at Keeneland
Impressed with Saez' talents, McLaughlin was ready last year to step in and represent the rider. 
"When we first began to talk about it, I don't think they thought I was serious," said the trainer of Shadwell's 2006 Breeders' Cup Classic Powered by Dodge (G1) winner and Horse of the Year Invasor , two other Breeders' Cup winners, and Shadwell's 2006 Belmont Stakes (G1) winner Jazil. "They didn't think I'd leave training. But we all sat down—Luis and Richard and me and my wife—and I told them that I was serious about becoming Luis's agent and that I considered it an honor that they wanted to work with me."
McLaughlin believes there was nothing Saez could have done to prevent the interference in the 2019 Derby and has been impressed by the rider's continued professionalism following that experience. 
"Luis didn't do anything wrong," McLaughlin said. "Maximum Security spooked a little bit but it was an unintentional chain reaction. I've had his book for one year, and we've not had one takedown, not hardly been involved in any inquiry, and that's in 1,400 races. He's a great jockey and he rides horses properly, and that was just an unfortunate situation. Luis doesn't like to look back, he likes to look forward and be positive and he feels blessed for this opportunity this year."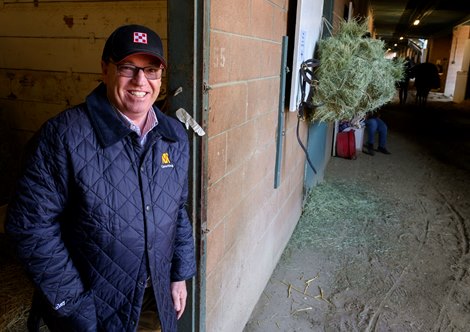 Kiaran McLaughlin has been an excellent fit as an agent for Luis Saez since taking his book in 2020
While Saez hasn't been weighed down by what-could-have-been, he still recalls the thrill of the apparent win, thanking God as he reached the wire first; followed by the agony of the extended wait on the stewards' decision in the fading light at Churchill after the 2019 Derby; then ultimately the disappointment when Maximum Security was disqualified from victory and placed 17th for interference in the far turn. 
"It was unbelievable," Saez said. "I crossed under the wire and I won. I felt like I was on top of the world. Twenty-two minutes later it felt like the world was on top of me. It was my dream; I always wanted to win the Derby."
Saez said that while Gary and Mary West's Maximum Security veered out near the five-sixteenths pole, he felt like he quickly straightened out the son of New Year's Day . 
"I put him back in his lane and continued riding and he responded well, ran hard, and won the race," Saez said. "I thought they were not going to take away his victory because he rightfully won." 
Despite the loss, Saez refused to allow it to lead to a slump. He would finish 2019 as the country's fourth-leading rider by wins and seventh by earnings. In 2020 he would rank third in both categories, and besides his Breeders' Cup victory on Essential Quality, he would earn five other placings in last year's World Championships at Keeneland. This spring, he took home the Keeneland riding title for the first time. His faith gives him strength.
"I pray every day when I get in the jockeys' room for me and for the other jockeys, for the horse, so that everybody gets home safe and that things go well," Saez said. "I say this prayer before every race. Then, behind the starting gate, I pray again, and give thanks to God for being here, for just being in the race, for my life, which is always going to be racing, and which was always my dream. I give thanks to God just that I am on the horse."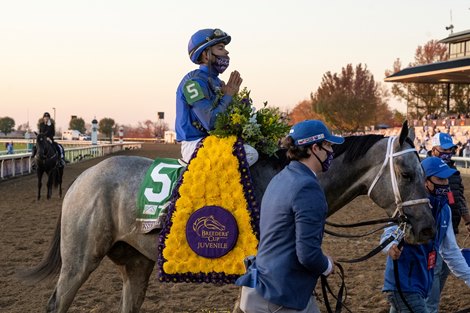 Luis Saez gives thanks for his 2020 Breeders' Cup Juvenile score aboard Essential Quality at Keeneland
While Saez aims for his first classic win, he has put in the work to make many of his dreams reality. The graduate of the Laffit Pincay Jr. Jockey School in Panama City, follows in the tradition of many top Panamanian riders: Pincay, Braulio Baeza, and Manny Ycaza. Besides his late brother Juan Saez, his brother Sebastian Saez also rides and was trained at the Panama jockey academy, as did his cousins Santo Sanjur and Angel Arroyo. Rider Gabriel Saez is Luis' second cousin.
Saez skyrocketed to the top of the national apprentice jockey standings in 2009, his first full year of riding in the U.S., and he was nominated for the Eclipse Award for apprentice jockey. 
The strength of Saez and McLaughlin as a team has been on full display at this year's Keeneland spring meet. On Saturday, April 17, Saez got up at 3 a.m., drove from Lexington to Louisville, Ky., to breeze Essential Quality at 5 a.m. at Churchill, then returned to Keeneland to ride the full card. He would win four races, including the Elkhorn Stakes (G2T) on Say the Word . 
"My new agent, Kiaran McLaughlin, has gotten me very good horses. He is a very kind man. Even before, when he was a trainer, I used to ride for him," Saez said. "He was always such a good person to work with. We have a great relationship, he and I. He's like another member of our family as my agent."
McLaughlin has enjoyed the up-close view of his rider's success.
"I rode Saez a lot when I was a trainer but he's even a better jockey than I realized, now that I watch him ride eight to 10 races a day," McLaughlin said. "In addition, he is a great person, a great family person, and a great jockey. He's a pleasure to work with."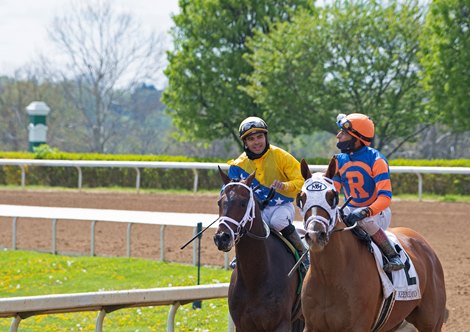 Luis Saez (left) enjoyed a career-best meet and took home the title for leading rider this spring at Keeneland
With the Brad Cox-trained Essential Quality, Saez will enter the Derby gate at the top of his game after posting a runaway riding title at the 15-day Keeneland spring meeting. Like the rider, McLaughlin, Cox, and Godolphin all will be looking for that first Derby victory. McLaughlin knows Derby wins can be elusive, but he certainly couldn't feel any better about the horse and the team going into this year's classic.
"It's fabulous to be going to the Derby because of all the connections," McLaughlin said. "I worked for Godolphin for 10 years, Brad Cox does a fabulous job, and it's great for Luis, given what happened to him two years ago. So hopefully everything's lined up perfect for a nice win."
Saez brings his usual confidence, boosted even further by his belief that Essential Quality has an approach to racing similar to his own. 
"Our connection is strong," Saez said. "He is a horse who is a fighter. He wants to win and he will fight hard for the victory."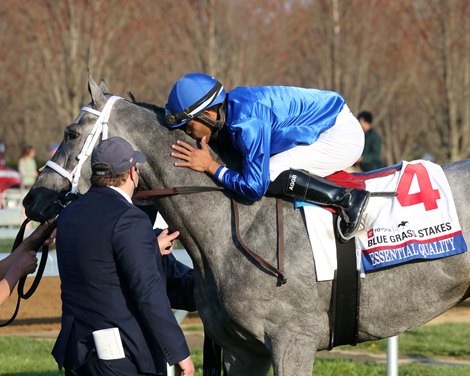 Luis Saez shares a special moment with Essential Quality after winning the Blue Grass Stakes