The finish of the NHK Mile Cup (G1) at Tokyo Racecourse May 9 was a case study in makeup of modern Japanese racing—dominant local ownership and breeding with strong global bloodlines.
When all was said and done, a foreign-bred colt won a race recently dominated by local 3-year-olds while Sunday Racing's red, black, and yellow colors were carried by the first three finishers.
Schnell Meister, still well back and apparently without hope 200 meters from the line, charged down the middle of the course and just stuck his nose in front of Songline with favorite, Grenadier Guards, 2 1/2 lengths farther back in third. Schnell Meister, a Kingman  colt out of the Soldier Hollow  mare Serienholde , finished in 1:31.6, just 0.2 seconds off the stakes record, under leading rider Christophe Lemaire.
Lemaire let Schnell Meister settle mid-pack in the 18-horse field to the middle of the sweeping turn into the long, uphill stretch. Racing on the outside of rivals, the colt picked things up, closed ground quickly, and just got there in time.
"He jumped out of the gate well but I didn't want to pressure him too much in the early stages," Lemaire said. "But while sitting in mid-field, we still had to put in some effort to keep up with the rapid pace.
"He took some time to get into gear but eventually got into a good rhythm and responded strongly in the critical stages. We were able to follow Songline into the homestretch for the attack and had just that little more when Songline started to lean near the finish."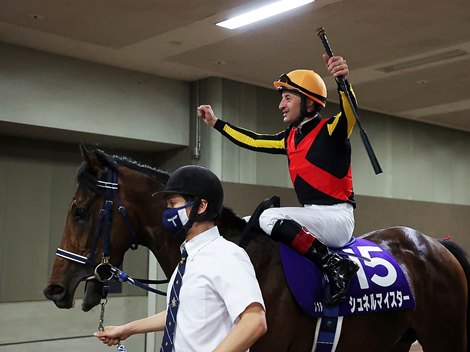 Christophe Lemaire celebrates aboard Schnell Meister after the colt's win in the the NHK Mile Cup at Tokyo Racecourse
The win was Schnell Meister's third from four starts and the quick finish came as no shock to winning trainer Takahisa Tezuka.
"He's not the kind of horse you have to let do his own thing. He speeds up when cued by the rider so I think he's especially suited to Tokyo," Tezuka said before the race. "I think he'll be fine. He's looking like a grade 1 horse now."
Early in its history, the NHK Mile was a ripe target for foreign-bred stock with American-bred horses winning for six years. In 2002, Telegnosis  reversed that trend and locally bred horses had won every year since.
The international flavor of this year's outcome is borne out not only by the winner's pedigree but also that of Grenadier Guards, a son of Frankel  with American influence from the Harlington mare and 2015 TwinSpires Breeders' Cup Filly & Mare Sprint (G1) winner Wavell Avenue .
Schnell Meister and Songline were bred by Northern Farm and Grenadier Guards by Northern Racing.
The NHK Mile has been a factor in developing Japanese horses for important longer races around the world.
King Kamehameha went from victory in this event to taking out the Tokyo Yushun (Japanese Derby) at 1 1/2 miles just three weeks later. El Condor Pasa won the NKH Mile and the Japan Cup in 1998 before finishing second to Montjeu in the following year's Prix de l'Arc de Triomphe Lucien Barriere (G1). Admire Mars won the 2019 NHK Mile Cup and used that as a springboard to victory in the Longines Hong Kong Mile (G1).
Lemaire said Schnell Meister looks capable of carrying on that tradition.
"There is still a lot of greenness in Schnell Meister and he has a lot of room for improvement," Lemaire said. "But once he's established himself physically, he should be able to handle the best at grade 1 level."