Disclaimer:  This site is not affiliated with the National Hurricane Center, Hurricane Hunters, Storm Prediction Center, or National Weather Service.  ALL forecasts herein are the result of my analysis, and I am solely responsible for the content.  As ALWAYS, follow the National Hurricane Center, National Weather Service, and your local Emergency Management officials for emergency decisions.  In addition, this is strictly a FORECAST OFFICE.  I CANNOT make decisions regarding travel plans, etc.  My purpose, is to provide you the information, based solely on information I analyze, and the accuracy of the information at hand of the time of analysis, so you may make informed decisions.
(T. F. "Storm" Walsh)
For those who have donated to my site, your help has been greatly appreciated.  If you are not aware, donations to my site help pay for subscriptions to sites I use, which provide all the models and information used in my forecasts.  Without these sites, I'm pretty much left in the dark.  The F5 Data maps I post as well for severe weather, is another out of pocket expense (monthly subscription).  Updates to software (weather related), are also out of pocket to me. Please keep in mind, even when the hurricane season ends, I have to keep up on these site subscriptions for severe weather and winter weather.  In all, I put out $68 a month to provide you, what I hope are accurate forecasts. To donate, please click the DONATE button to the right side of the page, or on the graphic of the dog.  Any help you provide is immensely appreciated!  Without your help, I may not be able to continue paying the monthly subscription charges for access to all of the information I use in my forecasts
DONATIONS NEEDED AND APPRECIATED


Greetings to everyone!
Please be aware, even though I do not post every night, rest assured I am continuously monitoring various areas for any significant weather.  I will be taking Sundays off (family time), unless we have active systems that may be posing a threat (i.e. Tropical, Winter Weather, Coastal Storms, etc.).
This is not a full update or synopsis, but more of a "heads up"! alert.
The SPC has issued AN ENHANCED RISK OF SEVERE THUNDERSTORMS FROM THE EASTERN HALF OF ARKANSAS AND SMALL PORTIONS OF ADJACENT STATES TO THE ALABAMA VICINITY…
… FROM THE SPC SUMMARY…
A broad area of severe weather potential — including risk for large hail, damaging winds, and several tornadoes — is anticipated Wednesday from the Arkansas/Louisiana vicinity eastward across the central Gulf Coast states/southern Appalachians.
Based on information contained in the SPC outlook, forecast severe indices seem to mimic the values we saw with the severe weather on the 13th.  Analysis of the current run of the NAM -WRF model through F5 DATA Severe Weather Forecast software, tends to agree at the moment with parameters listed in the outlook text.  For instance, SBCAPE in the outlook states 1000 – 2000/kg.  Modeling indicates the same at the moment.  The forecast Lifted Index from the NAM, indicates current forecast values of -4 to -6.  This combined with forecast steep lapse rates, will induce enough lift for the threat of large hail.  Veering winds along with ample shear will produce rotating supercells.  The current STP (Significant Tornado Parameter) forecast indices at the moment, tend to indicate widespread tornadoes over the enhanced risk area, with some isolated areas showing indices that would support a few strong. long lived tornadoes.  My intention is to have a full update sometime tomorrow evening after I arrive home from work, after analyzing new information from both the SPC and modeling.
The first graphic is linked to the current DAY 3 outlook.  Please click the graphic, and take the time to read this carefully.  If forecast parameters should become stronger in the forecast tomorrow, it wouldn't surprise me to see SPC add a MODERATE risk area within the current ENHANCED risk area.  As of the model run this evening, it appears the worst of the severe threats could occur between 1:00 – 4:00 p.m. CDT.
CURRENT SPC DAY 3 CONVECTIVE OUTLOOK (LINKED)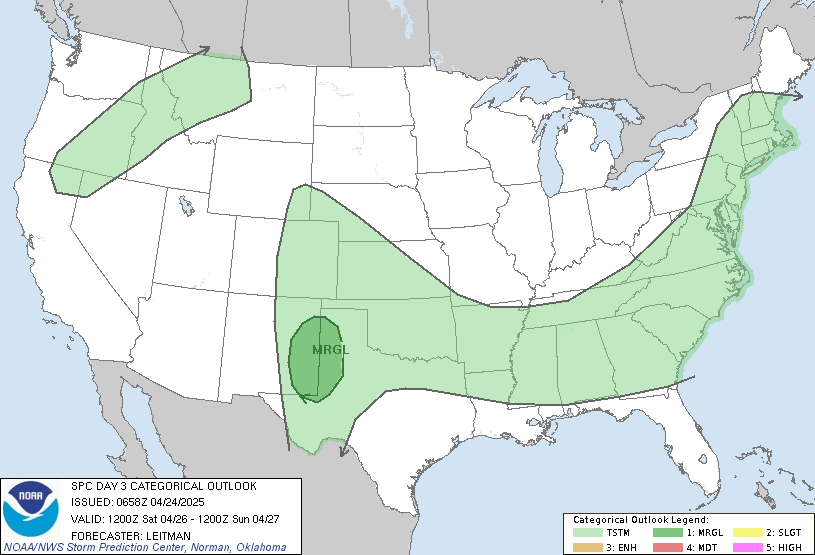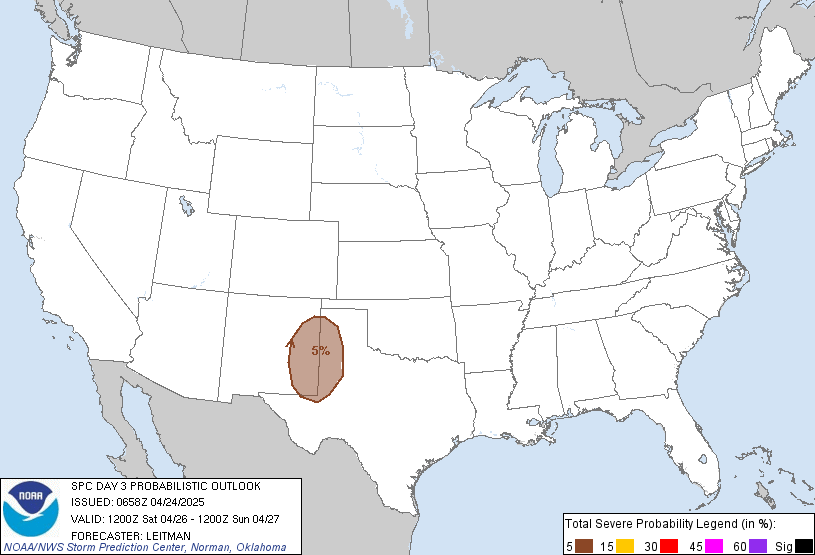 Probability of severe weather within 25 miles of a point.
Hatched Area: 10% or greater probability of significant severe weather within 25 miles of a point

The following animated GIF from the NAM shows the current forecast progression of the STP.

You may direct any questions by contacting me personally, ANYTIME, at: [email protected]
Have a blessed evening!
T. F. "STORM" WALSH III
GMCS, USCG (ret)
METEOROLOGIST / HURRICANE SPECIALIST /SEVERE WEATHER SPECIALIST
MEMBER WEST CENTRAL FLORIDA AMS