Disclaimer:  This site is not affiliated with the National Hurricane Center, Hurricane Hunters, Storm Prediction Center, or National Weather Service.  ALL forecasts herein are the result of my analysis, and I am solely responsible for the content.  As ALWAYS, follow the National Hurricane Center, National Weather Service, and your local Emergency Management officials for emergency decisions.  In addition, this is strictly a FORECAST OFFICE.  I CANNOT make decisions regarding travel plans, etc.  My purpose, is to provide you the information, based solely on information I analyze, and the accuracy of the information at hand of the time of analysis, so you may make informed decisions.
(T. F. "Storm" Walsh)
For those who have donated to my site, your help has been greatly appreciated.  If you are not aware, donations to my site help pay for subscriptions to sites I use as well as software updates, which provide all the models and information used in my forecasts.  To donate, please click the DONATE button to the right side of the page, or on the graphic of the dog.  Any help you provide is immensely appreciated! 
DONATIONS ACCEPTED AND APPRECIATED

Please be aware, even though I do not post every night, rest assured I am continuously monitoring various areas for any significant weather.  I will be taking Sundays off (family time), unless we have active systems that may be posing a threat (i.e. Tropical, Winter Weather, Coastal Storms, etc.).
STORM WALSH PRE-SEASON FORECAST
TOTAL NAMED STORMS: 17 – 20
TOTAL HURRICANES :        7 – 9
MAJOR HURRICANES:       4 – 5
AVERAGE HURRICANE SEASON:
TOTAL NAMED STORMS: 14
TOTAL HURRICANES:         7
MAJOR HURRICANES:       3
2021 SEASON TOTALS:
TOTAL NAMED STORMS:  20
TOTAL HURRICANES:          7
MAJOR HURRICANES:        4
TOTAL U. S. LANDFALLS:    8
The following is the list of storm names for the 2021 Atlantic Hurricane Season:
Ana Bill Claudette Danny Elsa Fred Grace Henri Ida Julian Kate Larry
Mindy Nicholas Odette Peter Rose Sam Teresa Victor Wanda
The following is the supplemental list for the 2021 hurricane season:
Adria, Braylen, Caridad, Deshawn, Emery, Foster, Gemma, Heath, Isla, Jacobus, Kenzie, Lucio, Makayla, Nolan, Orlanda, Pax, Ronin, Sophie, Tayshaun, Viviana, and Will.
As a storm becomes named, I will be marking it in bold red to keep track of the activity for this Atlantic season.
Please note…when we are dealing with multiple systems, they will be listed in order as to the greatest threat to land or the U. S. , to the least threat.
Good evening everyone,
The ECMWF EPS still indicates a 50% probability of cyclone development over the next 5 – 7 days just north of Panama.  However, global models still do not show any lowering pressures over the area during that time in the forecast period.  I will be monitoring the area over the next 5 – 7 days for any changes.  Probabilities may be waning however, as the MJO is now slated to be at its peak amplitude in phase 1 by Oct. 29, then swinging back into the null phase.
ECMWF EPS CYCLONE PROBABILITY FORECAST


The SPC (Storm Prediction Center) has designated a SLIGHT risk of severe thunderstorms
ACROSS PARTS OF FLORIDA INTO COASTAL GEORGIA…SOUTH CAROLINA…AND NORTH CAROLINA…


TORNADO RISK


DAMAGING WIND RISK


HAIL RISK


…SPC SUMMARY…
Isolated to scattered severe storms will be possible Thursday into Thursday night from Florida to the Carolinas. Damaging winds and a few tornadoes should be the main threats.
…Southeast...
A closed mid/upper-level low initially centered over AR/MO Thursday morning will move only slowly eastward across the mid MS Valley, TN Valley, and Southeast through Thursday night. An associated 500 mb jet will move across the northern Gulf and over much of FL, GA, and the coastal Carolinas. At the surface, an occluded low should develop eastward in tandem with mid/upper-level low, reaching the Mid-South vicinity by Thursday evening. An attendant cold front will sweep eastward across much of the Southeast through the period. A maritime warm front should advance slightly inland across mainly the coastal portions of NC/SC Thursday evening into early Friday morning.
Based on analysis of the SPC report, regarding certain severe weather parameters, the system which will be responsible for the severe weather will be associated with a LLJ (Low Level Jet) of around 40 kts, which is located at the 850 mb level, will be affecting the Florida Panhandle, providing just enough low level shear and weak instability to provide an isolated threat for tornado activity.  IF isolated tornadoes do occur, they should be weak in nature.  As this system moves eastward, the LLJ will be affecting the west Florida peninsula.  By early afternoon, an approaching mid level jet (500 mb level) will support the LLJ, and will aid in increasing the bulk shear in the low to mid levels, again posing a threat for some isolated tornado activity.  The following are graphics from the ECMWF indicating both jets.
850 MB


500 MB


Analysis of the current NAM-WRF run using F5 DATA Severe weather software, various severe and tornado parameters indicate currently, that the greatest probability for the occurrence of severe thunderstorms and isolated tornadoes, lies within the outlined areas in the F5 DATA maps, along with the posted times (approx.).  Be reminded however, as the system progresses eastward this evening and tomorrow, some conditions could change, which means the outlines could change as well.
F5 DATA 11:00 A.M. EDT


F5 DATA 2:00 P.M. EDT


F5 DATA 5:00 P.M. EDT


Residents within the risk area should monitor NOAA Weather Radio, and local NWS statements and warnings.
The following SPC maps should update automatically.  If not, you can click on them as they are linked.
SPC MESOSCALE DISCUSSION MAP


SPC CONVECTIVE WATCHES MAP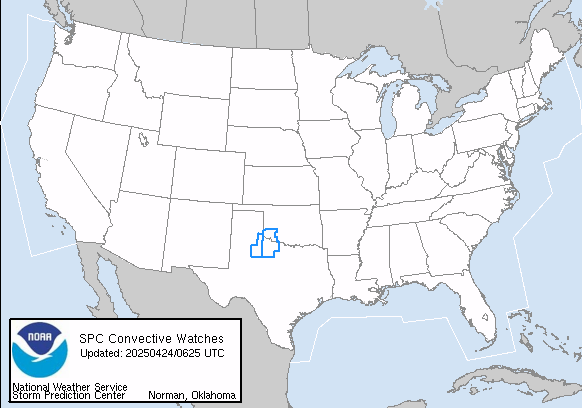 The following map will allow to to get information from your NWS office.
NWS WATCH / WARNING DISPLAY (LINKED…CLICK MAP, THEN YOUR AREA)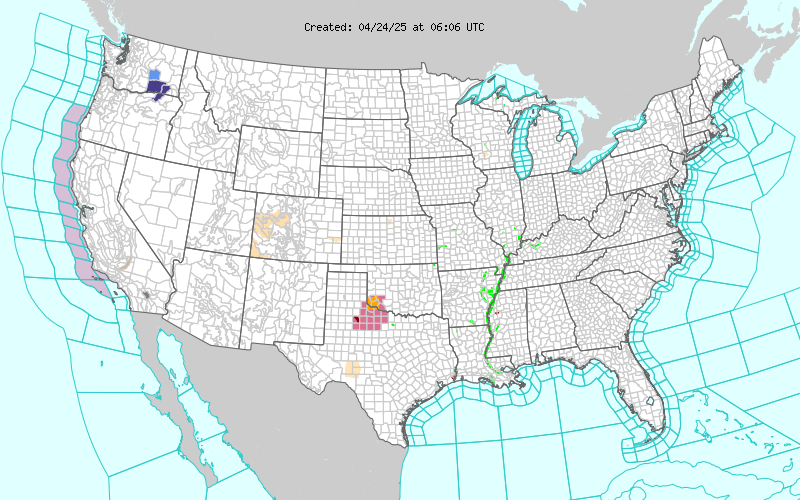 WSI DOPPLER RADAR LOOP (LINKED, CLICK RADAR MAP)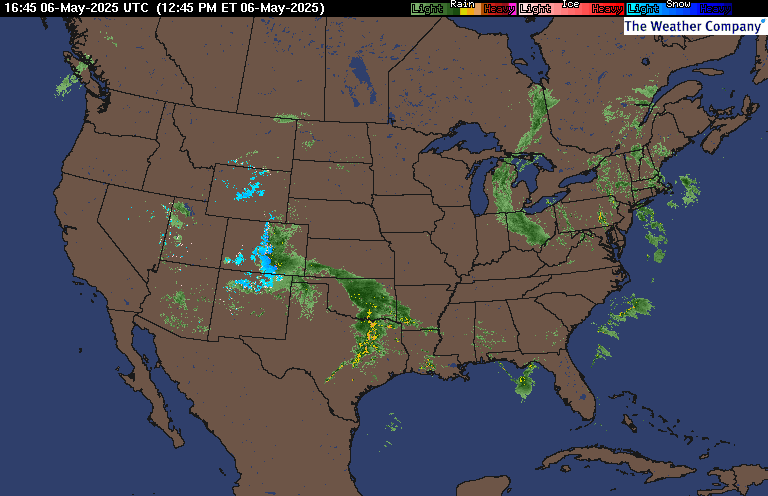 RAP RADAR (CLICK IMAGE THEN RADAR SITE…ONCE YOU CLICK THE SITE, GO TO LOOP DURATION TO CREATE A LOOP)
You may direct any questions by contacting me personally, ANYTIME, at: [email protected]
Have a blessed evening!
T. F. "STORM" WALSH III
GMCS, USCG (ret)
METEOROLOGIST / HURRICANE SPECIALIST /SEVERE WEATHER SPECIALIST